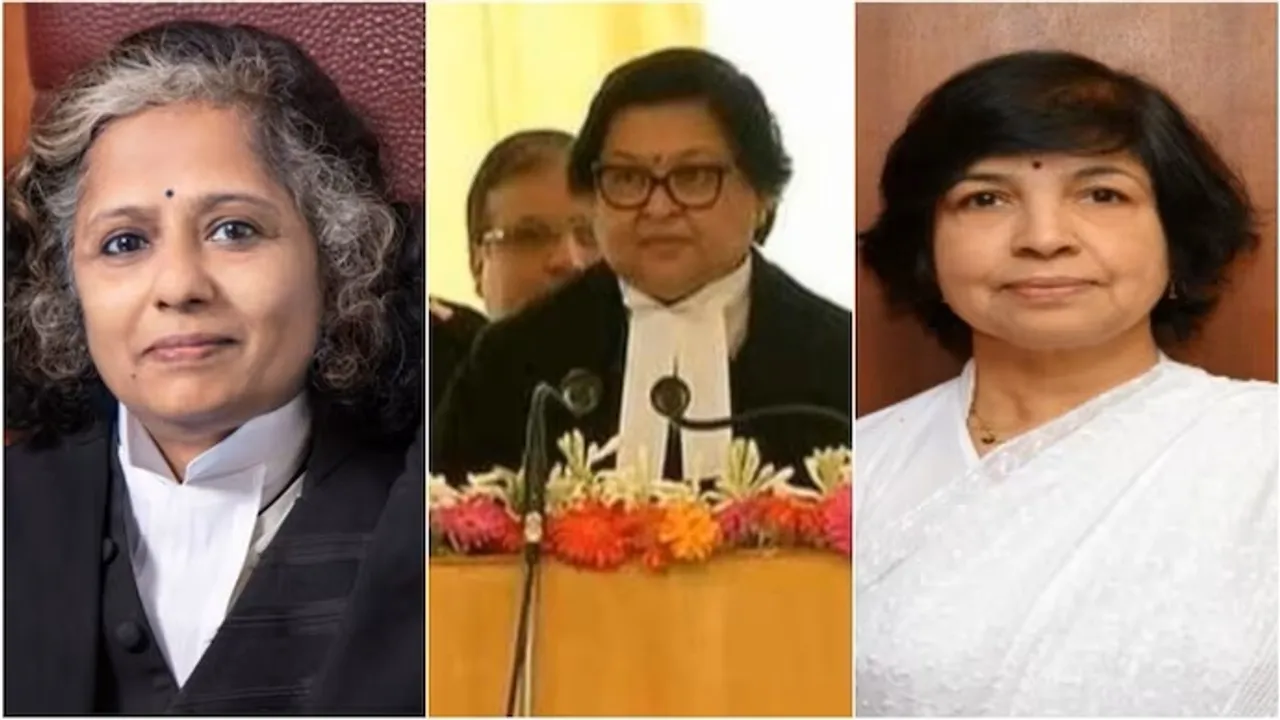 The Supreme Court on Monday said it would constitute a team of retired High Court Judges to oversee the relief and rehabilitation of victims. The committee would look into the investigation, relief, remedial measures, compensation, and rehabilitation in violence-stricken Manipur.
A bench chaired by Chief Justice DY Chandrachud said the committee will be headed by former Jammu and Kashmir high court chief justice Gita Mittal and include justices (retd) Shalini P Joshi, a former judge of the Bombay high court, and Asha Menon, an ex-judge of the Delhi high court. Additionally, it has also asked former Maharashtra police chief Dattatray Padsalgikar to monitor the probe in criminal cases.

The court said the three-member panel will be submitting reports to it directly. The bench, also comprising Justices JB Pardiwala and Manoj Misra, said the effort is to restore a sense of confidence and faith in the rule of law in the state.
SC Forms Panel of 3 Retired Women Judges; Who Are They? 

Gita Mittal

Justice Gita Mittal will head the three-member committee of former women judges of high courts appointed by the Supreme Court. She was the first woman chief justice of the Jammu and Kashmir High Court.
Appointed as the first female head of the state judiciary on August 3, 2018, she retired on December 8, 2020.
An alumna of Lady Shri Ram College, she was appointed as an Additional Judge of the Delhi High Court in 2004. Justice Mittal also served as the Acting Chief Justice of the Delhi High Court. 
 Shalini P Joshi
Justice Shalini P Joshi, a former judge of the Bombay High Court, joined the judicial services in 1988 and worked as a judge in district courts before assuming the office of the Registrar General of the Bombay High Court in April 2014.
She was later elevated as an Additional Judge of the Bombay High Court on January 1, 2015.
Asha Menon
Menon appeared for the Delhi Judicial Services examination in 1985 and became a lower court judge in 1986. She was also the Member Secretary of Delhi State Legal Services Authority from 2008 to 2012.

She was elevated to the post of permanent judge of the Delhi High Court on May 27, 2019. Menon retired on September 16, 2022.
Earlier this month, the apex court said there was a complete breakdown of law and order and constitutional machinery in Manipur.
It had rapped the state police for a "tardy" and "lethargic" probe of incidents of ethnic violence, especially those targeting women, and had summoned the DGP to answer its queries on August 7.
During the hearing, the bench said the court will not supplant the CBI since the agency is probing the FIRs transferred to it by the state government. The Manipur government said it would constitute six SITs comprising senior police officials for six districts to probe offences committed amid the ethnic clashes between the Kukis and the Meiteis
---
Suggested Reading: Are You Saying Protect All Women Or None?- SC On Manipur Violence