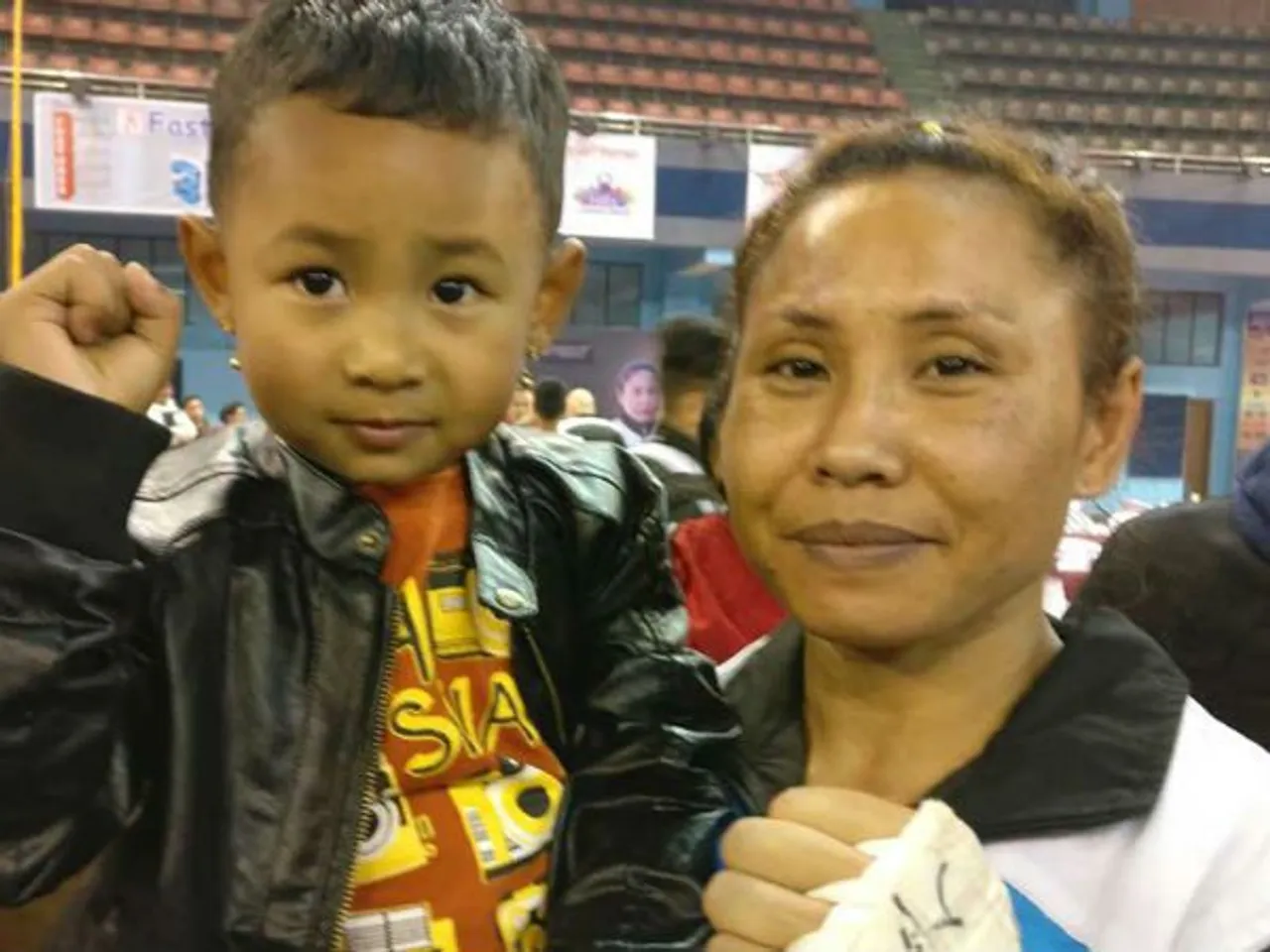 Former world and Asian champion, L Sarita Devi, on Sunday punched out World No. 29 Zsofia Bedo of Hungary in her professional debut bout with a 3-0 win in the IBC Fight Night at the Khuman Lampak Stadium.
Before the match, Zofia Bedo (29) was confident of vanquishing Sarita (31) but the Indian, who made her professional debut in style, did not disappoint her fans at her hometown.
Boxer Sarita Devi wins on pro debut; Pinki, Poon make winning startshttps://t.co/0fd8oSl30v pic.twitter.com/YVwLnTZWzC

— TOI Sports News (@TOISportsNews) January 29, 2017
Sarita won by a unanimous decision. Known as The Iron Lady of Indian boxing, Sarita's family was present at the stadium to cheer her on.
Thrilled for boxer Sarita Devi as she beats Hungarian Zsofia Bedo in her first ever pro boxing fight. Really hope Sarita gets her due 👊

— Viren Rasquinha (@virenrasquinha) January 29, 2017
"The Asian Games incident was very painful. I had to erase those sad memories. That was one big factor I decided to turn pro. For any mother to stay away and not to feed her child is the biggest sacrifice. I made that sacrifice for this day," said Sarita, while hugging her three-year-old son in the ring, TOI reported.
Congratulation to L.Sarita Devi. What a touching moment when a mother is embraced by her child after victory pic.twitter.com/ItF1O4o9OM

— Reena Singh (@ReenaSi75869916) January 30, 2017
The match was a much-needed boost for Sarita Devi as the 31-year-old Hungarian is known for knocking out her opponents. Also, while Zsofia had an experience of 59 pro bouts behind her, Sarita was a debutant and losing wasn't an option for her.
READ:From working in agricultural fields to fighting the world: Sarita Devi
She floored Zofia in round two and this was her only chance to prove her ability since Sarita Devi was put under one-year suspension by the world boxing body, AIBA, on disciplinary grounds.
A determined Sarita maintained a distance from her three-year-old son while training and even when she had returned to her hometown after four weeks of rigorous training.
After feeling a few powerful punches, those cheeks get a well deserved kiss.

Sarita Devi with her son after winning her first bout as a Pro pic.twitter.com/tKgai0ZaDz

— Nikhil Naz (@NikhilNaz) January 29, 2017
"The victory was sweet as I outplayed an experienced boxer. The sacrifice made over the past decade has paid off," an elated Sarita said, as Hindustan Times reported.
Congrats #SaritaDevi, the lightweight world champion, on a winning debut of #professionalboxing career. She won 3-0 over Hungarian opponent. pic.twitter.com/0JGOo7nG2y

— India and Sports (@mysportspitch) January 29, 2017
She clinched the 3rd round as well and silenced her detractors once and for all.
This Indian has made the country proud in various platforms, including the 2014 Glasgow Commonwealth Games when she won a silver. Sunday's win will definitely help Sarita find a permanent place in the professional world.
READ: Sportspersons Need More Foreign Camps To Perform Better: Sakshi
Meanwhile, Pinki Jangra, the 26-year-old Haryana girl, outpunched Claudia Ferenczi of Slovakia in her first ever professional bout in the IBC Fight Night.
Also read: Are women rewriting India's sports history?
Feature Image Credit: NDTV Sports
Join Us on https://www.facebook.com/SheThePeoplePage
Follow Us on https://twitter.com/SheThePeopleTV