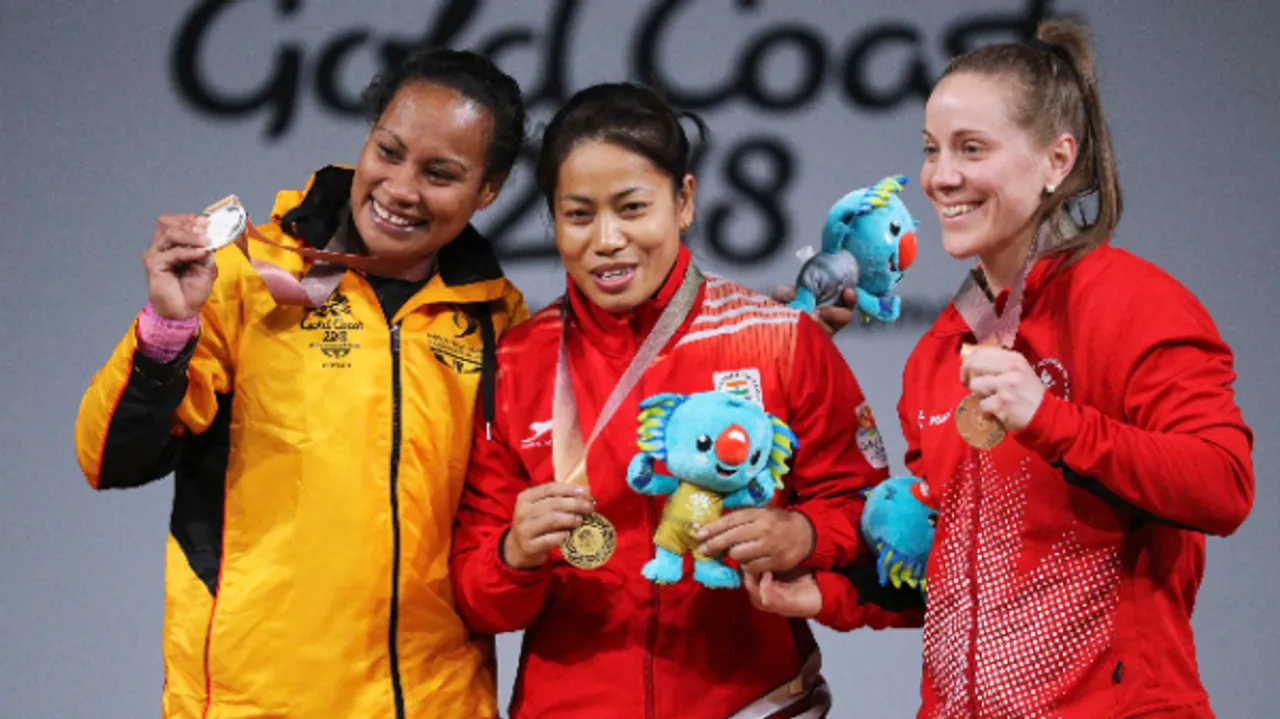 A day after weightlifter Mirabai Chanu won gold, another star Sanjita Chanu won another gold in the women's 53 kg category. Sanjita who got India the second gold medal at the ongoing CWG is being praised for her extraordinary moves. With this win, she became the second Indian woman weightlifter to win gold in two different editions of the Commonwealth Games, piping defending 2014 Glasgow gold medallist Dika Toua of Papua New Guinea.
#GC2018Weightlifting #CHANU STORM hits Gold Coast!
2 Days, 2 Chanus, 2 Golds ?

So proud of our #Weighlifters @WeighliftingIN for bringing us such glory at the #GC2018 #CommonwealthGames #TeamIndia #Congratulations @Media_SAI @Ra_THORe @IndiaSports @GC2018 pic.twitter.com/03mOHOhnYD

— IOA - Team India (@ioaindia) April 6, 2018
Twice is always a charm!

What a great start to this morning. Congratulations Khumukcham Sanjita Chanu on keeping up your excellent track record of being a🥇winner at #CWG! After a Gold in Glasgow in 2014, a Gold in weightlifting at #CWG2018 as well! Very proud! #SanjitaChanu pic.twitter.com/KpLGR2GSfN

— Col Rajyavardhan Rathore (@Ra_THORe) April 6, 2018
Congratulations India! Another moment of pride as Sanjita Chanu bags Gold. India's 3rd medal at the #CommonwealthGames2018 #cwg2018 - this too from Weightlifting. She hails from Manipur and also won a gold in 2014 Glasgow games - kudos pic.twitter.com/zMnVPolfFA

— SheThePeople (@SheThePeopleTV) April 6, 2018
On Friday, Sanjita challenged Dika Toua and overpowered her with a total lift of 192 kg in snatch plus clean and jerk.
Sanjita registered a Games record in snatch with a lift of 84 kg that put her in pole position in the event.
Bhartiya Naari Sab par Bhaari. One more Gold. Congratulations #SanjitaChanu for winning our second gold in #GC2018Weightlifting in the women's 53kg category. #CWG2018
Her second CWG gold after the 48kg one in Glasgow. Proud of you champion. pic.twitter.com/Xnms7T6Byz

— Virender Sehwag (@virendersehwag) April 6, 2018
The Manipur weightlifter clinched her second Commonwealth gold, having won the 48 kg event in Glasgow four years back. Till now, this is India's third medal of CWG 2018 with Mirabai Chanu winning gold on Day 1 while P Gururaja bagging the silver -- both in weightlifting.
Golden start to the day!! Continuing from where she left off 4 years ago in Glasgow. Congratulations, Khumukcham Sanjita Chanu on giving 🇮🇳 it's 2nd Gold Medal 🥇 in the on-going #GC2018. Proud moment. pic.twitter.com/vcQfkIU77I

— Sachin Tendulkar (@sachin_rt) April 6, 2018
As the second day started for India, Sanjita gifted the nation another medal as she bagged a Gold in 53 kg weightlifting event. The Manipuri registered scores of 81, 83 and 84 in snatch, with the last lift well-structured to break the CWG record. In the clean and jerk section, Sanjita took a 3 kg lead over her closest opponent - Canada's Rachel LeBlanc-Bazinet - who had lifted 81 kg in Snatch.
Weightlifter Khumukcham Sanjita Chanu won Gold Medal? in women's 53 Kg event.She set a new CWG record with a lift of 84kg in snatch and then lifted 108 in clean & jerk.Sanjita won Gold 4 yrs back in Glasgow also?#GC2018 #SanjitaChanu pic.twitter.com/BJxF8KHEMT

— Maj Surendra Poonia (@MajorPoonia) April 6, 2018
If look at the scoreboard, she overpowered the 2018 Gold winner Mirabai, in Glasgow. She clinched a gold with a total lift of 173 kg at the age of 20. Sanjita claimed the gold, and missed out on the Games record by a whisker. As 2017 began, she secured a berth for CWG Australia after taking gold in the women's 53 kg with a total lift of 195 kg at the Commonwealth Senior Weightlifting Championships.
The 24-year-old was drawn to the sport after getting inspired by weightlifting star champion N Kunjarani Devi. Sanjita came into spotlight after winning gold at the 2009 Senior Nationals before registering her name at on the international stage with a bronze at the Asian Weightlifting Championships in 2011. Just a year later, she bagged a gold at the Commonwealth Weightlifting Championships.
IN FOCUS | @ioaindia's Sanjita Chanu Khumukcham has claimed another gold for her country in #GC2018weightlifting! Read: https://t.co/CpjWJzlg3u #GC2018 pic.twitter.com/gEIVqKGcEo

— Gold Coast 2018 (@GC2018) April 6, 2018
Wonderful start to the day. Heartiest Congratulations to #SanjitaChanu on India's second Gold at the #CWG2018 and her second gold in successive CWG after the one in Glasgow. Top effort and consistency. pic.twitter.com/qFkMOs6z2F

— VVS Laxman (@VVSLaxman281) April 6, 2018
That's the gold medal lift she lifted a total 192 kg 10 kg more than silver medalist.she attempetd a #CommonwealthGames2018 record but falied#GC2018Weightlifting #SanjitaChanu #CommonwealthGames #CWG #cwg18 pic.twitter.com/iJBjgfKGoy

— Divyanshu kohli (@Divyanshukohli8) April 6, 2018
Feature Image Credit: India Today
Also Read: Soon, You Can See PV Sindhu's Olympic Win On Silver Screen