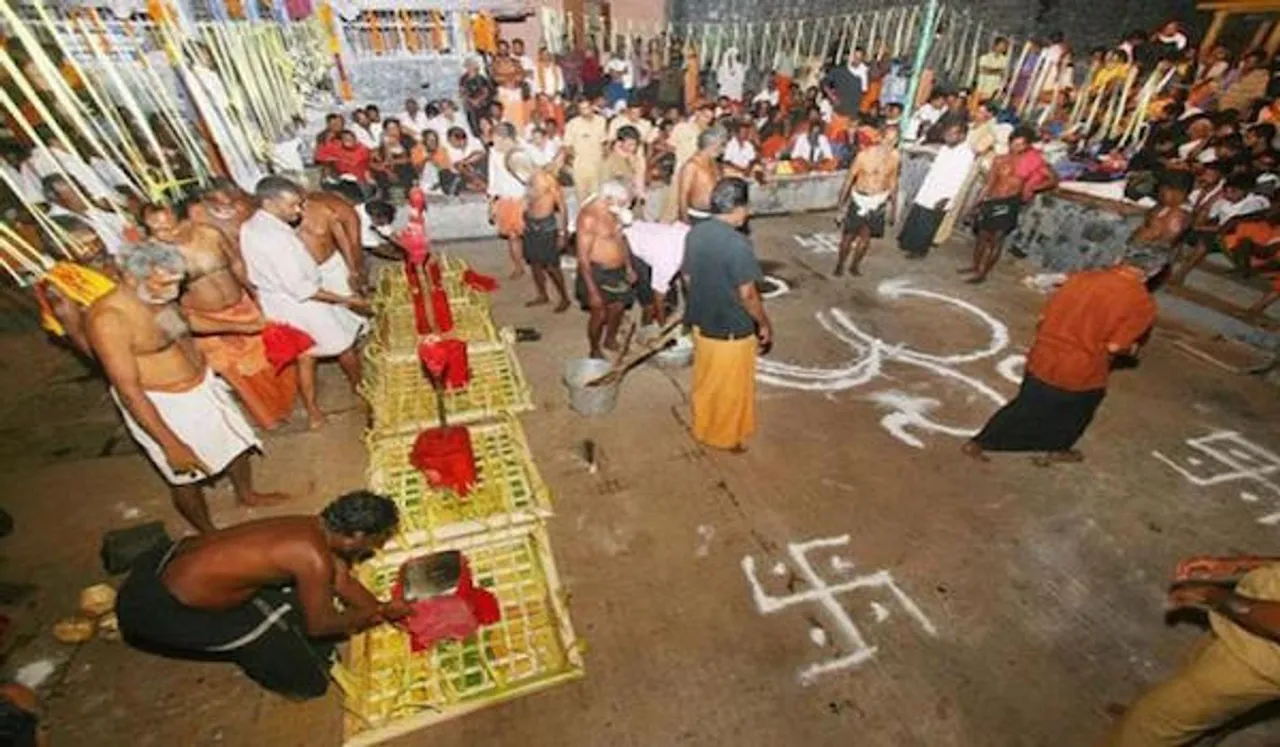 The Sabarimala temple, located in the mountain ranges of Pathanamthitta District of Kerala, sees huge footfalls every year. Pilgrims trek the Neelimala to worship Lord Ayyapa after observing strict abstinence vows for 48 days. While the temple is sought after for its pilgrimage, it has also been in the news for banning the entry of women. The Travancore Devaswom Board (TDB) had recently issued a mandate to all the pilgrims to carry a certificate for age proof.
Age Proof ID Mandatory
According to PTI reports, TDB President, A. Padmakumar said that an authentic document is mandatory for routine checks.  "The decision was taken in view of a number of women belonging to the banned age group trying to visit the shrine recently," he said. Furthermore, the Carrying of an authentic age proof document will help avoid unnecessary arguments between women pilgrims and the authorities.
At least 260 women in the banned 10-50 age group were stopped at Pamba during this year's pilgrimage season.
Restrictions on women who menstruate.
There are restrictions because the presiding deity Lord Ayyappa is considered to be a perennial celibate. Earlier the temple authorities told the apex court that the ban on the entry of women was on an account of purity. The purity was sensed in relation to menstruation. "These restrictions have been there since time immemorial. My brothers have been to the temple while I was denied. I was denied only because I was a menstruating woman. Nothing further was said nor questioned. I've always wanted to go, but unfortunately, this does not seem to be transpiring anytime soon. It's time we move away from such stigmas and let purity be valued on one's morals rather than biology", says Ms Kavitha from Chennai.
As reported in the Indian Express, the LDF government favoured the entry of women of all age groups. This progressive outlook was overturned by the UDF government later. The Indian Young Lawyers Association had petitioned for the opening of the temple gates to women, while the TDB has opposed the plea. The critics say the restriction violates women's fundamental right to not be discriminated against.
Which question to choose?
Whether women's right to equality law guaranteed under Article 14 should be invoked in the face of the freedom?
Whether free profession, practice and propagation of religion guaranteed under Article 25  should be invoked?
Freedom to manage religious affairs guaranteed under Article 26 of the constitution?
While the supreme court had directed the case to a constitutional bench, the petition is still pending.
Also Read:  In a First, Parliament May Discuss the Menstruation Benefit Bill
Reshma is an intern with SheThePeople.TV