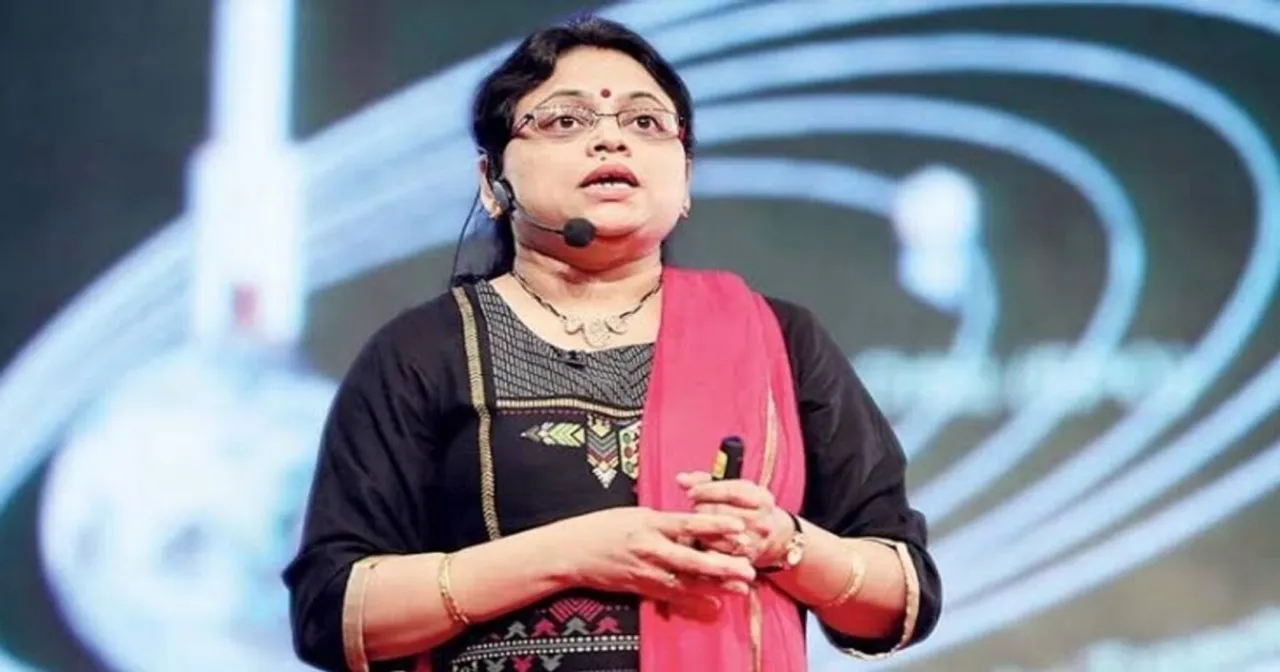 The Indian Space Research Organisation (ISRO) on Wednesday scripted history as its third Moon mission, Chandrayaan-3's lander module (LM) made a safe and soft-landing on the lunar surface. With this, India has become the first country to reach the unexplored larger south pole of the Moon.


The Indian Space Research Organisation (ISRO) launched its third moon exploration mission — Chandrayaan-3 at 2.35 pm on July 14 from Satish Dhawan Space Centre in Sriharikota, Andhra Pradesh. It was placed in the lunar orbit on August 5. The lander Vikram is named after Vikram Sarabhai, who is widely regarded as the father of the Indian space programme. 
Spearheading this ambitious venture is Dr. Ritu Karidhal Srivastava, a renowned scientist within the Indian Space Research Organisation (ISRO) and affectionately known as India's 'rocket woman.' Here are key insights into her remarkable journey:
1. A Key Contributor:
Ritu Karidhal was the Mission Director of Chandrayaan-2 and the Deputy Operations Director of India's Mars Orbiter Mission (MOM), Mangalyaan. She is well known as India's rocket woman, according to the Women Economic Forum. As a senior scientist at ISRO, her contributions have been instrumental in India's space exploration endeavours.
2. Academic Excellence:
Having pursued a BSc in Physics from Lucknow University in 1996 and a degree in Aerospace Engineering from the Indian Institute of Science (IISc) in Bengaluru, Karidhal's academic journey laid a strong foundation for her future achievements. Teachers and mentors from Lucknow University recall her as an exceptionally bright student.
3. Early Fascination with Space:
Karidhal's fascination with space exploration ignited at a young age. During her school days, she avidly collected news articles related to ISRO and NASA, nurturing her passion for the cosmos. Karidhal has always been intrigued by space and aspired to achieve something unique.
4. Impressive Career at ISRO:
Joining ISRO in November 1997, Karidhal has worked on numerous prestigious missions and held the position of operations director for various projects. Her contributions to the field of space exploration have been recognised and celebrated.
5. Contributions to Research and Publications:
With a strong commitment to advancing scientific knowledge, Karidhal has published over 20 papers in both national and international publications. Her work has contributed significantly to the field of space research.
6. Recognitions and Awards:
Dr Ritu Karidhal Srivastava has garnered prestigious accolades throughout her career. Notably, she received the 'ISRO Young Scientist Award' from former President APJ Abdul Kalam, the 'ISRO Team Award for MOM in 2015,' and the 'ASI Team Award.' The Society of Indian Aerospace Technologies & Industries (SIATI) also honoured her as a 'Women Achiever in Aerospace' in 2017.
As Chandrayaan-3 prepares for its historic launch, the visionary leadership of Ritu Karidhal Srivastava, India's esteemed 'rocket woman,' drives the mission forward. Her invaluable contributions to the field of space exploration and her unwavering commitment to scientific excellence continue to inspire and pave the way for future generations of scientists and explorers in India and beyond.
---
Suggested Reading: Hollywood On Shutdown? Actors Join Writers' Strike, Halt Promotions
---