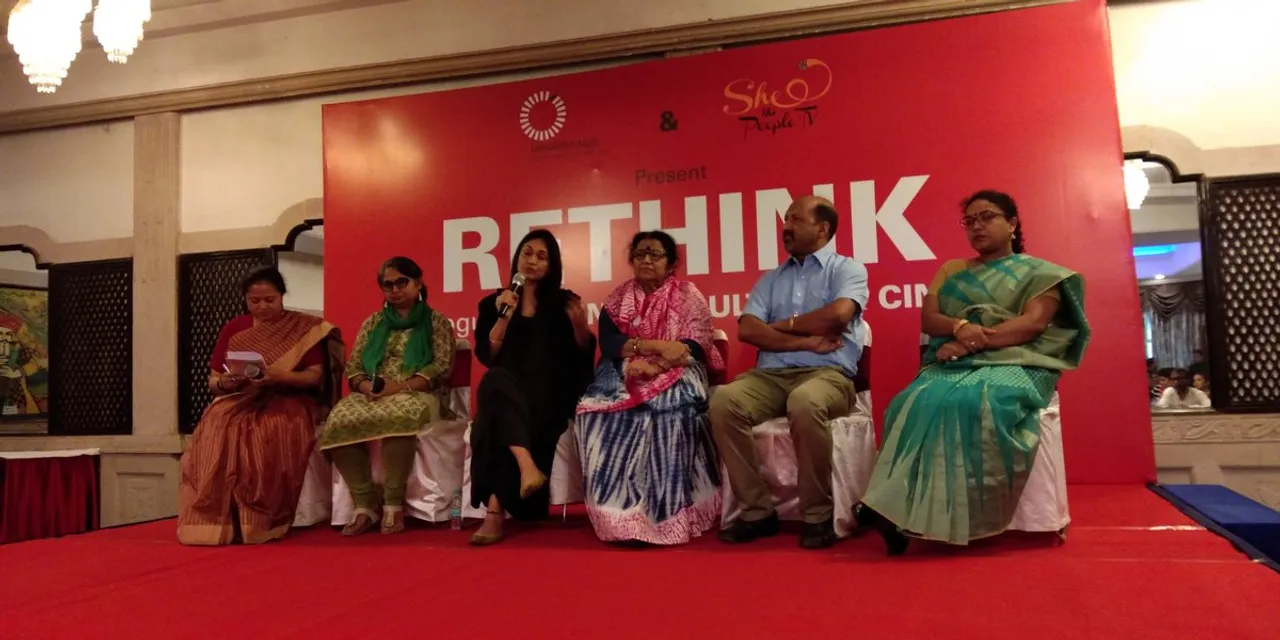 Indian families do not find it viable to invest in their girls. But why is it so? What is the root cause of this problem and how can we work towards combating it? These questions were an important point of discussion in the first panel at the #RETHINK event in Patna, organised by Breakthrough India in partnership with SheThePeople.Tv.
Dr Usha Kiran Khan pointed out that a lot of parents don't invest in girls because they know that eventually they will have to marry them off. "And if she faces any problems after her marriage, she is often silenced by her parents and advised to adjust." She said the community has an instrumental role to play in stopping this from happening. According to her, real change can be brought about when girls who want to study are encouraged.
We are starting with our first panel on why communities don't want to invest in girls when governments and organisations are keen to@MenonSunitA, @Go_Pauli, @monanyhk, @supreetksingh, @anindobanerjee @UshaKiranKhan@INBreakthrough #Patna #rethink pic.twitter.com/p6BNiyWwxq

— SheThePeople (@SheThePeopleTV) August 24, 2018
Dr Sunita Menon of Breakthrough India highlighted the inequality working women have to face. "Not many families allow women to work and if they do, they don't have any control on their earnings and property," she said. Menon also pointed out that people think saving money for a girl's dowry is better than investing in her education.
"In our society, girls are seen as a burden which has to be transferred from the father to the husband" - Sunita Menon
She also focused on the reproduction rights of a woman and the fact that they do not have any say in it. "Everyone knows that the sex of the child is determined by males, but it is the woman who is blamed if she gives birth to a girl. We must change this," she emphasised.
Supreet K Singh, Co-Founder at Safecity, said that power starts to play its role since the day a girl is born."The day a girl is born, she is considered to be Paraya Dhan. She is taught household work and taking care of others. There is no investment made in girls because they think that "Ladki Humara Dhan Lekar Jayegi"."
हम "बेटा पढ़ाओ बेटी बचाओ" को बढ़ावा देते हैं क्यूंकि लड़कों के लिए महिलाओं का सम्मान करना और उन्हें बराबरी की नज़रों से देखना ज़रूरी है - @supreetksingh of @pinthecreep #rethink pic.twitter.com/eFtxM9P7D5

— SheThePeople (@SheThePeopleTV) August 24, 2018
She also talked about her campaign "Beta Padao, Beti Bachao" that promotes the idea that boys must be taught how to behave with women to bolster the cause of women's safety.
"Why is it so difficult to believe that women can contribute economically to the society?" - Supreet K Singh
"Somewhere girls have also internalised the messages that our patriarchal society gives out and have imbibed that they shouldn't be ambitious," said Mona Sinha from UNICEF. She also mentioned that social media is a great platform that has started to have some good conversations around these pertinent issues.
"Women must get rid of their victim mentality and strengthen their voice" - Mona Sinha
Anindo Banerjee from PRAXIS said that we must involve all communities in finding the solution to this problem. For this, we will have to understand their perspective because there are a lot of factors behind what they do.