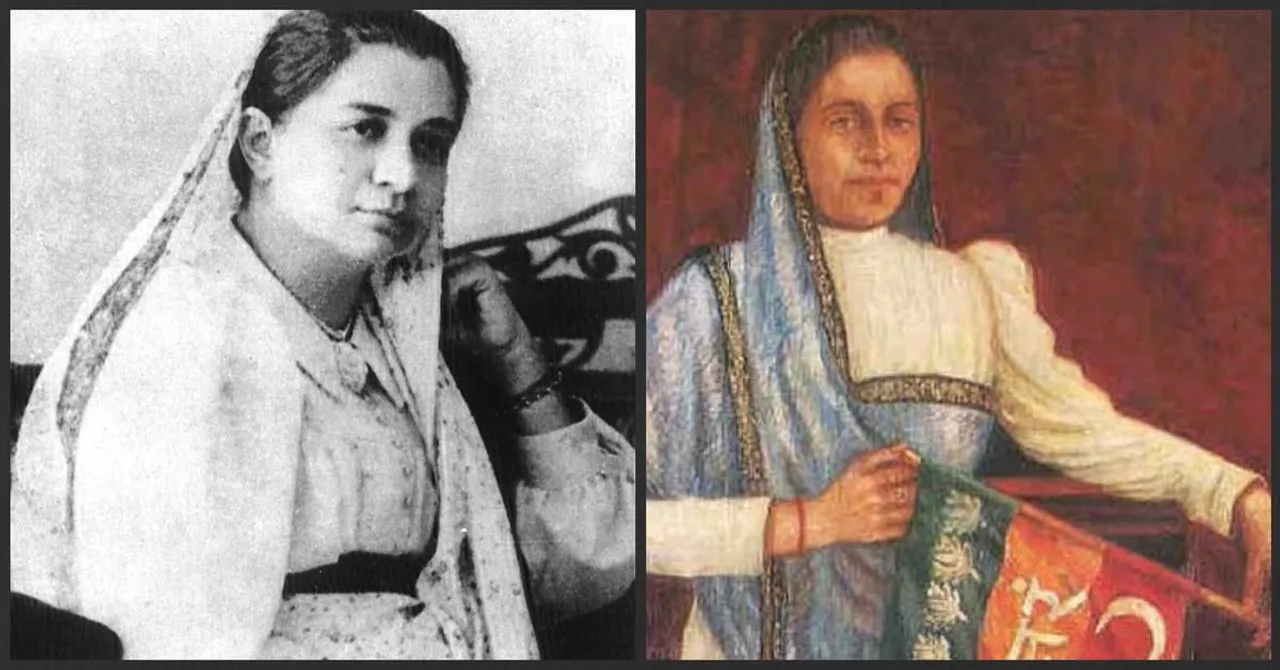 Bhikaji Cama was an indomitable freedom fighter who contributed greatly to the early years of the Indian freedom struggle and also fought for the place of women in society. A dedicated nationalist, she brought the Indian struggle to international attention. Albeit she was exiled for thirty-five years, she left no stone unturned in her pursuit for freedom. On her birthday, here's a glance back at her unquiet life that has often been forgotten from the pages of history.
She Attended an English School
Bhikaji Cama was born on September 24, 1861, into a Parsi joint family. Her father, Sorabji Framji Patel, was a famous merchant who was at the forefront of business, education, and philanthropy in the city of Bombay and her mother was Jaijibai Sorabji Patel. She attended Alexandra Girls' English Institution in Mumbai. Since childhood, she had an aptitude for languages. She was exposed to the early stages of the Indian freedom struggle and she was deeply enraptured by it.
In 1885, she married Rustomji Cama, a widely known lawyer. He was a wealthy lawyer and aspired to enter politics. Her involvement with sociopolitical issues led to differences with her husband. While Rustomji Cama admired the British, loved English culture and believed they had done a lot of good to India and its growth story, Bhikaji was a nationalist at the core of his heart. He came to believe that Britishers had ruthlessly exploited India for their profit. Much to the disdain to her husband, she got actively involved in the nationalist efforts and philanthropy.
Her Activism 
She devoted an enormous amount of time to social work. In 1896, Bubonic plague broke out in the Bombay Presidency. She joined one of the teams working at Grant Medical College to help the team working to save plague victims. Hundreds were dying in Bombay and she too caught the deadly disease. Though she recovered, it left her in poor health. She was recommended to go to England for treatment in 1902 because of her worsening health.
During her stay there, she met Dadabhai Naoroji, a staunch critic of British economic policy in India, and started working for the Indian National Congress. Cama also worked with other Indian nationalists, including Lala Har Dayal, and Shyamji Krishna Varma, and addressed several meetings in London's Hyde Park.
She Roared And She Soared
When she intended to return to India, she was informed by the British Government her return to India would be prohibited unless she would sign a statement agreeing not to participate in nationalist activities. She refused to make such a promise and remained in exile in Europe. From here she moved to Paris and along with Singh Rewabhai Rana and Munchershah Burjorji Godrej. She co-founded with them the Paris Indian Society. Together they worked towards widening the message for independence, by distributing revolutionary texts like Vande Matram and Madan's Talwar.  She also helped the revolutionaries in every way imaginable, whether with money, material or ideas.
On August 22, 1907, Madam Bhikaji Cama became the first person to raise the Indian flag on foreign soil in Stuttgart in Germany.
Appealing for human rights, equality and for independence from Great Britain, she described the disastrous effects of a famine that had struck the Indian subcontinent.
"Behold, the flag of independent India is born! It has been made sacred by the blood of young Indians who sacrificed their lives in its honour. In the name of this flag, I appeal to lovers of freedom all over the world to support this struggle." She also took part in the Socialist Conference in Germany.
The Role of Women in building the Nation
Bhikaji Cama also advocated for the position of women in the freedom struggle of the country. Speaking at a National conference in Cairo, 1910 she said, "Where is the other half of Egypt? I see only men who represent half the country! Where are the mothers? Where are the sisters? You must not forget that the hands that rock cradles also build persons". She believed women had a strong role to play in the freedom struggle and she also advocated for their rights. Her idea of emancipation from British rule was the only thing more important than her quest for the liberation of women in all spheres. She once told two Parsi women advocating for a woman's right to vote that they should "Work for Indian's freedom and independence. When India is independent, women will not only have the right to vote but all other rights."
Death
Cama remained in exile in Europe until 1935, when, gravely ill and paralysed by a stroke that she had suffered earlier that year, she petitioned the British government to be allowed to return home.
Knowing that she was not in a position to engage in the freedom struggle, she was granted permission to return to India after 33 long years. She died in 1936, due to her deteriorating health. After her death, her possessions were bequeathed to the Avabai Petit Orphanage for Girls.
Her legacy remains to remind us of the initial stages of the freedom struggle, and the rebellious women that valiantly fought for it over the years.