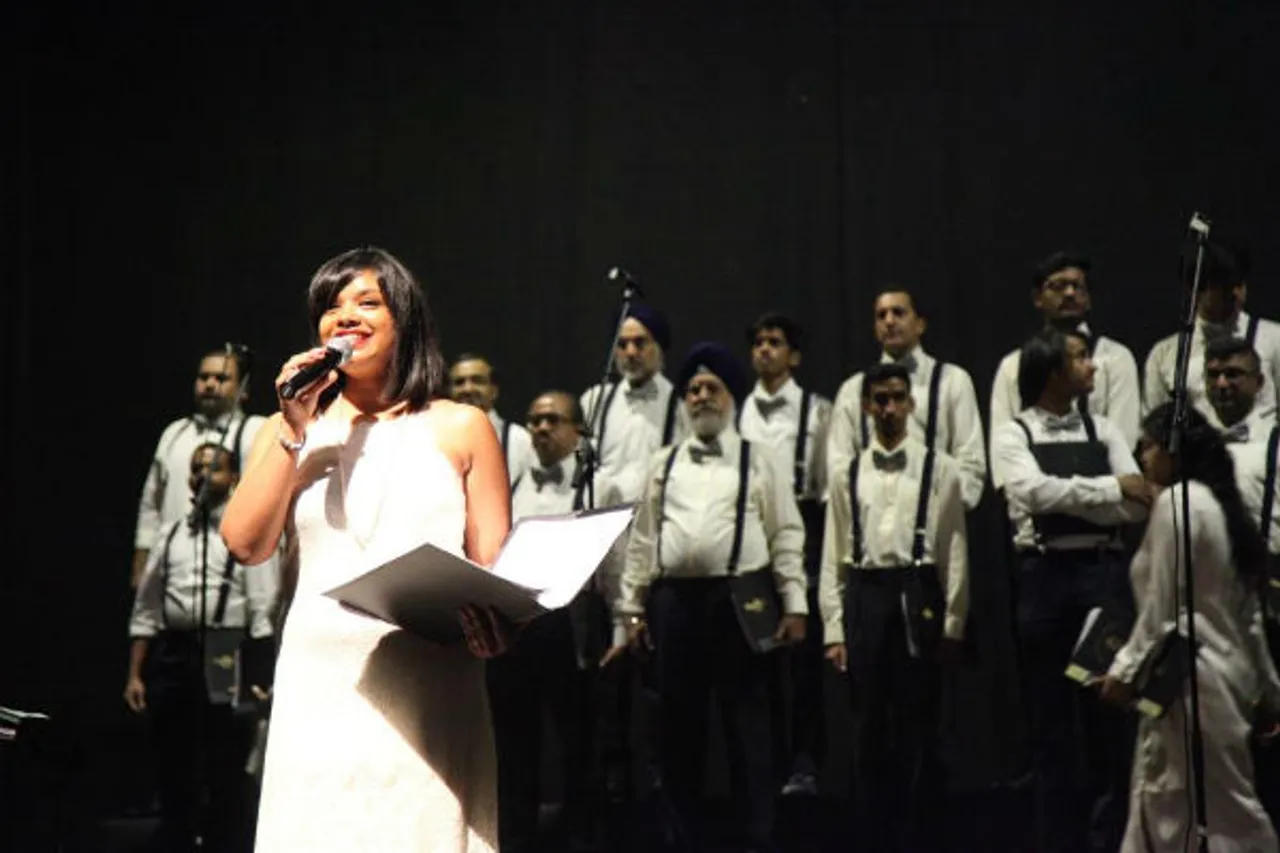 "My journey has been a rather unplanned and a thoroughly enjoyable one," says Reem Khokhar who works with the US Embassy in New Delhi. A daughter of a fighter and test pilot in the Air Force, Reem has travelled extensively in various parts of India and abroad. Currently settled in Delhi with her husband, Siddharth, and pets two dogs.
Reem is a quaint mix of storyteller and chorister. Started her stint in choirs since school, Reem has indulged in the soprano (higher voice range) with Capital City Minstrels since 2011. Also a clarinet player, a danseuse, Reem is an aspirant entrepreneur and a passionate baker.
Excerpts from the interview with SheThePeople.TV.
Working in the US Embassy in New Delhi, is the journey exciting?
I've been with the US Embassy about 2 years now, as a commercial specialist our role is to promote US exports globally and foreign investment into the US It's been an interesting journey learning the ropes. It's a busy space and I get to meet and work with lots of interesting companies and people to help them enter the market. It's a constant learning opportunity.
What interested you in singing and tell us about the journey of becoming a choir singer?
I am a part-time chorister with the Capital City Minstrels – a Delhi choir that has been around for 23 years. All of us have full-time jobs by day and sing by night! I have sung in choirs since I was in school from about the 8th grade, with my sister, until I graduated from high school. In Delhi, I discovered the Capital City Minstrels through friends and finally joined in 2011. There's been no looking back since.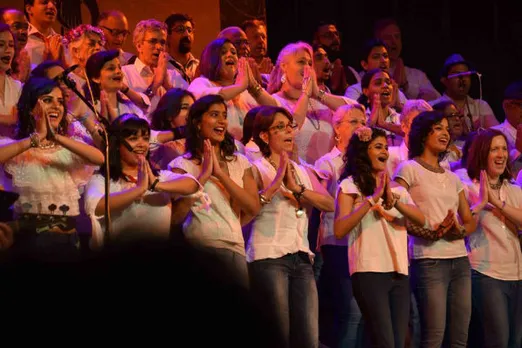 Reem Khokhar with team CCM in a concert
READ:Amanda Sodhi Is Making Waves With Her Catchy New Single
Could you also please tell us about your future plans? What's next?
The answer to "what next" is a mix of long term and short term goals, which flit between writing a book, to opening my own company, continuing to sing, getting back to dance classes, doing a course in yoga, taking a baking course; making travel plans; taking my dogs on holiday and lots more.
READ: Bollywood Actresses Shine As Singers Too
The choir singing and the places it takes you?
The Capital City Minstrels (CCM) is a big part of my life and many in the choir are close friends and extended family to me. As part time choristers, we rehearse once a week after work, but there are always extra rehearsals as we get closer to concerts or tours. We perform in Delhi as well as various destinations in India and the choir has done two tours in Europe. I've been a part of some of these trips.
I'm a bit of an old soul and am particularly partial to music from the 60s, 70s and 80s. I love Motown music – the Temptations, the Supremes, Marvin Gaye, Stevie Wonder, the Commodores and so many others. Broadway music with some of my favourite soundtracks being from Phantom of the Opera, Les Miserables and Hairspray!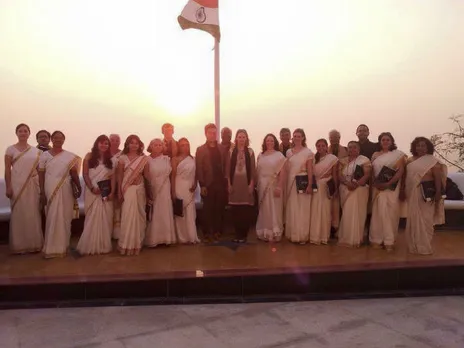 Reem Singing at the Governor of Goa's residence
A few years we sang at the Monte Music Festival in Goa and a few weeks ago we were in Kasauli at the charming Christ Church and at a special performance at the Lawrence School Sanawar for the students and faculty.
Musicians, in general, are fascinating and how they create this beautiful sound is just so intriguing.
I also did a 2-week tour in 2015 with CCM where we went to Hungary, Switzerland and Germany. We did 9 concerts in collaboration with various local choirs; and it really was a fantastic way to travel. We performed in churches, embassies, schools, auditoriums and informally in restaurants, buses, city squares, boats and just everywhere! We stayed with members from local choirs and made some really great friends.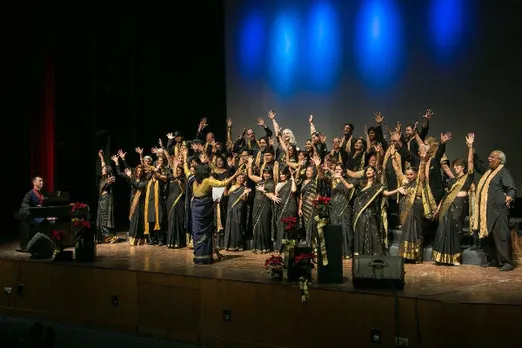 Reem with CCM team
My time with CCM – whether on tours or our performances and rehearsals in Delhi – has always been special.
What does Reem Khokhar like to do when not singing?
Just beside going for rehearsal and singing in concerts with the choir, a group of us on the committee helps manage the day-to-day running of the choir.
I think having something you do just for yourself and which you can totally immerse yourself in is very important. If you have nothing that you are passionate about then you may as well never get out of bed. 
I write occasionally, mainly travel or special interest pieces, and a blog called ReemSpeak which is mainly humorous pieces on life experiences told through my husband and dogs. Baking is a rather recent pastime where I enjoy creating rather crooked versions of the original recipes and sending them to neighbours, friends and family, which is always appreciated.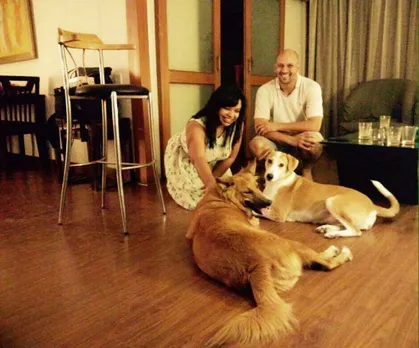 The two spoilt dogs (both adopted desi dogs!) are really the centre of our little world. I am passionate about "adopt don't shop" and hope to see more and more people take in abandoned or street dogs and discourage breeders from selling pets.
Why choose such a unique path? How has the reaction been to your choices from family and peers?
Everyone has different interests and one of mine just happens to be choral singing, which isn't as well known in India but is quite regular in the West. I have an extremely indulgent family and a group of friends. They support me in all my endeavours.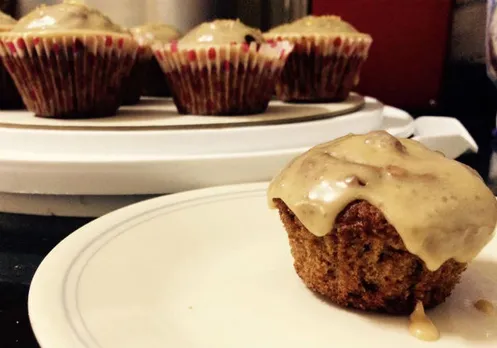 Baking with Reem Khokhar
Some inspiring anecdotes you can share with our readers?
In the choir, there is this strong community spirit. We support each other beyond just the couple of hours we spend together each week – in sickness and in health!
ALSO READ: Dare to be: The challenging journey of singer Sonam Kalra
Is your family musical? Have they motivated you along the way?
My parents weren't musicians, but there was always music in our house. My dad had a huge music collection and I grew up listening to everything from the Beatles to Elvis to Elton John, Neil Diamond. Musicals were actually a big part of my childhood, where my parents introduced us to all the popular musicals. I am still a huge fan and catch a musical live whenever I can! Singing and dancing with my sister are some of my most vivid childhood memories.
Whenever I've gone through something really difficult in life, like losing a loved one or other difficult situations, I've never stopped going to rehearsal. Earlier it was dance and now choir, but there is just something about music that is so cathartic and just helps you heal. Anything creative really - I wrote a lot after losing my dad - which helped (and continues to help me).
READ: The Acoustic Girls: Amanda and Malvika, listen to their jamming experiences
Join Us on https://www.facebook.com/SheThePeoplePage
Follow Us on https://twitter.com/SheThePeopleTV