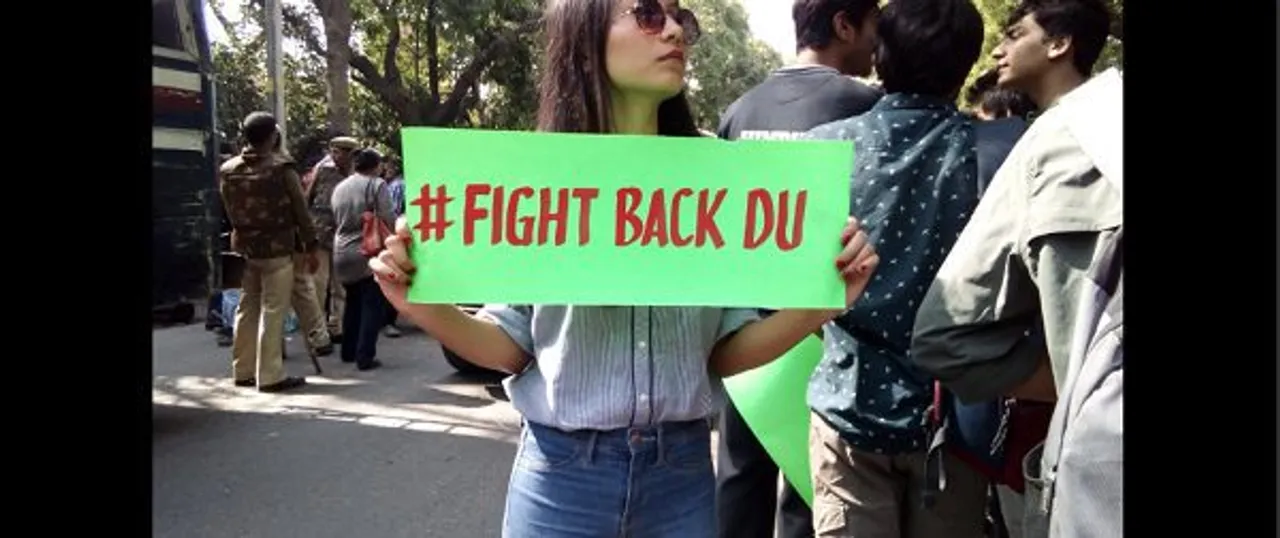 A clash broke out at Ramjas College of Delhi University today between two student associations named All India Student Association (AISA) and Akhil Bhartiya Vidyarthi Parishad (ABVP). AISA had organised a protest march outside the college at 2p.m. today till the Maurice Nagar Police station where they were going to file FIR, But the police refused the FIR and ABVP ganged up on them, pelting stones on them and manhandling women, told Kawalpreet Kaur, AISA, DU president to SheThePeople.TV.
#FightBackDU
Outside #Ramjas College NOW! pic.twitter.com/RdohFD0aQU

— 🌸 (@Little_Iskra) February 22, 2017
In pictures: Students clash over #RamjasCollege's literary festival https://t.co/eVcVujsDP9 pic.twitter.com/jUpKPW3Lhf

— Hindustan Times (@htTweets) February 22, 2017
It was at 2p.m. today that Kaur had planned a protest march today against the way ABVP treated the students yesterday. It aimed at supporting the students of Ramjas College who had organised the seminar.
"There were many students from Ramjas who wanted to join the march but they were held captive inside the college by ABVP. Lot of stones were pelted, many professors and students have been injured and women students were man-handled by ABVP members," said Kaur about the incident.
She added, "Even the police instead of filing the FIR, they have detained us from outside the police station. And now they are taking us to some other place so right now we are in a Delhi Police bus." Kaur said this on a telephonic conversation at around 7p.m. while she was in a bus with other students and members of AISA. They have no idea where they are being taken.
The Delhi police detained more than 100 left wing students from outside Ramjas college and taken to undisclosed location #Ramjas #DU

— Saurabh Trivedi (@saurabh3vedi) February 22, 2017
Join Common Student Teachers March from Ramjas College DU to Maurice Nagar Police Station at 1PM today!#FightbackDU pic.twitter.com/rcgDLaAd67

— Shankar Kumar | شنکر کمار | शंकर कुमार | (@ShankarKumar_) February 22, 2017
ALSO READ: Dress as per norms of society: Hindu College Hostel tells female students
Kaur revealed that around 100 people are with her.
It was a seminar on "Cultures of Protest" being organised by the English Department of Ramjas College that was supposed to be held on Tuesday that ignited the clash. The college had invited left scholars Umar Khalid and Shehla Rashid from Jawaharlal Nehru University which did not go down well with ABVP supporters.
https://twitter.com/Shehla_Rashid/status/834019935005376513
'Hamaray waalay aa gaye' is how ABVP cadres referred to the Zee News crew at Ramjas college

— Aditya Menon (@AdityaMenon22) February 22, 2017
So the ABVP supporters did not let the seminar to happen and instead started to scare off the students as per reports. Delhi Police was summoned to put a hold to the entire scene but they were also unable to control the crowd.
About ABVP's behaviour, Kaur said, "They are actually exploiting the students. I mean the whole idea of university is that you have a stage for dialogue but instead any voices raised are being stopped. They want us to submit ourselves to their goondaism."
Picture credit- Twitter