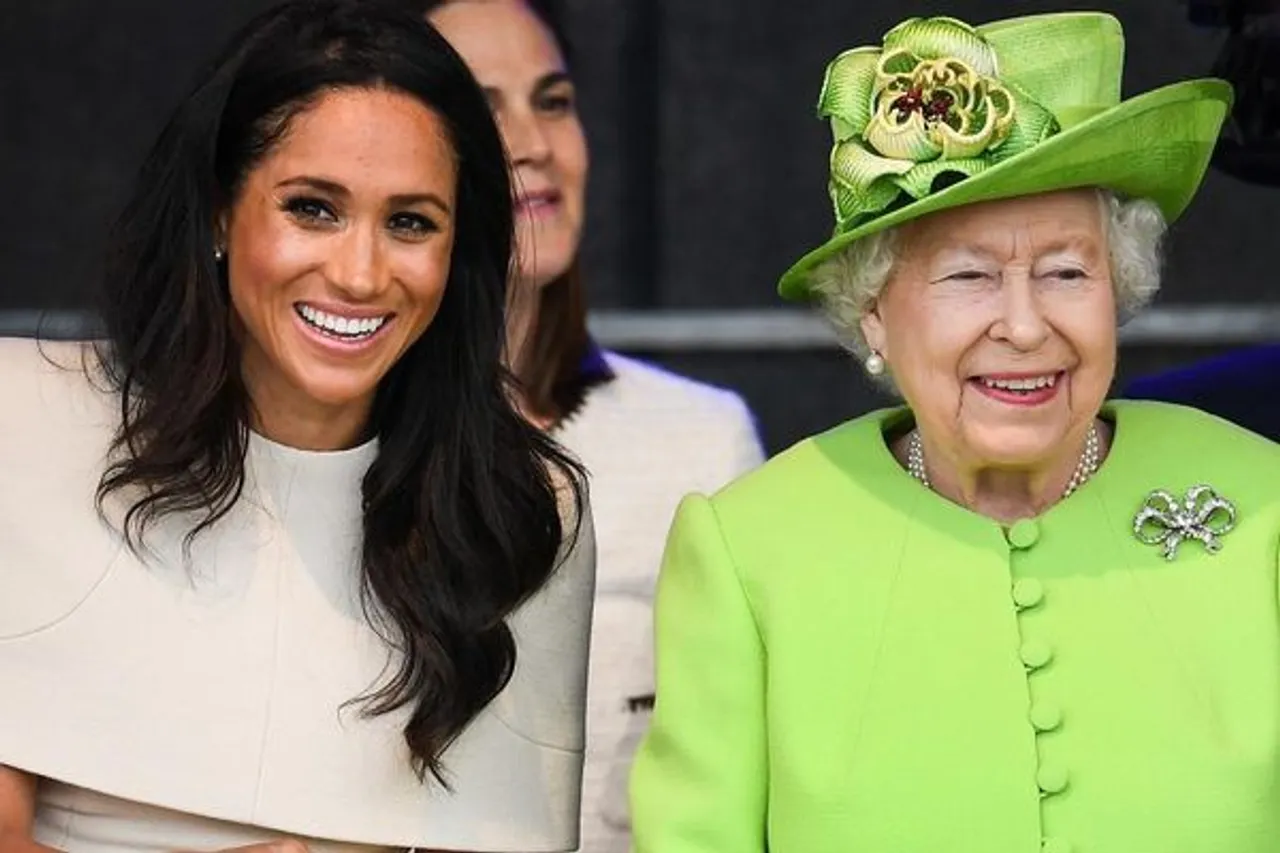 Queen Elizabeth II died a peaceful death at the age of 96 after ruling United Kingdom for seven decades. Her coronation took place in 1952 and she holds the title of being the longest-ruling monarch of the UK. She had received immense love from people but it wasn't until Meghan Markle entered the scene that the public got to know what goes on inside the royal walls.
Meghan Markle and Queen Elizabeth's strained relationship is a public affair, it no longer remained an inside issue or secret feud when Meghan Markle and Prince Harry decided to spill it all in a two-hour long interview with American host and actor Oprah Winfrey. Meghan Markle talked about the racism she and her unborn child (Archie) faced while they lived with the royal family. This sparked debates and people started questioning the Queen's behaviour and decisions. Since then, the relationship between two strong and opinionated ladies of the royal family suffered greatly due to their difference of opinion. Here's a look at what went wrong in their relationship since 2017.
---
---
Queen Elizabeth On Meghan Markle And Their Differences
Queen Elizabeth II and Meghan Markle met for the first time for tea in Buckingham Palace in October 2017 as Prince Harry's soon-to-be fiance. The meeting, as reportedly dubbed by Markle, was great and she called the monarch an incredible woman. She had known the Queen through Prince Harry's narrative both, as a monarch and as a grandmother, and she had immense respect for her. She felt good that the first meeting went well. In November 2017, Prince Harry and Meghan Markle got engaged and her moments with the Queen post engagement felt warm as well.
Markle was invited to celebrate Christmas with the royal family in 2017 at the Sandringham estate despite the original custom did not allow royal fiancés to join at the estate. Markle once recalled an moment when she was travelling with the Queen during a chilly day and the Queen offered her blanket to Markle which reminded her of her own grandmother. Things seemed to be going well after the couple got married in 2018 but things took a turn in 2020 and that was when the real situation came into view. Prince Harry and Meghan Markle, the Duke and Duchess of Sussex, stepped down from their status of royal family which did not go well with the Queen.
Despite of not being happy with decision, the Queen supported the Duke and Duchess hoping that they would eventually return but she was clearly upset. Then happened the Oprah Winfrey interview that revealed the true nature of Markle's relationship with the Royals. Markle said she experienced racism while living in London and did not feel support from the royal family. During the two-hour chat, Markle revealed that she contemplated suicide amid a flurry of British tabloid headlines like "Hurricane Meghan," and she detailed how the color of her son Archie's skin was debated.
It was clear by now that the Queen and Meghan Markle had completely different opinions. Markle wanted her right to privacy and making personal decisions while the Queen wanted her to put up with the customs and norms and live a public life. Markle did not want to put her respect on stake for the sake and honour of the royal family which did not go well with the Queen. Since then, the feud between them became more obvious with instances like the Duke and Duchess of Sussex's sitting arrangement during the Platinum Jubilee of Queen Elizabeth II in June 2022.
While Queen Elizabeth tried to remain tight lipped to avoid drama, Meghan Markle voiced her opinions, putting her mental peace and her self-respect first. Markle paid a secret visit to Queen Elizabeth along with Prince Harry in April 2022 and even named their daughter Lilibet after Queen's nickname which indicated that things must be taking a better turn.
When the Queen was in her deathbed in Balmoral,  Markle did not reach by her side but Prince Harry rushed to be beside the Queen. Though the Queen and the Duchess of Sussex's relationship has been marred with difference of opinion, there have been times when they bonded and understood each other.