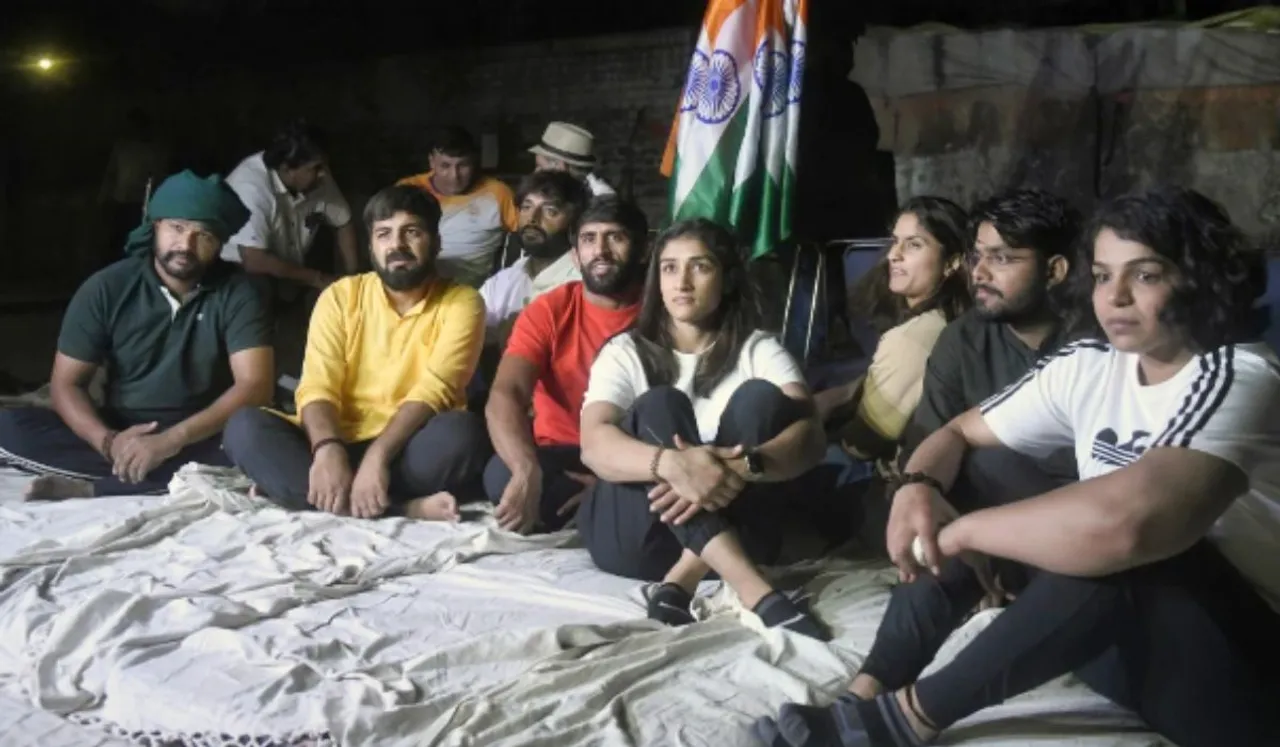 India's wrestlers protesting against Brij Bhushan Sharan Singh over sexual harassment allegations have said they will throw their medals in River Ganga in Haridwar, Uttarakhand. The protesting wrestlers also said they are ready to sit on an indefinite hunger strike at India Gate.
The wrestlers, Sakshi Malik, Vinesh Phogat, and Bajrang Punia made the joint statement 2 days after the Delhi police detained them and other protesters. They were arrested ahead of their march toward the new Parliament building.
After detaining the wrestlers, the Delhi police also cleared Jantar Mantar, the site where protesters had camped out for weeks and registered an FIR against the organisers and wrestlers.
The Wrestling Federation of India (WFI) chief and member of the Bharatiya Janta Party Brij Bhushan Singh was accused of sexually harassing seven female wrestlers, including one minor.
President of Bharatiya Kisan Union (BKU) Naresh Tikait arrived at Haridwar where wrestlers had gathered to throw their medals and intervened. He sought five days from the protesting wrestlers.
Brij Bhushan Singh once again refuted the charges and said that if a single allegation against him was proven, he would hang himself. He said if the wrestlers "have any evidence" they should present it to the court.
The Delhi Police also refuted reports claiming that sufficient evidence had not been found against Singh. The police clarified that the investigation is in progress.
The United World Wrestling (UWW), the international governing body of wrestling condemned the detention of the wrestlers and threatened to suspend the WFI if the pending elections were not held within the stipulated time.
Protesting Wrestlers Hunger Strike
Wrestlers Malik, Punia, and Phogat made a joint statement saying that they will go to Haridwar and throw their medals into the river Ganga at 6 pm. The protesting wrestlers added that the medals "are our lives, our souls" and said they would have no reason to live after throwing the medals into Ganga.
The statement said that they would stage a hunger strike until death at the India Gate after throwing their medals.
The move is being compared to when legendary boxer Muhammad Ali threw away his Olympic gold medal into a river in 1960.
Ali wrote about the incident in his autobiography The Greatest and revealed that after he returned to Louisville, Kentucky after his Olympic win, he faced racial discrimination.
Angered by the poor treatment, Ali threw his Olympic gold into the Ohio River.