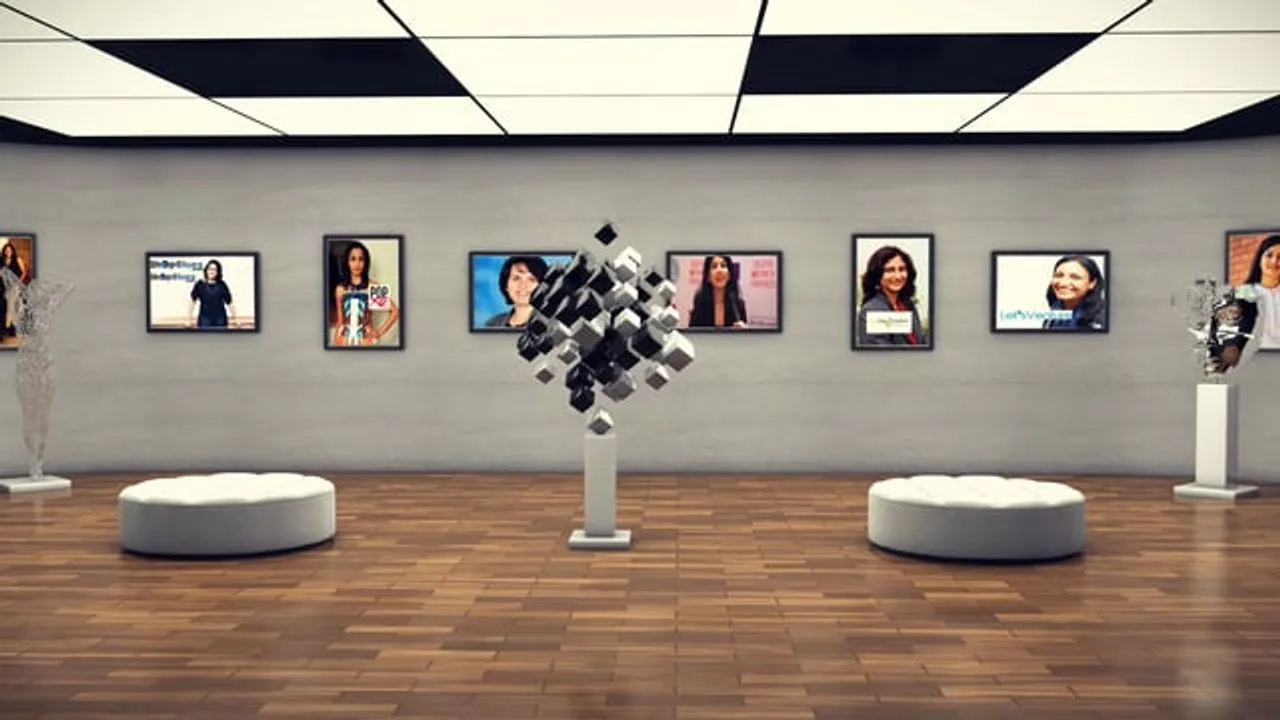 2016 was the year we saw the rise of women entrepreneurs in India - new ideas were launched, some got funded, others got scaled. The story didn't stop. StartUp India came to life through the government, and there were new efforts to promote women entrepreneurship across the income spectrum.
Women Entrepreneurs have reached here on a wave of staying positive, and often despite all odds. With 2017, they are hoping to work on gained-ground and build on the momentum. Is that what makes them the progress cravers?
New idealization. Failing. Working on weaknesses. Coming back again. Ideating more. Productivity. These have been mantras of the female community who yearn for more.
We at SheThePeople spoke with entrepreneurs on what they expect from 2017. From shaping cities to removing bias, team to technology, everything is on the wishlist.
Bhavna Lalchandani with her brainchild 'CheersOye!' amidst the demonetization situation in India, launched CO! Money – India's First Lifestyle Wallet – and has a huge hope from the coming year. "Mobile payments shall take the center stage." She further added, "Millennials will lead charge to opt for the easy and seamless experience of mobile payments via wallets. With an integrated loyalty platform, mobile wallets can exceed consumer expectations for convenience in 2017. With all the major players in this industry looking to integrate innovative solutions, this will continue to loop in millions of user and facilitate billions worth of transactions in the coming year."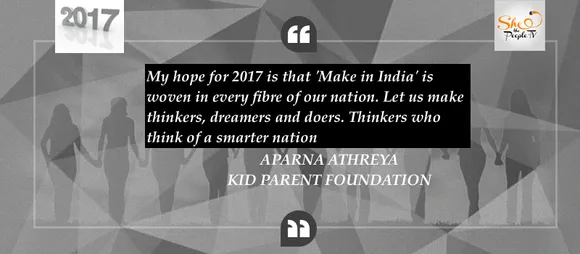 Also Read: Demands of the startup life: India's top women entrepreneurs share
A designer by passion and entrepreneur by choice – Priyanka N Jain's venture 'Hygiene and You' create ecological balance. While Priyanka's beliefs are stored in promoting sustainable living while encouraging personal hygiene, she also expects," To educate Indian women about sustainable menstrual hygiene, and provide them with eco-friendly alternatives.," in 2017.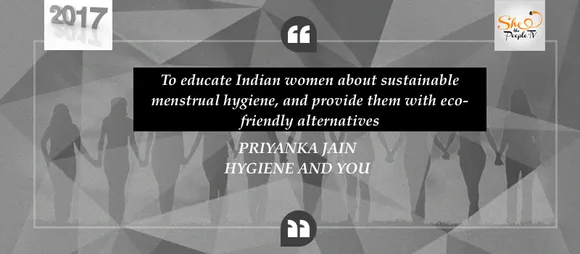 Rubina Nafees F is a travel expert, who runs SAFA – an NGO that works in the sphere of education and socio economic empowerment of the woman and girl child. While she intends to set up a production unit which provides income to women, retail shop selling goods made by women entrepreneurs, NGOs or artisans and a periodic bazaar for marketing products are also some ideas she juggles with. When asked about what she expects from 2017 Rubina said, "Expect it to be a game changer for us at SAFA as we look at legalising a for profit center for hand made products."
While Shruthi Reddy of Anthyesti Funeral Services hopes " Anthyesti win accolades for its pioneering work in the funeral industry and we create, make and introduce the world  to a new kind of profession aka "funeral category" where in we train professional morticians, funeral helpers, embalmers and human remains repatriation consultants."
You May Be Interested In: At the tipping point: How ten women entrepreneurs are breaking new ground
Aarti Gill of FitCircle believes there is a huge opportunity that exists in the preventive healthcare industry across the globe. While FitCircle aims to make everyday health and nutrition easy and convenient with its mobile app & chat bots, and offers personalized advice to users on nutrition & workout, Gill says, "I would expect more Indian companies to go global in 2017."
On the other hand, Mridula Jain of Shingora has big expectations. "2017 is going to be highly testing year for all entrepreneurs into exports as well as domestic market. Export market economics will be affected because of huge recession in the retail demand of fashion accessories. Already, we have seen a drop of 20% sales across the board and with customer's declining demand of wool and woollen garments because of availability of cheaper variations, it will be tougher for wool based industries to find their space. Innovation will be the key for survival. All industries will have to look inside to cut cost to meet the competition."
Also Read: This Journo-Turned-Entrepreneur Is Taking Women Places
She further added, "For domestic market, demonstration will definitely impact the sales and booking abilities of retailers. We have to be very strong and alert in running our businesses with no scope of errors. Product innovations, timely productions and timely deliveries will keep us going."
Lina Ashar who is a global pioneer for children education and also the founder of Education Institutes; Kangaroo Kids and Billabong High International School thinks, "Humanity is better off and enjoys more freedom, more agency and more power than at any other time in our history and yet depression is continuously on the rise. The growth of depression is seen mostly in the young, especially teens. We can use neuroscience research to teach our children to drive their thoughts and actions to engineer happiness."
Revathi Kulkarni Roy, Asia's 1st women's taxi service and co-founder HeyDeedee- last mile delivery service explains, "10000 women riders on the road and provide jobs to 10000 women thereby changing the lives of that many families.. Create the largest logistic last mile delivery company anywhere in the world. And that will be in India. Make every Indian proud. "
Reshma Krishnamurthy from Bangalore runs an online platform called Mums and Stories which features true stories on mums. She hopes, "We surely expect to make a considerable impact in the segment of moms community and grow multi-city in reach. "
Also Read: Challenges Women Entrepreneurs Face
Aparna Athreya who runs the Kid and Parent Foundation in Bangalore says, "My hope for 2017 is that 'Make in India' is woven in every fibre of our nation. Let us make thinkers, dreamers and doers. Thinkers who think of a smarter nation; dreamers who can dream of a peaceful nation and doers who will create a happier nation."
In short Women Makers are ready to welcome 2017! Their expectations are palpable. And hopefully will be achievable too.
Join Us on https://www.facebook.com/SheThePeoplePage
Follow Us on https://twitter.com/SheThePeopleTV