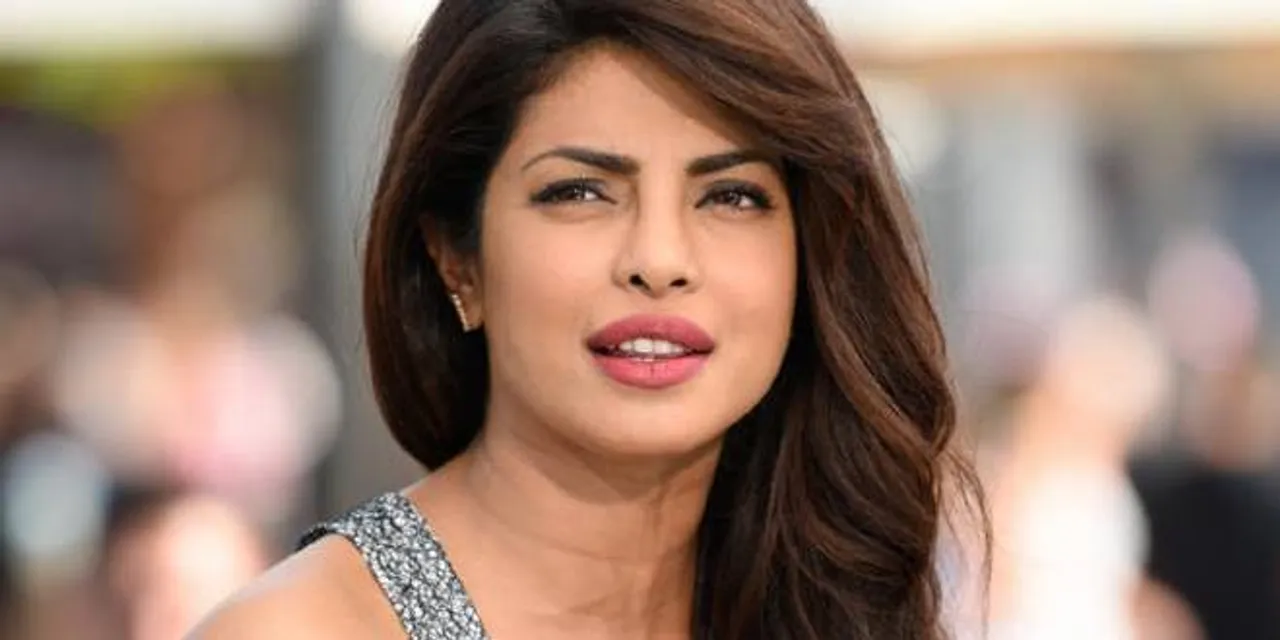 Close on the heels of singer Sonu Nigam's tweets virtually setting fire between two communal groups, now actress Priyanka Chopra, too, has been dragged into the mud for the same reason.
Well, the "Bajirao Mastani" actress is making headlines for all the wrong reasons. We are all aware of PeeCee's hectic calendar but the media doesn't seem to get enough of her. An old video of the actress speaking to reporters in Bhopal is being circulated online. The video, in which Chopra is seen speaking about azaan, is going viral.
Who would have thought that Chopra would unknowingly be involved in the ongoing chaos between singer Sonu Nigam and the nation? On Monday, the singer tweeted a series of posts describing his sheer annoyance over an early morning azaan that disrupted his sleep. He stated that he strictly protests against such "noise pollution".
Meanwhile, Chopra's old promotional clip -- while filming for Jai Gangaajal in Bhopal -- started going viral, adding further fuel to the controversy.
Also Read: From Beauty Queen to Royalty: Why Priyanka Chopra is in a league of her own
Chopra, in the video, reveals that in those days "my favourite part of the day in Bhopal was listening to the evening call to prayer from nearby mosques while enjoying the sunset".
Here's the video of Priyanka Chopra speaking about the azaan:
Now the short clip has reached every WhatsApp group and seems to be working in contradiction to Nigam's posts. However, before Chopra, actor Sonu Sood was also trolled on Twitter for taking a stand for Sonu Nigam.
https://twitter.com/sonunigam/status/853758848133242880
https://twitter.com/sonunigam/status/853760205368078336
https://twitter.com/sonunigam/status/853761583666806784
https://twitter.com/sonunigam/status/853764889671720960
After receiving a fire of criticism and support too, the fiasco took a turn when a Kolkata-based cleric announced a reward of Rs 10 lakh to anybody who would volunteer to tonsure the Bollywood singer and festoon him with old shoes. Nigam silently protested back with a shaved head on Wednesday in response of the attack and tweeted:
https://twitter.com/sonunigam/status/854548450548908032
Singer @sonunigam gets his head shaved after a Fatwa was issued announcing Rs 10 Lakh for anyone who shaves his head. (PIC/ANI) pic.twitter.com/kbD3RnXU1M

— ABP News (@ABPNews) April 19, 2017
Sonu Nigam has not done all the things I asked for, two of the three things remain unfulfilled: Syed Sha Atef Ali Al Quaderi on fatwa | ANI pic.twitter.com/X7HHqhc7Dw

— Hindustan Times (@htTweets) April 19, 2017
Nigam later clarified his complaint, adding that the sound of azaan, or any other religious prayers are nothing but noise pollution, and that the loud tone is making an unbearable situation for the people of the society. He then went to apologize "if someone thought otherwise".
Now, social media is playing the meddler in making one star a hero and accusing the other of being intolerant.
Many Bollywood celebs has commented on Mr Nigam's remarks too.
https://twitter.com/RichaChadha_/status/853803651852369922
I'm hurt as my dearest brother @sonunigam tweeted such words about #Azaan n not being a Muslim #Gundagiri knowing U never expected ths not U

— Wajid Khan (@wajidkhan7) April 17, 2017
Also Read: Watch Priyanka Chopra and Superwoman Together in a Hilarious Video
Feature Image Credit: Siasat
Join Us on https://www.facebook.com/SheThePeoplePage
Follow Us on https://twitter.com/SheThePeopleTV