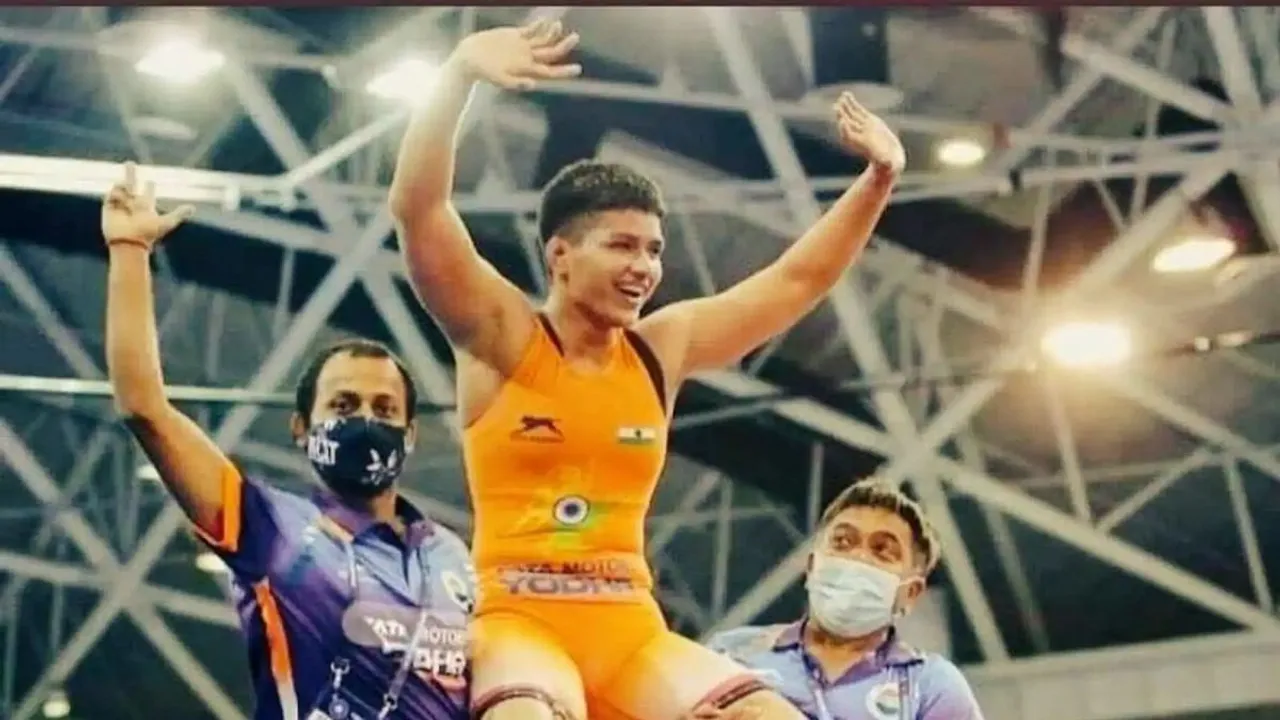 India's Priya Malik, on Thursday, clinched the gold medal in women's 76kg at the ongoing U-20 World Wrestling Championships in Amman, Jordan. Malik defeated Germany's Laura Celine Kuehn 5-0 to become only the second Indian woman to be crowned the U-20 world champion.
Meanwhile, Antim Panghal is one win away from the match that decides whether she'll keep last year's Junior Champion title.
During the 76kg wrestling match final on Thursday, despite getting a cut above her left eye, Malik was successful in getting the advantage over Germany's Laura Celive Kuehn, who she beat 5-0.
The match had to be stopped twice due to Malik suffering from bleeding. Even with her injuries, she was able to wrestle her way to victory, with her lightning-fast leg attacks proving to be a useful move. 
𝐏𝐫𝐢𝐲𝐚, 𝐭𝐡𝐞 𝐍𝐞𝐰 𝐔𝟐𝟎 𝐖𝐨𝐫𝐥𝐝 𝐂𝐡𝐚𝐦𝐩𝐢𝐨𝐧 🔥

Congratulations to #TOPScheme wrestler Priya Malik on being crowned World Champion in the Women's 76kg, scripting history to become only the 2⃣nd 🇮🇳 Women Wrestler to win GOLD at the Junior Worlds 💪

Hats-off to… pic.twitter.com/1c8H4soWFu

— Anurag Thakur (@ianuragthakur) August 18, 2023
Antim Panghal
Last year, Antim Panghal from Hisar, Haryana became the first Indian woman to win the title of Junior World Champion. Now, she's one win away from defending her title at the 53kg final.
Panghal, who made headlines for challenging Vinesh Phogat at the Asian Games trials, dominated her three matches with ease. In the semifinals, Panghal neatly beat Russia's Polina Lukina through her technical skill. If she wins on Friday, she will be the first woman wrestler to have won two titles.
Indian Women Wrestling
Panghal isn't alone in her success. For the first time ever, four of India's women wrestlers have reached the finals for the gold medal at the Junior World Championships. Panghal and Malik are joined by U17 World Champion Savita, known for her 'fall' technique, for the 62kg contest; and Antim Kundu, coached by Kuldeep Kadian, for the 65kg contest.
Harshita is vying for the bronze medal in the 72kg competition. This year's junior women's wrestling championship has seen some losses - Reena lost her opening match in the 57kg category to Ukraine's Alina Filipovych, but retains the chance to get the medal through the repechage route as Alina reaches the final. 
---
Suggested Reading: Who Is Anita Sheoran? Gold Medallist Wrestler Seeks WFI Presidency