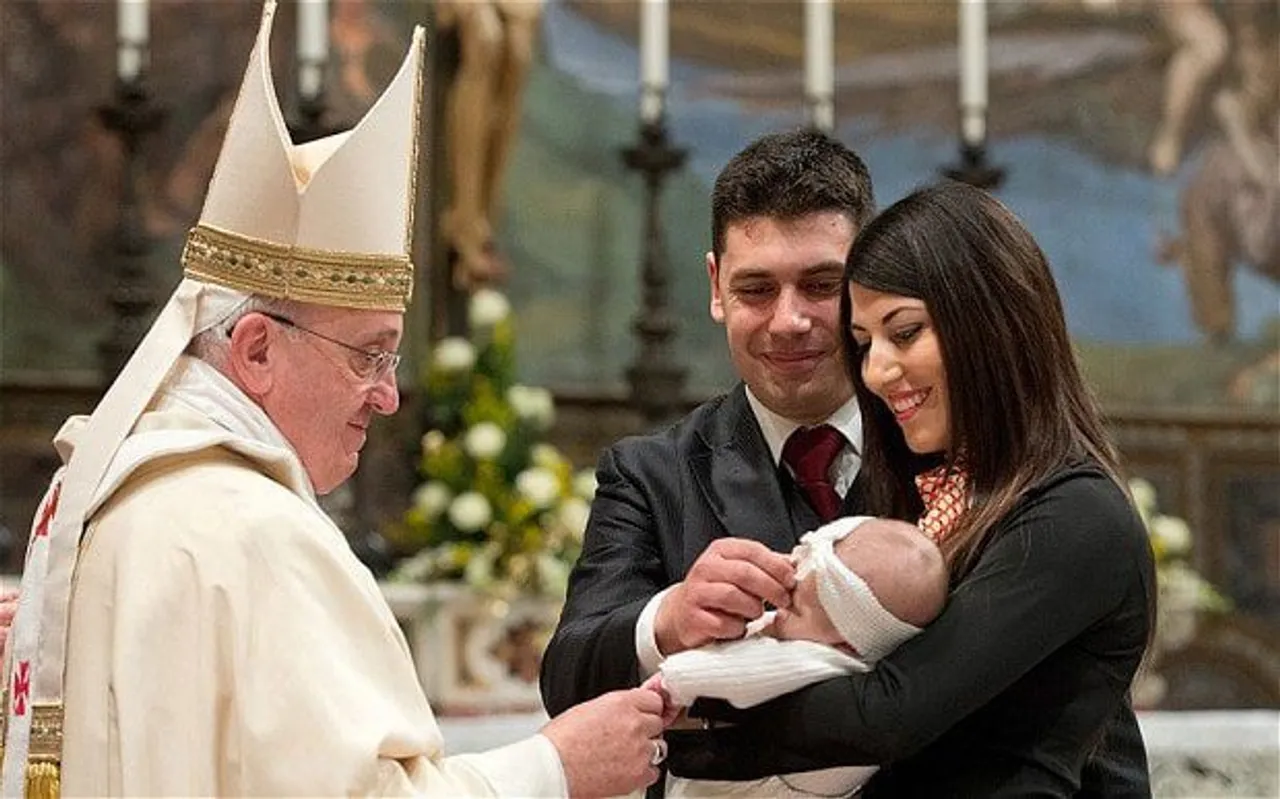 At a ceremony in the Sistine Chapel on Sunday, Pope Francis said that it is not restricted if mothers want to breastfeed their children in the church. In fact, he openly suggested to the women if they want to do the same, they can.
'You mothers, go ahead and breastfeed' - #PopeFrancis encourages breastfeeding in church https://t.co/Nd4GZflnnn pic.twitter.com/UkVBMXLQ0l

— RT (@RT_com) January 9, 2017
"The ceremony is a little long, someone's crying because he's hungry. That's the way it is," the pontiff said, according to The Independent. While addressing the worshippers attending an annual ceremony commemorating the baptism of Jesus, he added, "You mothers, go ahead and breastfeed, without fear. Just like the Virgin Mary nursed Jesus".
This was a fine day when the Argentine pope baptised 15 boys and 13 girls during a ceremony but the pontiff made it clear that he was aware of what new mothers suffer during the long event.
Also Read: Canonisation of Mother Teresa, Now a Saint For All
To make their day easy, Pope had decided to support breastfeeding. In January last year too, he had gone ahead and voiced similar  public support at the same ceremony at the Sistine chapel.
#PopeFrancis to parents of 28 newborns baptized today: Safeguard their faith, help it grow & become witness. pic.twitter.com/rePUNxu1Aj

— Catholic News Service Rome (@CatholicNewsSvc) January 8, 2017
According to reports, when Pope saw one mother having a hard time feeding her child at the jam-packed ceremony but she finished breastfeeding before the homily, he was prompted to make the declaration.
Francis said to those mothers, "We thank the Lord for the women with milk and we pray for those who are not able to breastfeed their babies. We pray for them and try to help them."
Also Read: Bhubaneswar to have The Mother Teresa Road soon
Earlier, he even made remarks on parishioners to be more gentle on infants during a visit to the St Joseph church in Rome last month. "Babies cry; they make a noise," he said.
Well, it is a known fact that breastfeeding helps reduce child obesity, rates of diabetes and infections. But in almost all countries today, women are still widely criticized if they are seen breastfeeding publicly.
READ: Vatican Museums To Be Led By A Woman For First Time
Feature Image Credit: The Telegraph
Join Us on https://www.facebook.com/SheThePeoplePage
Follow Us on https://twitter.com/SheThePeopleTV