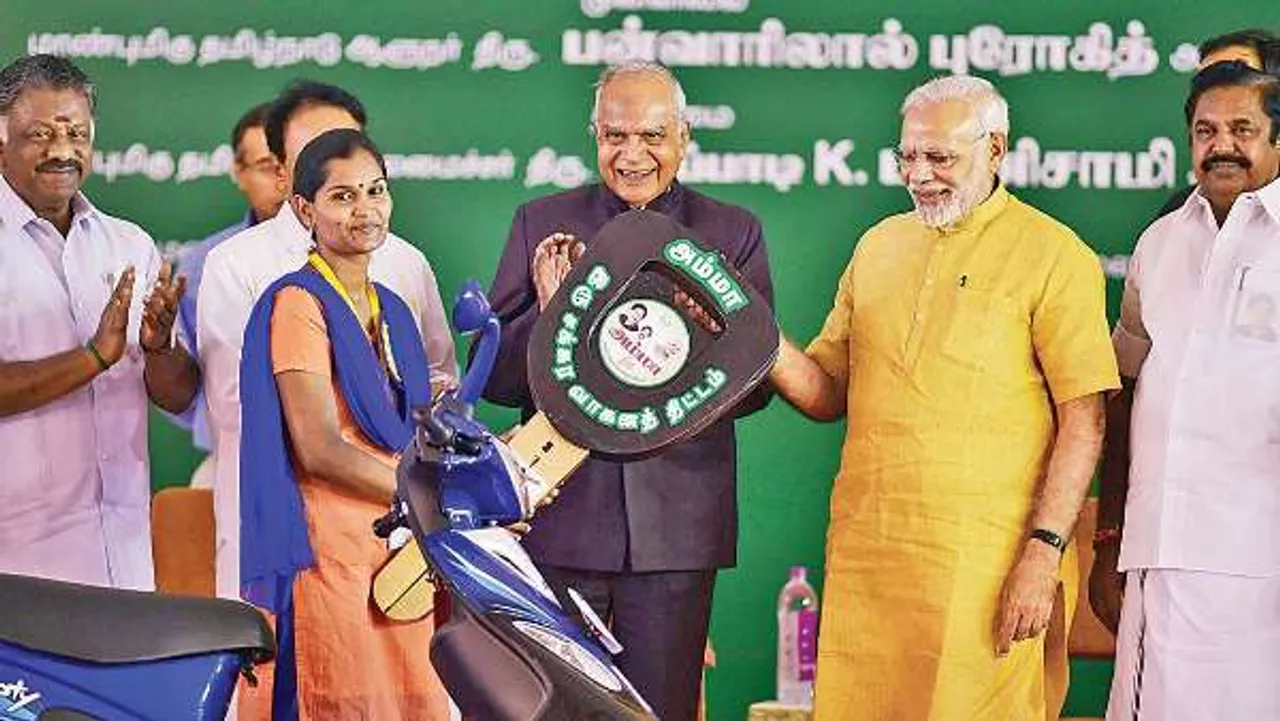 In a bid to mark the 70th birth anniversary of late chief minister J Jayalalithaa, Prime Minister Narendra Modi on Saturday (Feb 24) launched the Tamil Nadu government's Amma scooter scheme and a massive tree plantation programme. Over one lakh working women will get scooters at subsidised rates as part of the scheme.
Also: May Exhume Jayalalithaa's Body, Says Madras HC
Tribute to the leader
"I am sure she would be very happy to see the happiness on your faces," the PM said. He said he was delighted to launch one of Jayalalithaa's dream projects. Modi said the scooter scheme would go a long way in the empowerment of women in the state. Empowerment of women would mean empowerment of the entire family, he said.
What is Amma scooter?
Amma scooter is a scheme whereby women in Tamil Nadu can get 50% subsidy or Rs 25,000 for purchasing a two-wheeler with less than 125 cubic capacity.
Who is eligible?
Women whose income is less than Rs 2.5 lakh per annum are eligible to be the beneficiaries of the scheme. Only one woman per family is eligible.
However, preference will be given to families run by women, widows, disabled women and transgenders.
Read: Jayalalithaa's Legacy: Her Departure Leaves The Battlefield Less Spirited
Other initiatives for women
PM Modi mentioned that the the Swachh Bharat Mission launched by the ministry of urban development to provide sanitation had given women respect and dignity, he said.
"We worked in a mission mode to provide toilets to girl children in all government schools," Modi said.
The Centre has also provided 3.5 crore free LPG connections under the Pradhan Mantri Ujjwala Yojana to provide smoke-free environment and reduction of kerosene use. In Tamil Nadu, 9.5 lakh women benefited from it.
Read : Jayalalithaa's niece enters politics, Meet Deepa Jayakumar
Also: W is for Welfare, W is for Woman – What Jayalalithaa did for women
Picture credit: DNA