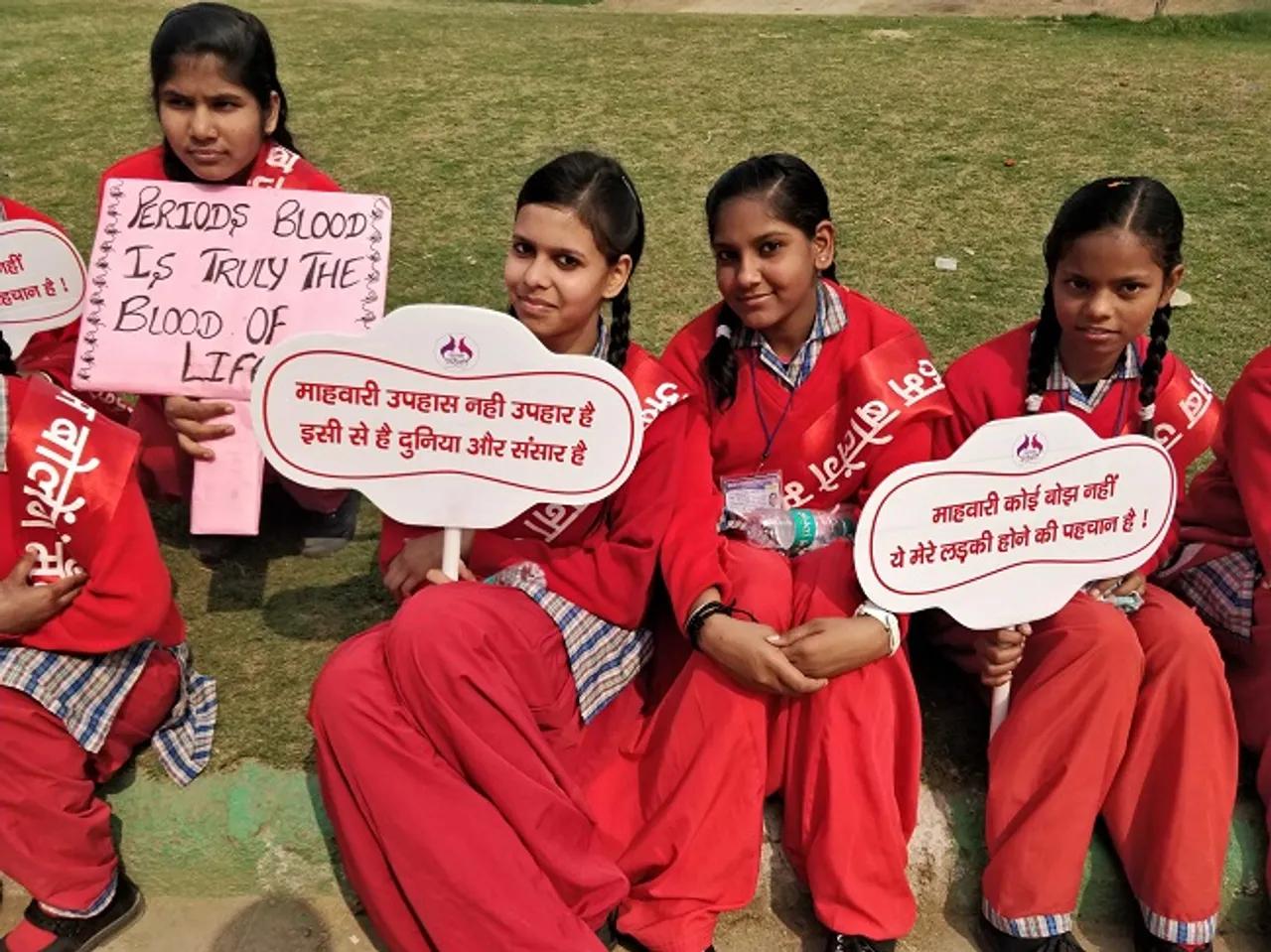 Menstrual hygiene is finally entering into our daily life conversations. And the ones who we need to educate the most are our upcoming generations and young girls on their way towards getting periods or are just a year or two down the menstruation path. How we do it is by spreading awareness and breaking taboos breeding in our toxic culture that says girls should stay in their rooms, not touch the pickle, not dance, exercise or attend school. These myths are still extremely prevalent in urban slums, semi-urban and rural settlements.
To bust these myths and misconceptions, NGO Sacchi Saheli organized an innovative event called Period Fest and Pad yatra at Central Park in New Delhi on February 5. The fact that the event took place in a public place where slogans of period positivity were raised by schoolgirls from various Delhi government schools and NDMC schools is telling of the understanding such dialogues create in young children's minds and the men and women who cross the space.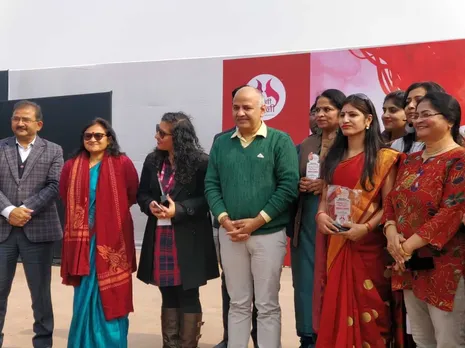 Delhi deputy CM Manish Sisodia (centre) at the Sachhi Saheli programme on February 5.
PERIOD POSITIVITY STARTS FROM HOME
Deputy Chief Minister of Delhi, Manish Sisodia, also emphasized on the need for young girls to become ambassadors of periods and bust myths of older women in their own houses. "Girls who get education around menstrual hygiene in their schools and through these awareness drives need to bring that information back home and teach their mothers and other women in their family about period positivity," he said at the event.
"To ensure period positivity and that young girls have a good perception and knowledge about periods in their heads—we need to start the conversations at our houses. Mothers should talk to young girls about the advantages and health benefits of menstruation," said Manveen Kaur of Pinq Pads to SheThePeople.TV.
"Young girls should talk about it openly in their homes and among each other and not feel shy discussing menstruation. It will help normalize it in their peer groups," she added.
ALSO READ: Man On Train Tweets To Railways, Gets Help For Menstruating Friend
At the programme, Dr Surbhi Singh, president of Sachhi Saheli, said: "It is important to remember that as girls and women, we should never be ashamed of periods. Instead, we should be proud!"
At this, students in the audience started chanting: "Hum bolenge, muh kholenge, tabhi zamana badlega."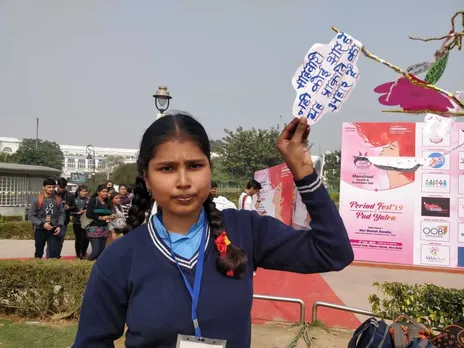 A schoolgirl displays an important message at the programme.
NORMALISING THE TABOO AROUND PERIODS
Ranjana Prasad, Member of Delhi Commission for Protection of Child Rights, has been working towards spreading knowledge about period positivity for several years now. She said that the idea began from her own life. "For many years even in my own family, girls and women couldn't speak openly about menstruation and it was a hushed conversation. It really bothered me and taboos like not entering religious spaces while on my periods felt like a barrier, so I broke the myth -- starting from my own life. After years of normalizing it, today my daughter openly talks about it in the family, not just with women but also with her father. My husband buys sanitary products for my daughter," she explained.
"It has been a journey starting from my own family and now to organizing awareness drives like Period Fest and many such initiatives in schools where young girls can learn about periods in a non-biased and non-judgemental manner," Prasad told us.
SWITCHING TO IMPROVED MENSTRUAL PRODUCTS
More than that, menstrual hygiene also requires deeper understanding of what is good for our bodies and if we are using the right products that won't harm our health and the environment. Smita Kulkarni of Stonesoup Wings spoke about menstrual cups. She said, "If young girls ditch the sanitary pads and start using the menstrual cup, not only is it comfortable and there's a lot more that women can do in their periods while using it, it also helps eliminate the risk to our environment."
Sanitary napkins are bleached and there are harsh chemicals used to bleach pads. It causes irritation, rashes, period blood smell, so companies add fragrance to it which makes the pad become an amalgamation of plastic and chemicals
Sanitary napkins are bleached and there are harsh chemicals used to bleach pads. It causes irritation, rashes, period blood smell, so companies add fragrance to it which makes the pad become an amalgamation of plastic and chemicals. Each pad has as much plastic as four plastic bags and in long-term these pads are known to cause infertility, diabetes, hypothyroid, many reproductive disorders and also cervical cancer.
The pads are extremely thin because of its polyacrylate gel content. When people flush it down the drain after using it, it will keep on absorbing water and expanding, and at some level, it will block the drain and most drain blockages are because of sanitary pads. And if not flushed and thrown in garbage bins, it will end up in landfills where it will stay for 500-600 years and not decompose, contaminating the environment. And if it is burnt, it will release dioxins which are extremely cancerous again."
Today, there are several menstrual products in the market that are reusable and also environment-friendly. We need to keep improving and changing our strategies to make periods as healthy and hygienic and products as sustainable for the environment too. This is also the kind of period positivity we need to bring in our lives.