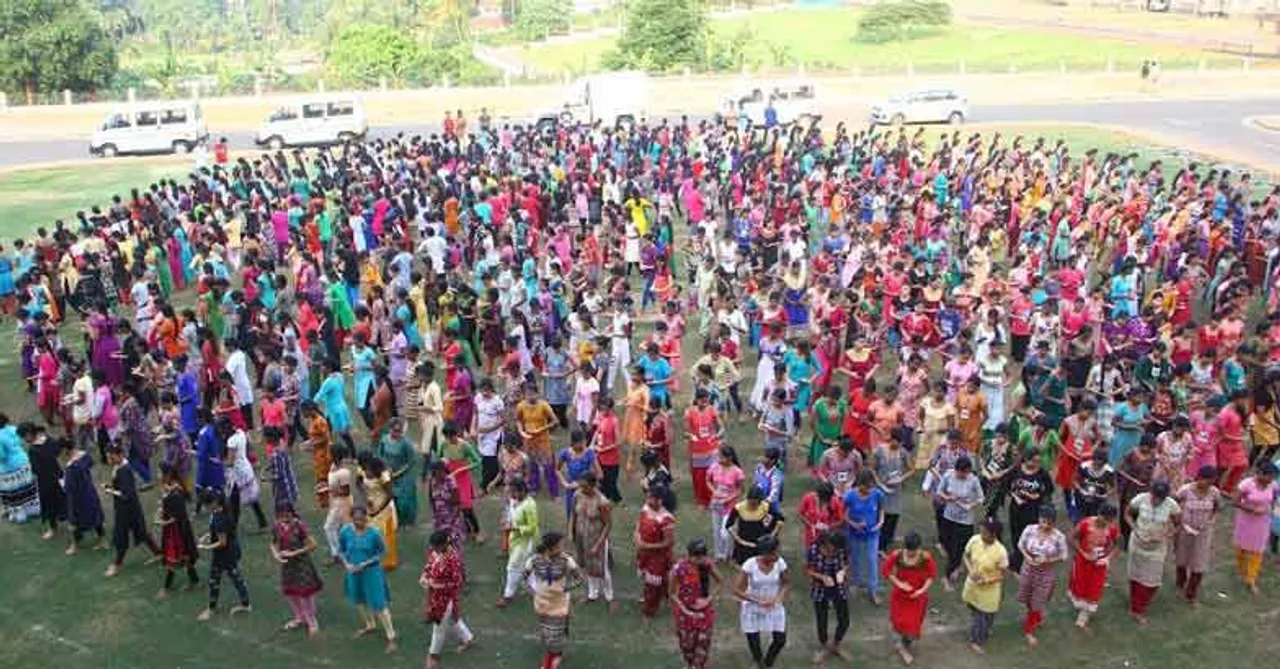 There's no end to setting new records. More than 6,500 women recently grooved to Kerala's popular dance form, 'Thiruvathirakkali', in Kizhakkambalam, thus setting a new record in the Guinness book.
The team, which comprised women from 21 different states, gave a performance that lasted about 16 minutes. The event -- reported to be the largest Thiruvathira ever held with a total of 6,582 girls and women in the age group of 10-75 participating -- was held on May 1. And along with the dancers, about 2,500 women and children from Kerala and other states also took part in the event.
Donning the white and gold-bordered Kerala 'Mundu' and 'Neriyathu' -- a traditional attire, the dancers danced in a circular pattern with rhythmic clapping to the tune of traditional songs in the eastern suburb of Kochi.
Watch the video below: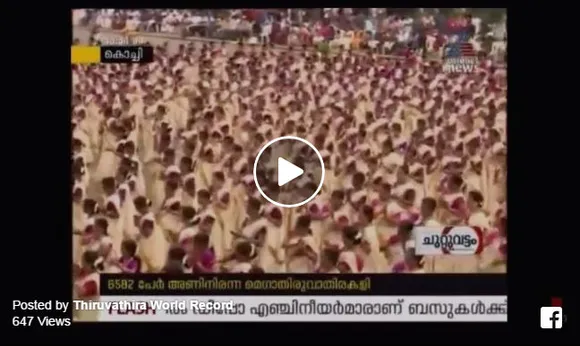 The organizers of the event -- Twenty20 -- in association with Chavara Cultural Centreand, Kitex Group and the Parvanendu School of Thiruvathira, made it to the Guinness record. However, they had expected at least 7,000 women to participate at the event that was held at Kitex Apparel Park in Kizhakkambalam.
Also Read: Kerala Bishop Wants Women To Follow Dress Code In Church
"Girls and women in the 8-80 age group will perform during this mega event as there is no age limit in performing Thiruvathira and it is simple and easy to learn. Along with 2,500 woman and children from Kerala, a Russian woman and more than 4,500 woman from 19 different states across India will be participating in this world record attempt," Malathy G. Menon, director of Parvanendu School of Thiruvathira, had earlier told Manorama Online.
"Kizhakkambalam Twenty 20 has so far contributed only to the development activities in the panchayath. Now, we make a step forward to promote traditional dance forms of Kerala like Thiruvathira," said Agastin Antony, coordinator of Kizhakkambalam Twenty 20.
Also read: Women Not Allowed In Night Sessions Of Kerala Church Convention
"The record for the world's largest Thiruvathira belongs to Twenty20 Kizhakkambalam," said Rishi Nath, adjudicator of Guinness World Record while bestowing the certificate to Sabu Jacob, Twenty20 president and chief coordinator, NDTV reported on the day the event was conducted.
"More than setting the world record, we hope this mega event will serve to bring together the people of Kerala and give a much-needed fillip to the non-performing arts," he said.
"Thiruvathira, being a traditional art form, has deep roots in creating synergies among communities, irrespective of the caste, creed and culture," said Fr Roby Kannanchira, director of Chavara Cultural centre.
Earlier, 5,211 dancers had performed the Thiruvathira in February 2015 in Iringalakkuda, Thrissur.
Feature Image Credit: Manorama Online
Join Us on https://www.facebook.com/SheThePeoplePage
Follow Us on https://twitter.com/SheThePeopleTV