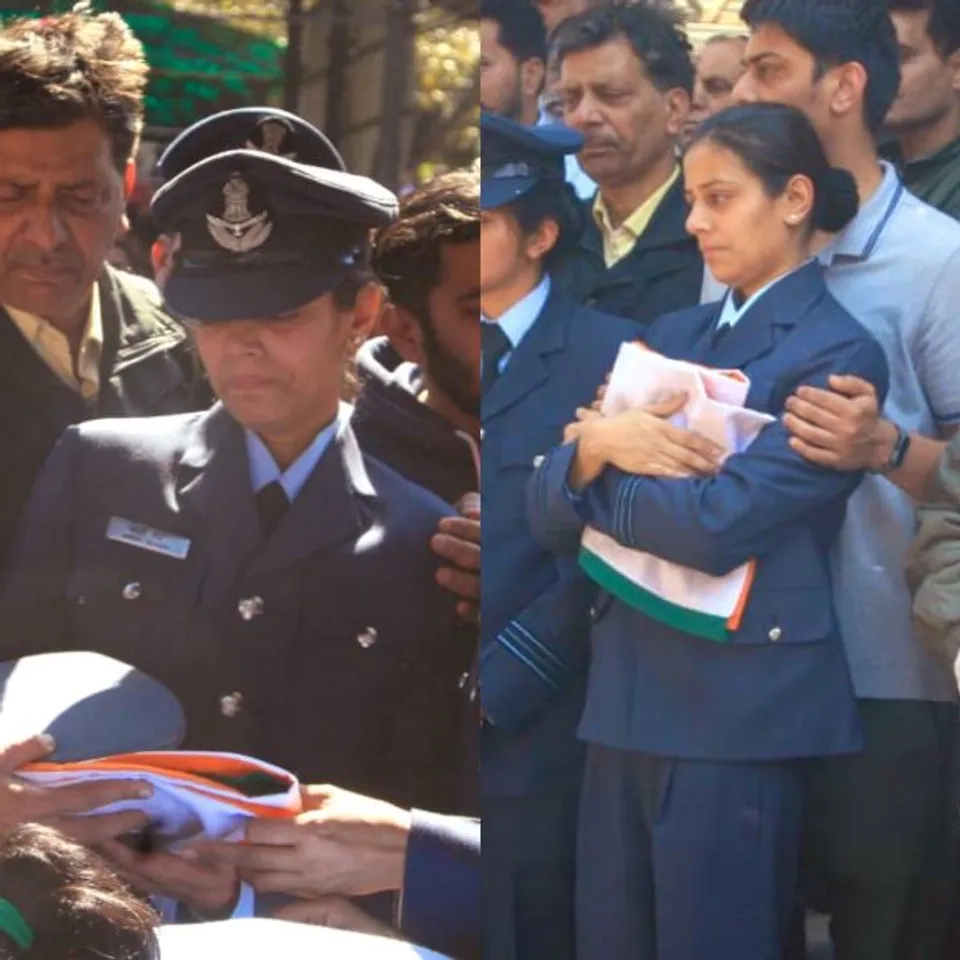 Squadron Leader Aarti Singh is the epitome of quiet strength. Widow of deceased IAF officer, Squadron Leader Siddharth Vashisht, whose last rites were performed on Friday with full military honours in Chandigarh, she bid adieu to him clad in her uniform.
Vashisht died in a M1-17 helicopter crash at Budgam near Srinagar in Jammu and Kashmir on Wednesday. Besides his family and a large number of officers placing a wreath, his wife who is a fellow officer, was present too. The pyre was lit by the father of officer, Jagdish Kasal. Senior civil and defence officers and political leaders paid their homage to the Squadron Leader.
Squadron Leader Siddharth Vashisht who was the pilot of the Mi-17 helicopter that crashed in Budgam,J&K on February 27 was cremated in Chandigarh earlier today. (In pic 1: his wife Squadron Leader Aarti Singh holding the folded tricolour) pic.twitter.com/ShIBfpyBL3

— ANI (@ANI) March 1, 2019
The officer's remains had arrived at Chandigarh's Air Force station on a service aircraft on Thursday. It was taken to his Sector 44 residence in an IAF vehicle, NDTV reported.
A family member said, "The ashes of the deceased officer will be taken to his native village of Hamidpur near Naraingarh in Ambala tomorrow and after it, these will be immersed in Ganga in Haridwar."
READ: Wing Commander Abhinandan's Mother, Dr Shobha, Is A True Soldier
#WelcomeHomeAbhinandan. Prayers to #SiddharthVashisht and his family.

Jai Hind🇮🇳

— A.R.Rahman (@arrahman) March 1, 2019
According to a report by Outlook, "Vashisht (31) was a fourth-generation member from his family in the armed forces. He was commissioned in the IAF in 2010 and last month, he received commendation for his role in the rescue operation during the Kerala floods."
This is Squadron Leader Aarti Singh, wife of Squadron Leader Siddharth Vashisht who was pilot of the Mi-17 that crashed in Budgam on Wednesday. He was cremated in Chandigarh today. RIP. pic.twitter.com/UUMeT120Id

— Shiv Aroor (@ShivAroor) March 1, 2019
Meanwhile, Prime Minister Narendra Modi has praised the valour of the captured Indian Air Force pilot who returned to India from Pakistan. "The world takes note of what India does... India has the strength to change the meaning of words in the dictionary... Abhinandan once used to mean welcome. And now the meaning of Abhinandan will change," PM Modi said this morning in Delhi, in an apparent reference to Wing Commander Abhinandan Varthaman.
We salute you, Aarti Singh!