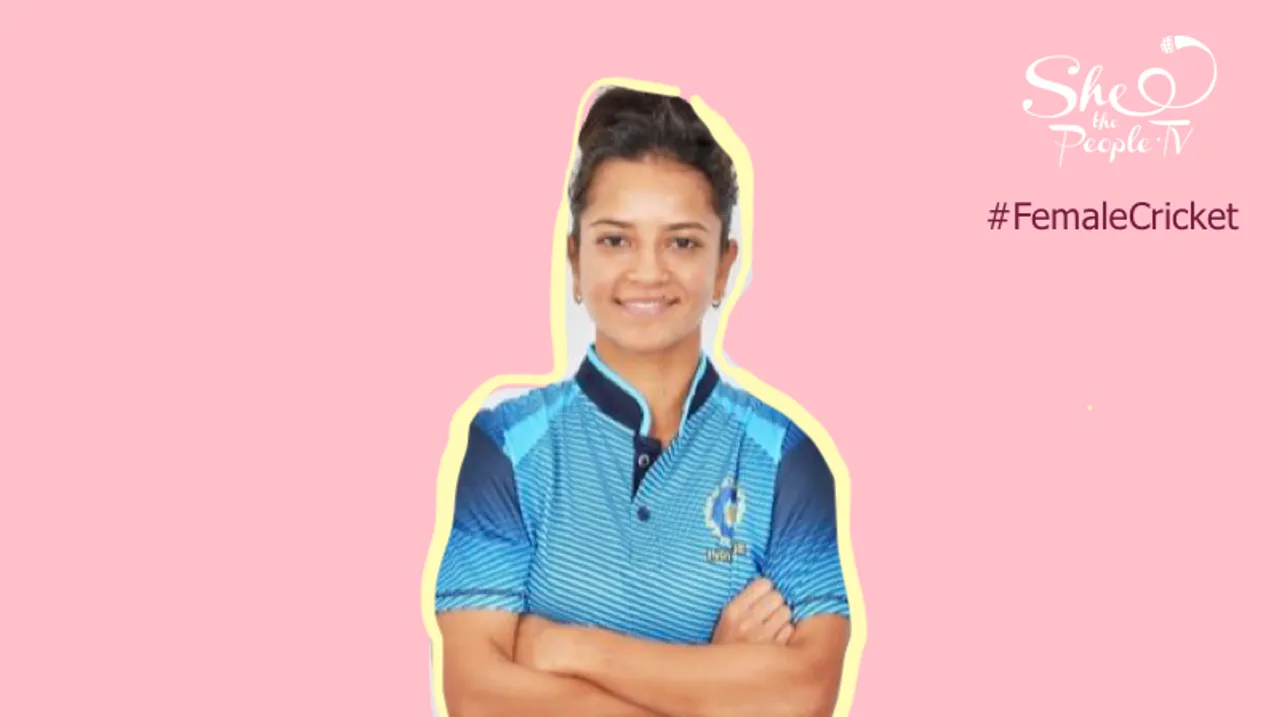 Some people create history, some make good stories and some become the story that inspires millions! Tamanna Nigam, the 23 year old batting all-rounder from Bhopal who started off her professional career as a boy! But skills and hard work can never be changed by appearances, gender or by what people think at all. A person who lives cricket, who loves cricket and the one in whose veins only and only cricket flows! Tamanna who believes that cricket is a majorly mind game and who is making sure that cricket keeps beating in the hearts of millions through her bat. This extremely self made and focused cricketer lets her bat do all the talking while the rest just watch in awe!
1. This journey has been really enthralling and full of little moments. Take us through your story, your childhood, your family and how cricket finally happened?
I am the single girl child in my family, but my father has never differentiated between a girl and a boy. He has always pampered me with everything that I have ever wanted, has always treated me like his son. So, I started playing with the boys in my society but they never really asked me to bat. They always asked me to field at the most because they thought; because I am a girl I may not be capable enough of playing with them. But I always made sure I give my best as a fielder because then they had to let me play because I fielded so well for them, they had no choice!
I do not even remember how much I have lied to play at numerous places! Today, when I recall those moments, it all makes me laugh. Every time I walk out with my mom, I literally show her the places and say 'look, this is where I used to come and play when I lied' (Laughs). My mom scolds me so much! I used to leave my home at 7 in the morning and return at 7 in the evening that is how much I used to play. I have never played with dolls! I always used to break them and throw them away when I used to get them. It was the bat and the ball I always craved for! I wanted better of it all and more of it always! There was no getting tired of them, they fascinate me since forever.
2. Was it always cricket, or did other sports fascinate you too?
I have always adopted cricket only but there was no cricket in my school for girls, I am from KV central school. I was really desperate to play cricket anyhow so I used to play with the boys in my school. I have also represented my school in nationals in Hand Ball and Volley Ball.
3. Tell us about how your professional journey began and from where?
I was 8 when I thought of playing cricket professionally. Actually, there was a guy named Harsh in my society so he always used to tease me that how can you even play and what you even know about cricket, you are a girl you cannot play. So he used to go to a cricket academy, so even I forced my dad to enroll me there anyhow because I wanted to play.
In that academy, no one knew that I was a girl. Everyone thought I was a boy because I had kept my hair short and even used to behave that way. Only my coach knew I was a girl and no one else. Even I never told anyone because then the same would happen, no one would have let me bat or bowl, they would have always asked me to field. I kept my name Rohit. The name is inspired by the movie "Kaho Naa Pyaar Hai", it was Hrithik Roshan's first movie in which his name was Rohit and that movie had released at that time and I loved it so the name came that way.  I used to play in the team as a boy, I used to bat well so they took me in the team but none of them knew that I was a girl. So I can say that I began my professional career as a boy!
4. Eight years is a young age to decide a career for oneself. What was your family's reaction towards that decision of yours?
My dad has always loved cricket. Even he did not really get a chance to play; in the society where they lived there was a group who never really included him in the team and I have a similar experience. He has always been a cricket fanatic. Our economic condition was not really good; we did not have enough money to purchase nets so my dad used to construct the net through mosquito nets and made me practice there. He used to bowl to me there, so that when I hit he does not have to run much to collect the ball.
He had to run and collect the ball himself but he still asked me to hit even harder, play more shots and keep hitting! It was my dad who instilled the love and obsession for cricket within me, so full credits to him!
5. Did your fellow teammates ever got to know about you being a girl? How did you deal with it then?
Yes! I think one year after I had joined the academy, there was this talent search program in Madhya Pradesh. So at that time I went and joined the girl's line so all my friends started screaming from the other side " Idhar Aa, Woh ladkiyon ki line hai" (Come here, that line is for the girls). So I told them "Mera mann hai khade hone ka" (I want to stand there, I wish to be there) (Laughs). That time passed somehow because we were all kids so no one really paid much attention. Even the parents of other kids did not know that I was a girl!
But when the list came out after the trials, everyone was saying that no one got selected and there is some girl from Bhopal named Tamanna who has got selected! And no one knew who that was! So then they realized that the boy they had been playing with was actually a girl! They stared at me very badly with the emotion that "God! She was a girl and she was playing like this!" When you are small, you are always so excited about things, like when we used to play any match the feeling was like an ultimate World Cup! So their reaction was like "Damn! She was a girl and we had mistaken her for a boy all this while!" But then even they felt that she has really got something because she is making us win, playing well so she is capable!
6. What is the most noticeable difference that you have seen from the time you started playing to this very day in present?
When I started playing, the society could not accept a girl playing! Many people used to come to my dad and tell him why was he letting me play cricket, she is just wasting her time and even I was good at studies so my dad used to get calls from my school telling that she is good at her studies so why are you letting her play, it may shift her focus! That time people could not accept a girl playing, but today when I am playing at the professional level and playing well and even getting some recognition in Bhopal, people now think that this girl is doing what she has always wanted to do, she is living her dream! I am 23, and others whom I know who have played with me or are juniors, they are doing some jobs but even today when we meet at times they always say "Yaar, tu wohi karti hai jo tujhe karna tha" ( You are doing what you have always wanted to do) We are doing what everyone does, meaningless jobs. But you are truly doing what you have always wanted to do.
I always tell my dad that I will never regret anything in life! Because I am living my dream, I am doing what I have always wanted to do!
This social acceptance of people towards girls playing is the biggest difference that I have seen. Even the families from both my parent's sides never accepted me playing cricket. Only my mom and dad have supported me throughout and have stood with me to make sure I pursue my dreams!
Picture by Female Cricket
7. Have you seen any huge difference in your own game over the years? Positive or negative?
Earlier, I used to play thinking about people a lot. What they would say, how would they react? Especially, when I did not play well, I was very conscious and under pressure. Since 4-5 years, people have started accepting, they are understanding women's cricket and so it impacts us as players also very positively. The pressure is less and we are able to express ourselves more freely. From a time when they said "How are you even playing, can you even play?" to today when they say "Wow, You play really well!" things have changed a lot. Earlier we used to play under pressure, today we enjoy the game!
8. People have always been making comparisons between men's cricket and women's cricket. How does it impact a player mentally?
The game of cricket is 70 percent mind game and 30 percent a game of skills! And that is why our minds need to be completely free while we are playing. People have a mindset that okay, there is this men's game going on so let us watch that, what is even in the women's game, why do we watch it! Like, even if there is a men's district match the whole ground would be full, but even if there is a good women's game, not many people turn up.
But now there is this stability that we have attained, like it is okay for people to speak, let them speak. We are here to play and express ourselves so we are going to do that!
9. Social media is a platform that can either make or break something and impacts our daily lives a lot. How does a sportsperson get impacted by these mediums?
I myself am a journalism student and I am currently doing my masters in journalism and Mass Communications. So, I am very well versed with the role of media in an individual's life and how powerful they are and they literally have their own weapons, be it in sports, politics or anything at all. Media scares us; we can say and at the same time can take us to great heights as well. Earlier, media or news channels did not like to cover women's cricket only but today I can say, here in Bhopal women's cricket is supported a lot. It has become a trend and with all the initiatives taken towards it, the people's support has only increased and that feels great!
Recently, there was some controversy going on in men's cricket so I was practicing in the nets when some media persons approached me asking my views on that and at the same time the ICC Women's World Twenty20 was going on. So all I told them was, why are you focusing on this news, there is this huge women's world cup going on which needs to be supported and has to be covered so why not focus on that! They were all covering such a lame topic and were ignoring something so huge! So I told them that here you are asking us about such lame things and you are actually not even talking about something that genuinely needs to be covered! So this way media plays an extremely crucial role in a person's career. They either take you on the top or make you fall really bad.
10. Captaincy is a very crucial role in cricket. But off the field, how does it impact a player at their personal level?
I have captained my side at the U-19 level and at that time, Madhya Pradesh had become champions after a very long time. I opened for my team for the first time back then and in my very first match I scored 88 runs against Rajasthan. Possessing the leadership qualities is very important. Let me put it this way, when you are not the captain and are just a player then you only think about your own game and how you would contribute for the team. But when you are the captain, you keep others before you; you keep your team and the other players before you and your own game. You want to bring out the best from each player and want to utilize your resources optimally!
Captaincy makes a person think about others first and later about them. It imbibes the trait of thinking about others and keeping them before your own self. Also, there was a time when I myself was not having the best of phases in my career, had I not been the captain, it would have made me depressed and would have affected me deeply but because I was the captain, I just focused on the team and how I can help them bring out the best from them. Even if I could not contribute as a player, I wanted to make sure that other players bring out the best from them and contribute the most for our team. Usually, people think that if we are not able to contribute, we need to focus on our game and let others do what they want to. But as a captain, you just do not focus on yourself; you keep everyone else before yourself. Captaincy also provides stability and mental strength to a person!
11. Nutrition and fitness are very crucial aspects in the life of a sportsperson, what is your diet and workout routine?
The academy where I practice, my coach is extremely strict about fitness. Every single day we have our fitness sessions, and how important fitness really is, is truly reflected by Virat Kohli, it has taken his game to an altogether new level! Whatever my coach says has to be followed strictly, No sweets and no outside food at all and that has to be strictly followed. I do have cravings at times but otherwise, the diet has to be followed really strictly! Moreover, my coach is not someone who will ask you to run and would stand on the side himself. Even he runs with us, follows the diet and works out with us!
Cardio is certainly important but having strength in the body is really required. Plus, we do not get to play many matches and there are long intervals between tournaments so we are not used to it so when we play these matches, there are many injuries so one has to be really fit to avoid these injuries. My session starts with the cardio early morning Khatarnak Cardio! (Dangerous cardio) (Laughs). Then we work on our skills, net practices and after a break of half an hour I hit the gym. Where I work on the strengthening and all and the after the rest, again in the evening I go to the ground. I practice for about 7-8 hours a day and it increases in summers even more!
12. Who is your current coach and where are you practicing currently?
My current coach is K.D Gupta Sir and I have been training with him since about 1.5 years, and these 1.5 years have changed me to a great extent. I can say that he is my support system, be it anything related to life or cricket but I can always share with him. As I mentioned, I am single girl child so he is like my elder brother to me!
13. Were you always a batter or did you start off with some other role?
I started my career as a leg spinner but initially they just gave me around 2-4 overs to bowl and the medium pacers got to bowl a lot. So I thought Yaar inko itni overs mil rahi hai to mai medium pacer bann jaati hun! So I picked up the ball, and started bowling medium pace and walked to my coach and told him that now I will be a medium pacer! So he looked at me and started to laugh! My height is very short and back then I was just 10 or 11 years old so, he said "Theek hai, daal le" He thought I was just joking, but I was really serious about it and that day when I started, I have not stopped ever since! And I absolutely love to bowl! I do bowl regularly but I am a batting all-rounder in the team now. And I love fielding the most because I believe batting and bowling comes afterwards, but fielding is what each player has to do and enjoying that is really important.
14. What do you want your jersey number to be and why?
I want my jersey number to be either 57 or 75. I have always been fond of the number 7, because most of the people in my family have their birthdays in July that is the seventh month. Even the number of alphabets in my name is seven and there are many other things as well. And 5 plus 7 is 12 and I was born on 12th that is why!
15. What is still missing in women's cricket after all the changes be it good or bad since the time you started?
The ICC Women's world cup came as a drastic change for women's cricket and having played the finals, had we won the finals it would have been even a bigger change. Reaching there in itself is a great thing but we also must talk about the lack of appreciation for women's cricket compared to the men's cricket. Movies must be made on women's cricket and I believe the cricketers should only play their role in these movies! Movies on legends like Mithali Raj and Jhulan Goswami should be made. Today also, there are boys who know about women's cricket but many girls who do not know that women also play cricket due to their lack of interest in the game and especially women's cricket.
Also, coverage of women's cricket must be increased; the men's games are televised on several channels whereas women's games are allotted just one channel so that must be changed. As mentioned earlier, media certainly plays a huge role in impacting the game and so its role has to be dispersed properly!
16. How far has BCCI been impacting the game and how supportive have they been over the years? Also, what all facilities are yet to be given?
The BCCI has been really supportive lately, initially there were not many facilities given, now even our stays in hotels and other luxuries are provided well. But the pay and number of matches still differ a lot from that of men's and if India is said to be a country where there exists equality, then in every single aspect there should be equality!
17. Women's IPL has been a trending topic, what is your take on that?
IPL has taken the men's game to an altogether different level and every boy dreams of playing at least the IPL that is the level. Women's IPL has been a buzzing topic since 4-5 years but there has not been any serious reverting to that. Recently, IPL exhibition matches were played to see how women's IPL can work, but there was no support from the society for that. And just after that game, a men's game was to begin and so at that time the crowd started to come in. People need to think that, if without their support women's cricket has reached this level then by what extent will it grow with their support! We deserve that support and appreciation I feel, and when both men and women are doing great then even the appreciation should be equal. Also, T20 is a trend right now and a lot of practice and focus on that is required.
Women's IPL must happen because it will simply take women's cricket to a whole new level and the exposure it provides is brilliant!
18. Sports and other famous professions are affected by controversies as well. How does it impact the team and the players even if they are not involved in them?
Controversies take away from you everything that you have earned over the years. Cricket is not just a game, but a way of life. It makes us learn so much about life. The struggle that cricket is made up of, is very important to live the life as well. There are times when you do not get selected, then suddenly you are on the top but through these tough times, cricket and its struggle give you the strength and stability. "Cricket jeene ki aur jhelne ki taqat deta hai" All the players or famous personalities that have to go through these controversies are very much capable of handling them with maturity.
With fame, come controversies and that must be handled with calmness and maturity. Cricket makes you that mature person and so you must learn to handle these things with calmness or else you may get dragged in even more controversies. As I mentioned earlier, cricket is seventy percent a mind game and such situations test you. Also, even if you are no where involved in the issues you are still a part of them because cricket is a team game and be it good or bad, a team always stick together!
Picture by Female Cricket
19. How different and important is domestic cricket for the international cricket and how does a player's game get changed at these two levels?
Domestic level in cricket is where you can experiment, try and make errors, learn things and make changes in your game. But at the international stage, you just have to perform and there is no room for mistakes because there you cannot experiment a lot and you have to go out and perform. So I believe this is the biggest difference between the two.
20. There are phenomenal teams in world cricket today. Against which team would you like to make your debut?
Against the best, Australia! And the most inspiring player right now for me is Ellyse Perry because even she is a medium pacer and batter just like me. Also, her fielding is simply mind blowing! So I really want to start off that way, playing against her. But in our India, everyone is the best and there is no doubt about that! No matter what, Dil hai Hindustani!
21. In the world of sheer competition and a quest in becoming the best, what makes Tamanna Nigam a stand out from the crowd?
I believe my patience. Earlier, I was someone who used to go, play and hit a few runs and come back. But today, even if the team does not perform, I still stand there on the crease and make sure I do not get out! For me, team means Together Everyone Achieves More! Everyone needs to have the same mindset and that is to do the best for the team and believe that we can and we will do this for the team. At that time patience is very important because when things do not go in our favor, we need to believe in ourselves and back ourselves and I think the whole team must have it! Skills and luck come much later, but being one team and having self belief is extremely important.
22. Whom have you been idolizing?
My idols have been Shweta Mishra and Pallavi Bharadwaj and both are my seniors. I have simply loved Shweta Mishra's batting and bowling since the time I started cricket. Although, Shweta didi has stopped playing Pallavi didi still plays and she always says that "I am your Idol and you are my icon" and we both belong to Bhopal, so we keep meeting a lot. We have discussed a lot about cricket and have even played together a lot. I would say that no one can handle a person's psychology and bring them back on track as good as Pallavi didi! Her positive approach and the way she calms people down and she is simply amazing!
When players get selected at times they become very complacent and think very high of themselves. But the importance of being down to earth always is what I have learnt from Pallavi didi! She keeps telling me what is right and what is wrong and both Shweta Di and Pallavi Di are always there for me.
23. Cricket or any sports include a lot of ups and downs, what is your way of relieving stress?
I would like to give a recent example, recently in the BCCI one-day league I was not selected for the first few games, we had eight matches and I was not selected for the first two. So I used to talk to my coach because I had become really demoralized and I was really upset because I had practiced so much the whole year and did not even get to play. So he just told me one thing "Wait for your chance, and when that chance comes channelize all this anger and pain and let your bat do the talking" And this thing got fit really well in my mind. I believe that a cricketer's most powerful weapon is their bat and their game. So when anything goes wrong, you are sledged just tell them- watch my game! There is no better answer than that.
24. Tell us about the Queens XI tournament, how it started and the story and experience?
The Queens XI tournament felt a lot like IPL. Though we had to travel really far to play the games, the crowd was electrifying! The initiative taken up, the facilities like the hotels, travel were simply amazing! I personally enjoyed a lot and such games are very important because they not only improvise the game but also make people familiar with women's cricket and how well women play! Maybe the idea of this was generated somewhere from IPL because today T20 is so important and this exposure to women's cricket is much needed.
25. Which has been your most favorite cricket memory?
The first match in U-19 that I played as an opener and a captain in which I had scored 88 runs against Rajasthan is the one I will always remember. Also there are some innings in which you feel you could have taken the team over the finish line. Recently, we played a few games against Hyderabad, UP and Himachal Pradesh in which I thought I could have finished the matches but could not. Though I bought the team really near to the win. We lost by around 7 runs against UP in which I was the highest scorer, even against Himachal we lost but again I was the highest scorer. So I always think that I could have finished those games as well.
I think I am yet to become a finisher and have to really work on that. Bringing the team close to a win is good but finishing that match is great! So remembering such matches is also important!
26. How important are failures and setbacks in life?
There is a lot to learn from failures because I believe failures are the pillars of success. I had read this in my childhood and today I believe in this. The more you fail, the more you learn! If you learn from these mistakes you are awesome but if you keep repeating them you are really poor. Learning is a process that never ends, and these failures keep teaching you so that is why they are so important in life. Neither success nor failures are permanent and failure teaches you much more than success does.
27. What do you think will be your reaction when you get the feel of the Indian jersey?
I will ask my dad to wear it! And also one for my coach and only after that I will wear it. And honestly, I do not know what will happen when this will happen! All I know is the dream that kept me awake, I will be living it and that my hard work will pay off.
28. A few words for the aspiring cricketers?
Keep playing and keep inspiring! I know we all enjoy cricket but we must play the cricket that inspires and live that cricket! Cricket should be everywhere, eat it, drink it, and live it! Cricket is not a part of life, it is life!
For me, give me a thousand lives I would love to live and die as a cricketer!
Picture by Female Cricket
29. If not cricket, what would have been that one thing for you?
Journalism. I am pursuing that as well right now and I am studying in Jagran Lake City University and I practice at Mayank Chaturvedi in Bhopal. Journalism is like my backup, god forbid if I am not able to play cricket I would like to contribute to women's cricket in this way because there is nothing more powerful than media that can impact women's cricket.Let's have an exciting rapid fire…
30. Any suggestions or feedback for the team Female Cricket?
I have been following Female cricket since its very first post. I saw it on instagram and I was really happy to see that finally someone has taken up the initiative for women's cricket. I had seen many fan pages for men's cricketers but this was the first time I came across something for women's cricket and so I followed immediately! I also watch the YouTube and Facebook. I always thought that even I want to be a part of this!
I want you to take more and more interviews just like mine and I am sure no one would refuse and keep supporting!
Who is the team's prankster? - Saloni
Your cheat day meal? – French fries and brownie with ice cream! And rasmalaai is a must! It is a sin if I refuse to have it!
A movie that you absolutely love? - A million dollar arm
What is Tamanna Nigam off the field? - Gundi! (Gangster)
Your nickname? – Tammy, Tamm, most of them call me Tikku since childhood.
Your batting in one word? – The Wall
An adjective that defines you the best? – Pretty Tough!