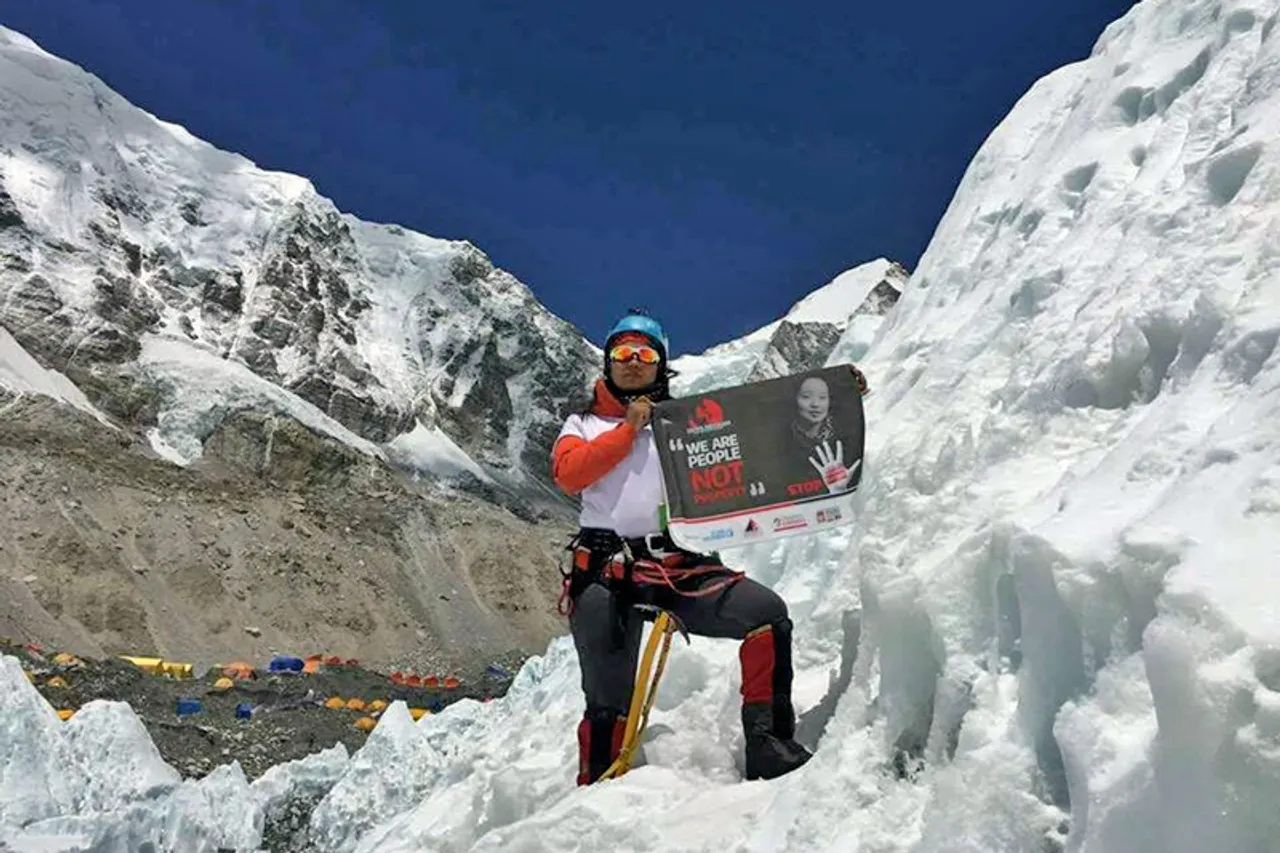 A trafficking survivor herself, Kanchhi Maya Tamang, trekked to the top of Mount Everest in a bid to spread awareness against human trafficking on Saturday (May 20). She has now become the first woman to conquer the highest peak of the world to spread awareness for women's empowerment and gender equality, according to UN Women Nepal. She is also the first Tamang woman to scale the 8,848-metre peak.
Tamang thought that if she makes a statement about the issue from the highest peak in the world, people might hear her plea. She carried a banner through her challenging trek, which read, "We are people, not property".
She did not trek the distance all alone. Nineteen others went along with her. A returnee migrant worker, she hails from Sindhupalchowk – a three-hour drive from capital Kathmandu -- and reached the top at 6 am, according to the officials.
Tamang had a prestigious organisation backing her -- UN Women -- and Pemba Dorje Sherpa, who has scaled the mountain a total of 16 times, guided Tamang on her way, said Gyanendra Shrestha, a liaison officer at the Ministry of Culture, Tourism and Civil Aviation, reported Indian Express.
ALSO READ: I Am a Survivor of Sexual Violence: Actor Ashley Judd
Apart from Tamang and Sherpa, the group had nine Nepalese people and the rest were foreigners. This season, Everest has had record visitors because of a backlog of avalanches that took place in 2014 and 2015.
About 375 people are waiting for the weather to settle to scale the mountain this season.
Before Tamang, 25 climbers, including six Indians, have scaled the mountain from the Tibetan side after nine rope-fixing Sherpas opened a climbing route to the summit point earlier this month.
And about 150 climbers will make their final summit pushes from the north side within the next couple of days.
Picture credit- The Himalayan Times
Join Us on https://www.facebook.com/SheThePeoplePage
Follow Us on https://twitter.com/SheThePeopleTV