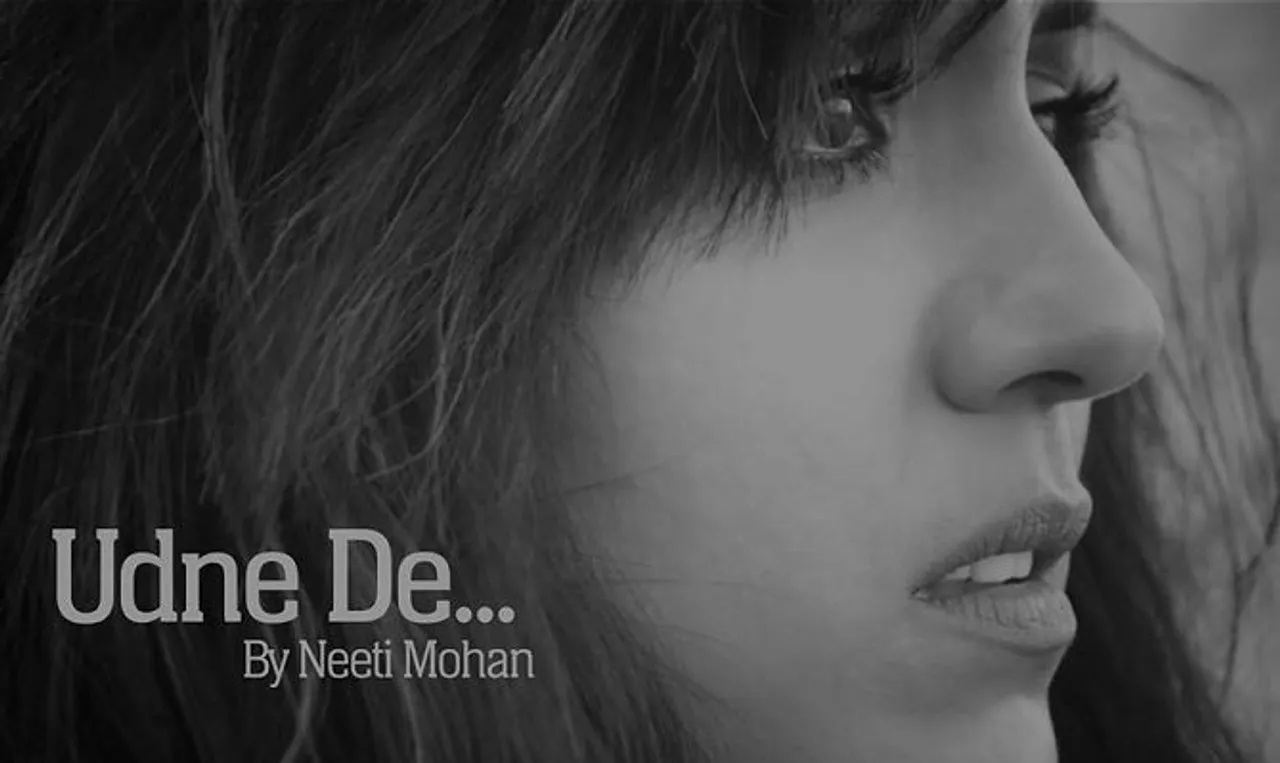 Prominent singer Neeti Mohan has now collaborated with the UN for a women's empowerment project. According to reports, the versatile playback star is the first Indian female singer to do so.
Neeti's composition "Udne de" — a tribute to all women and in support of gender equality — has garnered her a valuable place as a part of an album for United Nations Voluntary Trust Fund project. The project is titled 'Music To Inspire – Artists UNited Against Human Trafficking".
@neetimohan18 new single #UdneDe dedicated to the society#Change #GirlPower #Mohanistics http://t.co/ZQ2wK02V9j pic.twitter.com/XCxflDCYZL

— Nritya Shakti (@NrityaShakti) March 9, 2015
With this feat, she joined the ranks of Hollywood celebrities Ashton Kutcher, Nicholas Cage, Demi Moore, Ashley Judd and Gillian Anderson.
Watch Her Video Here:
Also Read: Girls' Colleges In DU Say No Entry For Sexist Singers
In her quest to make her association official with the UN, Neeti will unveil her single, Udne De, later this week.
According to a source, "Over 60 renowned artistes and dignitaries from around the world are participating in the 'Music To Inspire – Artists UNited Against Human Trafficking' triple album. It is a collective fight by the music community to raise social awareness and end human trafficking. Neeti is the first female singer from India to join the project. AR Rahman is the only other music personality from the country to have pledged support to the initiative," Mid-Day reports.
Behind the scenes #UdneDe http://t.co/IpB8I7m8O2
11600+ views +going strong #GirlPower #Nirbhaya pic.twitter.com/5XES1Yd7YY

— Neeti Mohan (@neetimohan18) March 21, 2015
Evidently, the music community has united to raise awareness against human trafficking and hence they are taking a collective initiation globally.  More than 60 tracks of inspiring music will be officially launched at an event at the UN headquarters in New York by the end of this week or early next week.
Also Read: Singer Quits Choir Over Plan to Perform at Trump's Inauguration
When asked how she felt of being a part of the campaign, Neeti told TOI, "Crime against women has become a global enterprise, affecting nearly every country in the world. It is a crime that shames us all. I had written 'Udne De' during the Nirbhaya incident that happened in 2012. Post the unfortunate incident, I faced this inner turmoil and felt helpless, but I could never release the track because it just felt too personal. It felt like as if I was crying out loud and nobody could hear me and I still feel the same each time I read about any injustice against women at large."
"@mmkeeravaani: http://t.co/IpB8I7m8O2" MM Kreem sir thank you for sharing #UdneDe

— Neeti Mohan (@neetimohan18) April 6, 2015
@neetimohan18 just watched #UdneDe & have tears flowing .. So much respect & love to you always dear NeeMo !! Thank you for sharing this.

— Aditi Singh Sharma (@ADTSinghSharma) March 18, 2015
She added, "Everytime a heinous activity occurs, so many dreams get shattered, faith gets shaken and self-esteem gets burnt alive. It can be any one of us anywhere anytime and I wanted to take a stand on a global level. I sincerely hope and pray for a positive change in the mindset of the people."
READ: Bollywood Actresses Shine As Singers Too
Some of the other legends from the industry who would participate are: Oscar-winning composer AR Rahman, 28-time Grammy winner Quincy Jones, former US President Jimmy Carter and actress Tatyana Ali. Other notable artists and bands include Joss Stone, Michael Franti, Vanessa Carlton, Anoushka Shankar, Ellis Hall, Garbage, Karmin as well as Daryl Hall & John Oates, among many others.
The largest assembly of artists for a charitable cause will definitely boost the album's inclusion and all proceeds from the same will go to the UN Voluntary Trust Fund.
READ: Dare to be: The challenging journey of singer Sonam Kalra
Feature Image Credit: Songswild.com
Join Us on https://www.facebook.com/SheThePeoplePage
Follow Us on https://twitter.com/SheThePeopleTV