The entire spat around whether or not the Hindi Film industry promotes nepotism settles in one eye-opening post. The National award winner and celebrated TV-film actress, Neena Gupta, took to Instagram a couple of days ago, asking for work. She posted: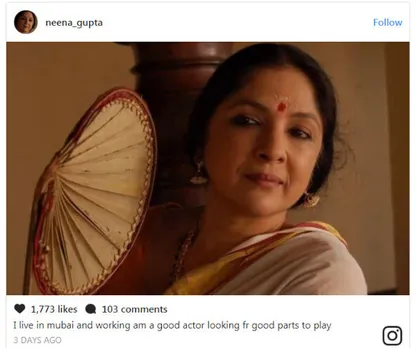 The 62-year-old Gupta inspired many. Not only her daughter, Masaba Gupta, a fashion designer, but also received accolades from actress Priyanka Chopra and filmmaker Ashwiny Iyer Tiwary.
The writer and director believes in not shying away from asking work and this garnered her over 1,000 likes so far.
I live in mumbai and i am working and i am a good actress koee kam hai toe batao

— Neena Gupta (@Neenagupta001) July 28, 2017
Gupta is well-known for her memorable performances in television serials of yesteryear like 'Saans' and 'Buniyaad'. Both known for their intelligent and unconventional storytelling. She won the 1993 National Film Award for Best First Non-Feature Film also and in 1994, Gupta was honoured with the National Award for Best Supporting Actress for her role in Woh Chokri.
Also Read: Beware of Unhealthy Body Trends on Instagram
Speaking to Hindustan Times She revealed,
"Everybody thinks that after my marriage, I have moved to Delhi and I don't work anymore. So, I get so put off and then I see so many roles being offered to other actors of my age." 
Acknowledging her mother's bold move, Masaba commented, "Just the other day I was telling someone how I am never afraid/ shy to ask for work. It's obviously genetic. My mother put up this post on her Instagram today. I mean, my 62-year-old national award-winning mother. She told me I must always work, no matter what. It keeps you from getting old."
Also Watch: Badass Women  Lead The SheThePeople Panel At Times Lit Fest
She further added, "She told me they don't write for women her age anymore. I don't think anyone can replicate what she did for TV anymore.. she complains that she can't do PR .. but says 'I do good work, that's my PR'.. time and again we've spoken about how whatever she asks for ... in due time, she gets... But that's the magic of a pure heart..."
Filmmaker Tiwary commented saying, "there is so much truth and words beyond that keep lingering in my mind after reading this. My mom told me to study. Work. Fall in love. Get married. Have children. Work and never depend on any one how much you love them."
READ: Nepotism Row: Saif, Varun, Karan Take A Dig At Kangana At IIFA 2017
It is both heartening and inspiring at the same time to see someone of the stature of Neena Gupta asking for work. Is there such dearth of inspiring content?
Read Also: The Woman Card: Who Uses It More Often?
Feature Image Credit: Jfw
Join Us on https://www.facebook.com/SheThePeoplePage
Follow Us on https://twitter.com/SheThePeopleTV