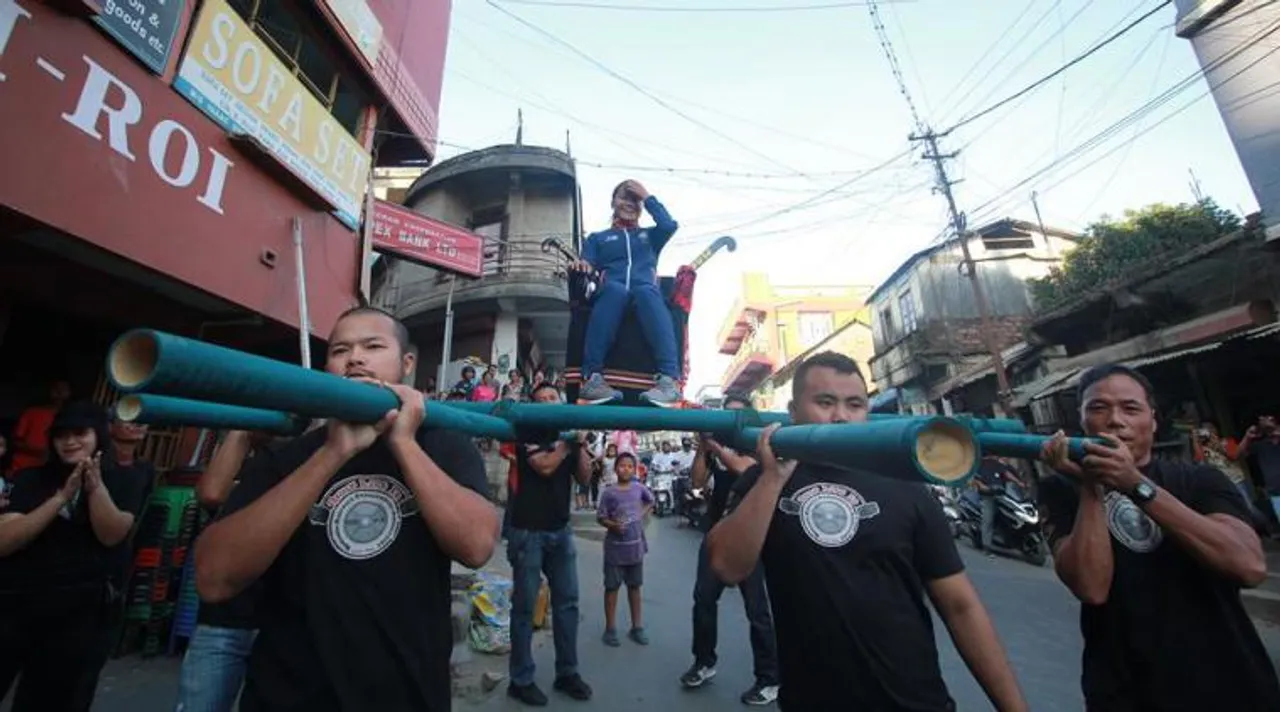 18-year-old Lalremsiami is the youngest player in the Indian women's hockey team, but on her return home, a small town in Mizoram, she received the biggest welcome ever. The entire town of Kolasib, 85 km north of state capital Aizawl, gathered together, taking the hockey player on the back of an open palanquin made of bamboo sticks -- the highest honour in traditional Mizo practice -- and travelling across the streets, reports The Indian Express.
The felicitation came when Lalremsiami returned home for the first time since her and the team's victories at the Asian Games and the Youth Olympics.
Pictures of the grand welcome on October 24 began circulating on social media immediately. It was heartwarming to watch her sitting there, teary-eyed, seeing the crowd groove to drum beats and chants of 'Remsiami' echoing across the small Mizo town.
Hockey captain Rani Rampal took to her Instagram account to share this moment with her fans:
The Indian women's hockey team has recently bagged silver medals at both the Asian Games 2018 and Youth Olympic Games. Lalremsiami's expressions caught the most attention. 
READ: India Women's Hockey Team Makes Historic Pitch In World Cup
https://www.facebook.com/Manipuribyblood/photos/a.798470773620803/1344299542371254/?type=3&theater
"Back in 2014, we gave a grand welcome to Mizo Idol (a singing competition in the state) winner Grace Lalchhanhimi, and now four years later, we have gathered here again today. She is the daughter of Kolasib," said Lalnunmawia Sailo, present at the gathering.
Lalremsiami's father Lalthansanga Zote said, "This is beyond my expectations. Look at this, thousands of people unite only because of my daughter, I never knew my hometown is this united."
"All I could say is thank you to all of them. Me in an open palanquin, paraded the town of Kolasib — this is beyond a dream. If this is the kind of love I get from them, I'll give my life to achieve more," Lalremsiami told Indianexpress.com.
Lalremsiami was felicitated on the 24th of October, by the Mizoram State Sports Council. Along with her, Jeremy Lalrinnunga, a 15-year-old weightlifter, who won India's first Youth Olympics gold medal, in Buenos Aires, Argentina, was also honoured.
Kudos to the girls!
Feature Image Credit: The Indian Express