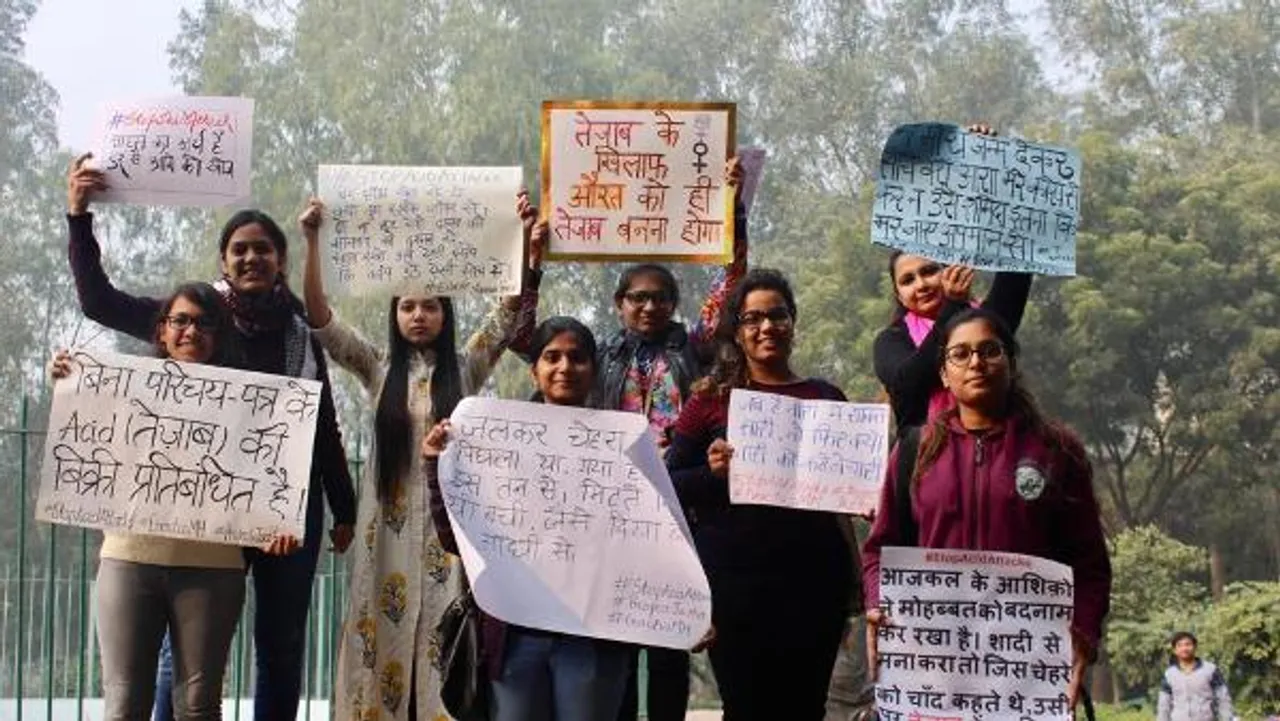 "Never doubt that a small group of thoughtful, committed people can change the world. Indeed, it is the only thing that ever has," this axiom by Margaret Mead proves the enormous power that the youth holds to trigger ripples of change. Interestingly, students of Miranda House, Delhi University, are making this change possible through their efforts in the direction of improving the state of acid attack survivors in the country.
The group is raising funds for Soniya Chaudhary, an acid attack survivor who aspires to run her own salon. Their project 'Jazba' aims to raise Rs 1,50,000 through their crowd-funding campaign
"My family isn't financially stable. All the money has been exhausted in my surgery. I stopped undergoing corrective surgeries as I want to become a famous beautician. After surviving the acid attack, I opened a parlour at home, where my neighbors were my customers. But I don't want to limit myself. I want to employ others too... Not just acid attack survivors, but also the victims of domestic violence.", Soniya told Hindustan Times.
SheThePeople.Tv got in touch with Stuti Aggarwal, Project Head of Jazba, to know how the idea of aiding an acid attack survivor evolved.
" The idea evolved after watching a video wherein a few acid attack survivors were narrating their ordeal. They discussed about their helpless conditions and how society looks down upon them. We planned to meet these survivors in person." She further added that the team was quite impressed with their zeal. They realized that the acid had corroded their skin, but couldn't affect their spirit.
Read Also: Providing Complete Scholarship To Acid Attack Survivors
Stuti mentions that communicating with survivors was a big obstacle because they weren't very comfortable talking to others. They were conscious of their scars and feared trusting anyone. "We, somehow, managed to develop trust between us."
Through our program, we are trying to modify the societal notions of beauty. It is the inner beauty that makes people beautiful - Stuti
Such endeavours require a humongous amount of support from people around. These girls were fortunate to be backed by unrelenting support by their peers. "It is because of their constant support and motivation that the project has reached new heights. We started getting support from other people too, that boosts us a lot. Through frequent campaigns and seminars, we have been able to create acceptance for the survivors," explains Nindi, another member of the team.
Besides raising funds for the salon-cum-training center, the group will also work towards sensitizing the masses about the crime and why it must be condemned.
These young girls are doing a brilliant job by combating the social mores that plague our society. They are the quintessential example of how channelizing youth's energy in the right direction can benefit one and all.
Image credits: Hindustan Times
Read also: It took 5 years For This Acid Attack Survivor to Heal Emotionally
Charvi Is An Intern With SheThePeople.TV