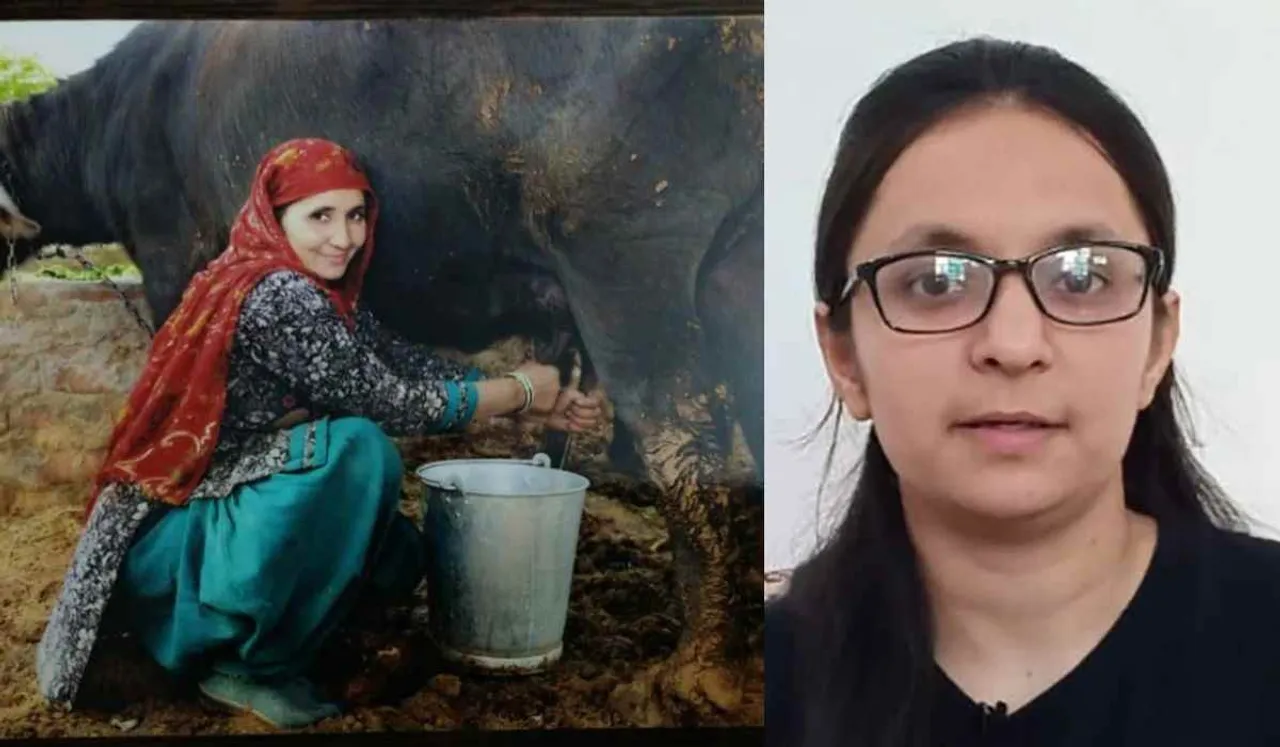 Milk Seller Daughter Kalpana: The Union Public Service Commission (UPSC) recently announced the results of Indian Statistical Service Exam in which Kalpana hailing from Haryana's Hisar has received a whopping All India Rank 12, making her mother immensely proud.
Kalpana's mother Rajbala owns a dairy and is a milk seller. She herself drives around and takes the milk for selling from their village to Hisar.
Kalpana's father is a Patwari (village accountant) by profession placed in Siwani, Haryana. Her brother is currently pursuing an MBBS internship from Rohtak, Haryana.
Kalpana performed well in the exams without enrolling in any coaching or seeking any external aid. She shared that qualifying this exam without the help of coaching was a bit tough but she stayed true to her aim and prepared with all honesty and ">sincerity and hence was able to crack the exam with flying colours.
Kalpana's mother expressed her happiness and joy over her daughter's exceptional achievement by saying that she has brought glory to the family as well as the entire state. She further said that Kalpana was good in academics since her very childhood itself and she has been able to achieve this milestone only with her hard work and dedication.
Here's yet another inspiring story.
Rajasthan Sisters Cracking The State Services Exams Together
Hailing from Hanumangarh, Rajasthan, 3 sisters, Suman, Reetu and Anshu, made headlines recently when they cleared the Rajasthan Administrative Service Exam (RAS) together, joining their other two sisters who are already serving as administrative officers. The Rajasthan Public Service Commission (RPSC) declared the final result of the RAS 2018 on July 14 this year. After the results came out, Indian Forest Service (IFS) officer Parveen Kaswan took to his Twitter handle to share this good news.
Such a good news. Anshu, Reetu and Suman are three sisters from Hanumangarh, Rajasthan. Today all three got selected in RAS together. Making father & family proud. pic.twitter.com/n9XldKizy9

— Parveen Kaswan (@ParveenKaswan) July 14, 2021
Belonging to an agricultural background, they are now a family of five female civil servants. The father of the five girls, Sahdev Saharan who is a farmer by profession dropped out of school after class VIII while his wife, Luxmi didn't receive any formal education.
Among the three sisters, Anshu secured Rank 31 in the OBC category, Suman secured Rank 98 and Reetu, being the youngest one among them secured Rank 96 in the prestigious examinations.
Previously, Roma became the first RAS officer from her family in 2010 and is presently serving as Block Development Officer (BDO) at Sujangarh in the Jhunjhunu district of Rajasthan. Following her footsteps, Manju cracked the state services exam in the year 2017 and is currently working in the Cooperative Department at Nohar, Hanumangarh.