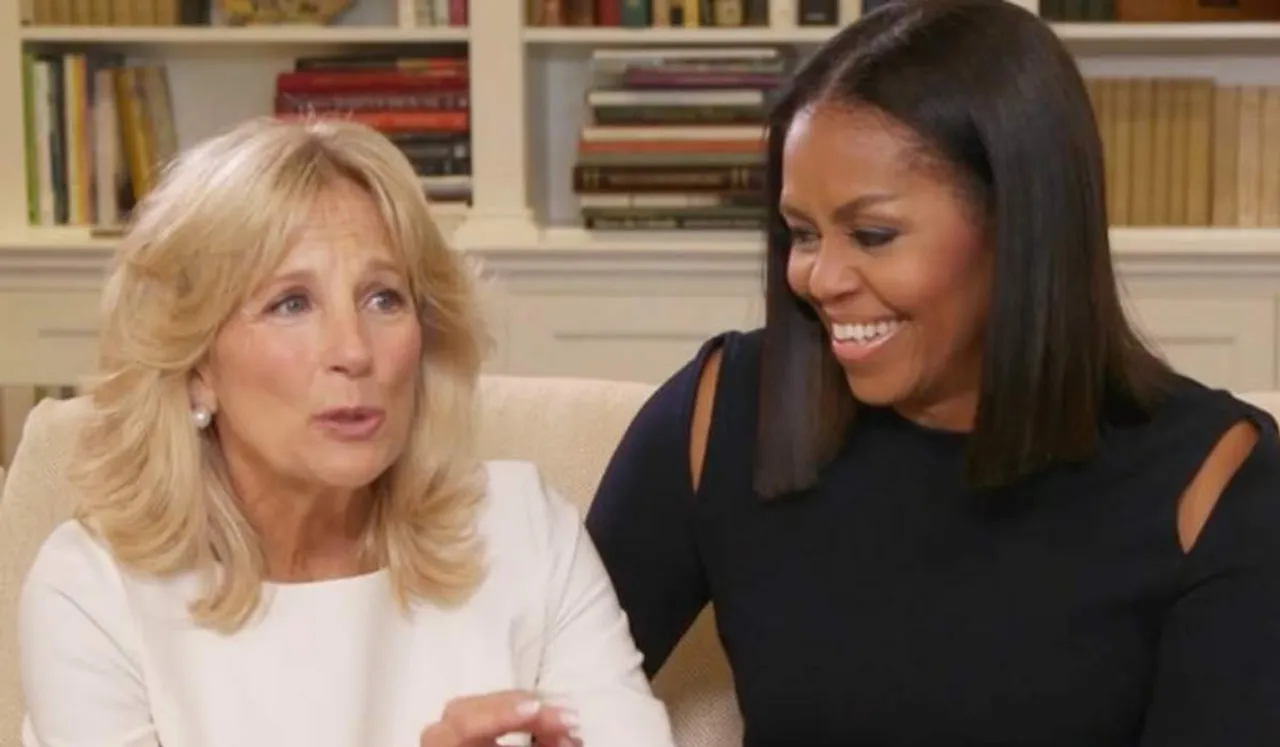 Michelle Obama, former First Lady of the United States, has extended support to Dr Jill Biden, incoming First Lady, after widespread furore over an article that suggested she drop her "Dr" title. The op-ed, written by Joseph Epstein and published in the prestigious Wall Street Journal on December 11, had derided Biden for using the honorific she obtained for a doctorate in education, saying it "feels fraudulent, even comic." The piece, titled Is There a Doctor in the White House? Not if You Need an M.D., had instantly sparked massive outrage for trying to belittle a woman's achievement in particular and PhD holders in general. Obama has joined the list of people standing in solidarity with Biden, who is the wife of President-Elect Joe Biden and is scheduled to move into the White House early 2021.
Sharing a picture on Instagram with Biden, her long-time associate, Obama drew attention to the multi-faceted life the incoming First Lady has lived, and how women are "forced to prove ourselves all over again."
The WSJ article has been amassing extensive criticism also for referring to 69-year-old Biden as "kiddo," asking her to stick to the tag of "Mrs." Northwestern University, where Epstein is an emeritus professor, has also condemned his op-ed.
Also Read: Class Of 2020 All Set To Get A Virtual Farewell From Michelle Obama
Michelle Obama Extends Solidarity
56-year-old Obama, in this context, wrote, "For eight years, I saw Dr. Jill Biden do what a lot of professional women do—successfully manage more than one responsibility at a time... And right now, we're all seeing what also happens to so many professional women, whether their titles are Dr., Ms., Mrs., or even First Lady."
Writing that "we could not ask for a better First Lady," Obama expounded, "She will be a terrific role model not just for young girls but for all of us, wearing her accomplishments with grace, good humor, and yes, pride."
See her post below: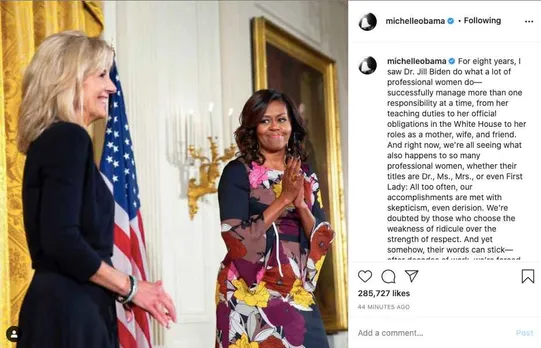 Source: Michelle Obama / Instagram
Also Read:
Michelle Obama And Jill Biden's Association
Obama and Biden's association goes back to the time the former's husband, Barack Obama, was campaigning for Presidency in 2008. Throughout the campaign trail and Obama's stint in the White House, during which Joe Biden served as Vice President, the two women forged a friendship that came to be universally appreciated. The two have often shared social media posts empowering and lifting each other up, marking their close friendship.
During a joint interview with People magazine in 2016, Biden was quoted saying on Obama, "It was an instant bond...we just knew we would be friends." Obama, on another occasion, has also referred to Biden as her "partner-in-crime."
Also Read: Michelle Obama's Powerful Quotes Make You Believe In Yourself
They have remained friends beyond Obama's stay in the White House from 2009 to 2017, moving well into Biden's own campaigning for the 2020 Presidency. The Obamas even played a key role in Biden's Presidential campaign, vouching for him and urging Americans to vote for him.