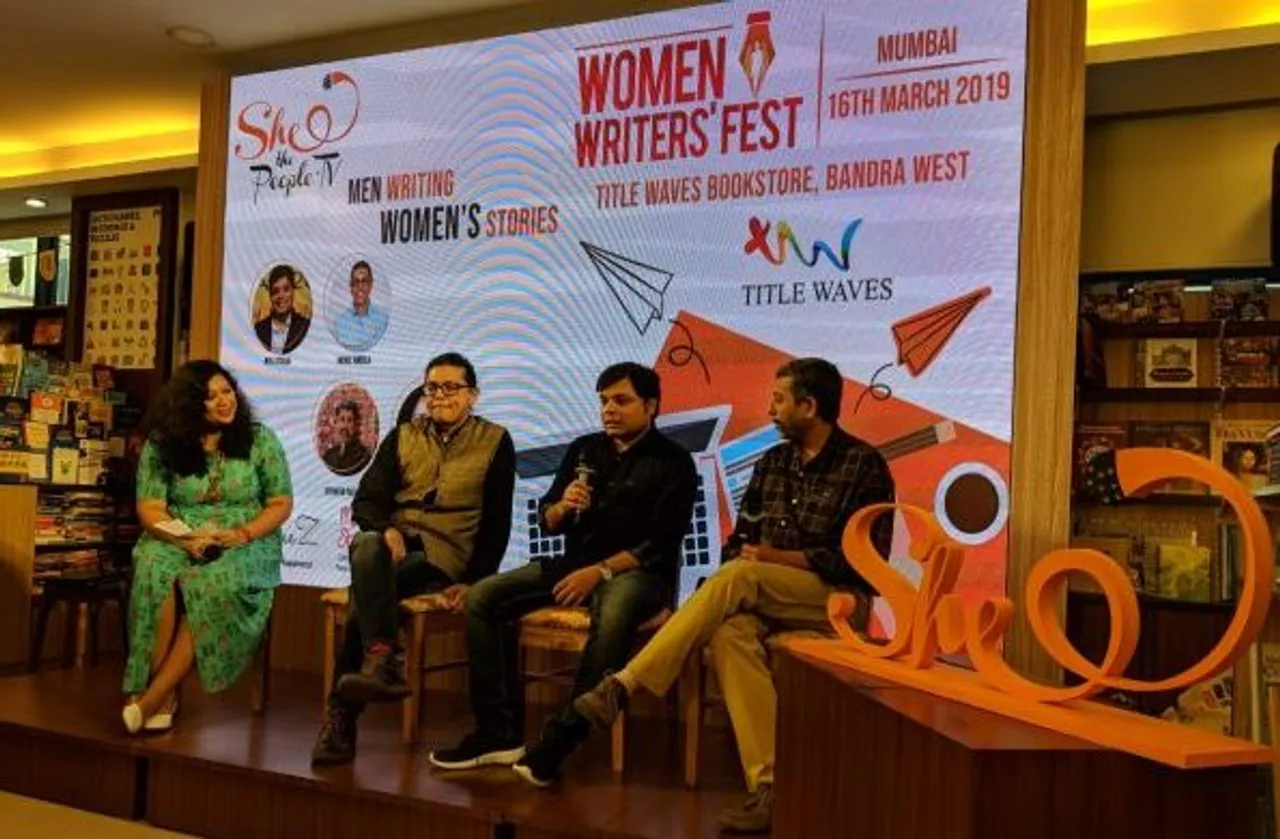 Gender creates certain invisible boundaries on us. So as an author is it then easier to write about your own gender? What are the challenges that writers face when they try to write from the perspective of the opposite gender? In the second panel "Men writing Women's Stories" at Women Writers Fest 2019 in Mumbai, SheThePeople.TV's Yamini Pustake Bhalerao was in conversation with Utkarsh Patel, Neil D'Silva and Rickie Khosla, three men who dared to tell their stories from a female perspective.
On What Motivated Them to Write About Women
Utkarsh Patel said that he wondered why there are no female heroes in mythology. And realized that we have always made the mistake of judging women from the parameters of men. Heroism was often depicted by acts such as slaying a dragon, climbing a mountain or saving a damsel in distress and since women characters were not doing any of these they were not considered as heroes.
Neil D'Silva who has written horror says, "horror has always had a very bad name as far as women are concerned." Women are heavily sexualized in their depiction in horror writings. Neil acknowledges that though he wanted to break these stereotypes he didn't "start writing with a brief to write a woman-oriented story." Further, he adds that what motivated him to write from the female perspective is "the range of perspective a woman can have is much more than what a man have."
Women's emotions are layered and that very well fits into the horror genre. – Neil
Rickie Khosla confessed that he wanted to write a desi Sidney Sheldon and didn't set about to write a female-oriented book. He added that during the writing process, "it never occurred to me that I need to go about writing differently because my central character is female."
.@RickieKhosla - "Writing women was very liberating for me because I can make the character do whatever I want" #Womenwritersfest in #Mumbai pic.twitter.com/vzLroBM50a

— SheThePeople (@SheThePeopleTV) March 16, 2019
Reactions from initial readers
Rickie says it was only when his book went for editorial review that he became conscious that he had written his book from a woman's perspective and he needs to approach the aspects of the character differently. He says, "That it was education to me that women perhaps approach things differently from men, so as a man writing a woman you need to careful from multiple perspectives."
On Satyawati
Utkarsh says, "the general perception of Satyawati is that she was a sorry figure on the fringes, of the epic. But Satyawati was not just a sorry figure, wearing a white saree. She was an extremely strong personality. And she avenged an insult to her mother and herself in a manner that is not given enough credit. She is responsible, in a way, to stop the Kuru blood, because after her children there were no pure blood Kurus. Her revenge is often overlooked because we are so busy telling the male story."
Constraints of writing a horror story with a female protagonist
Neil shares that he wanted to write a woman's story from a women perspective for which many of his friends shared their experiences with him.
"Shifting the gaze was not a constraint for me."
Does shifting your gaze as an author changes your own perspective?
Utkarsh says, "It is a catch 22 situation because if you didn't see them differently, you wouldn't write so closely about women."
Neil shares that the process of writing about women has helped him in understanding women better, as he realized women whom he considered as strong were also hiding a lot of their emotions.
Rickie says it's been a learning experience that "there are many other facets in which people look at women."
Also Read : Writing About Everyday: Preeti Shenoy On Women In Her Writing