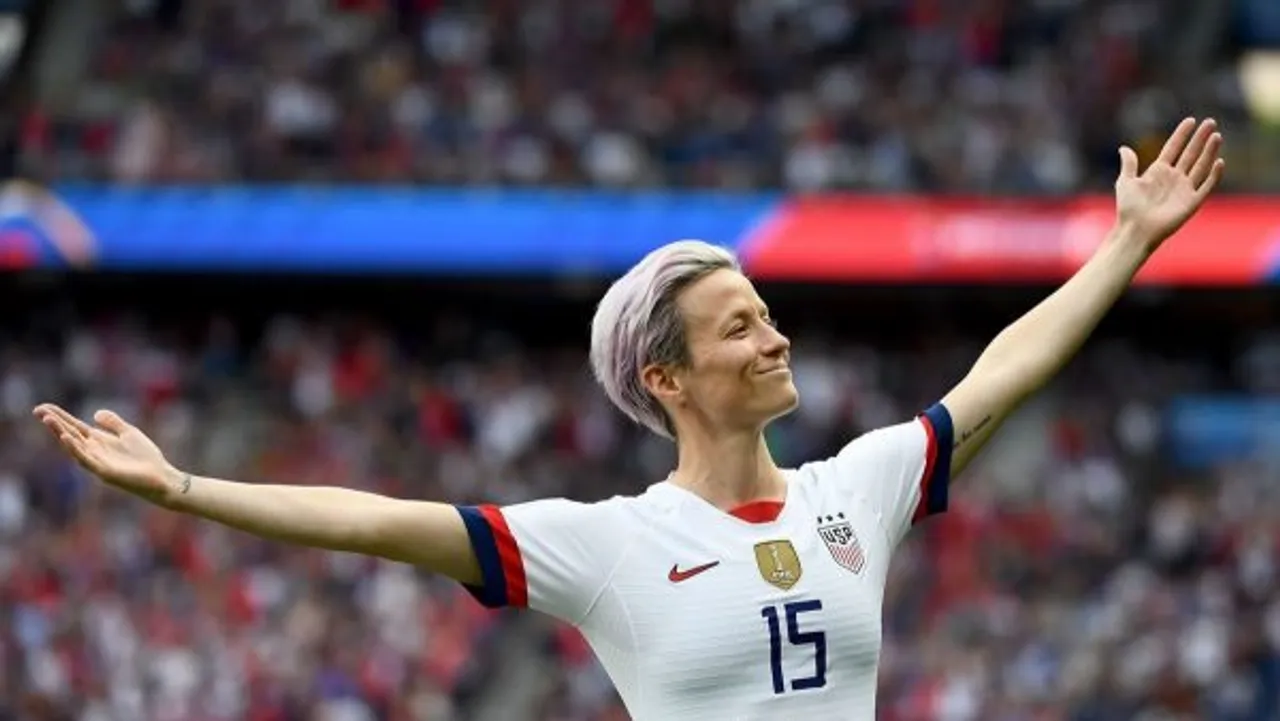 While the United States Women's National Team won Women's World Cup title  on Sunday, a national treasure Megan Rapinoe was seen kissing her significant half — her girlfriend, WNBA star Sue Bird — after the brilliant win. Rapinoe is now one of the more recognisable faces worldwide as she has played a crucial role in the team's success, wins its second straight Women's World Cup and fourth such title overall.
Here are a few facts about Rapinoe you didn't know about:
Forward Rapinoe is a gold-medal Olympian and World Cup champion.
She is one of the team's co-captains, hence the leadership comes naturally for her — both on and off the field
Rapinoe made her third straight appearance on her sport's biggest stage this World Cup
Told ya. pic.twitter.com/tWbbpyUhZY

— U.S. Soccer WNT (@USWNT) July 7, 2019
She has been playing for Team USA since 2006. Her records are 152 caps (fourth on the team), 44 goals (third), and 57 assists (fifth in team history).
She is one of two players representing the NWSL's Reign FC (the other being midfielder Allie Long), and next to Carli Lloyd and Alex Morgan, Rapinoe is the most experienced player on the team.
At the W-League's Sydney FC in 2011, Rapinoe was among the first eight American players ever to play in the league. She is also among 35 Team USA players to reach 100 or more international caps.
She is not only helping the team to play and win games, but also fighting for equal pay for her hardworking crew.
"Every player at this World Cup put on the most incredible show that you could ever ask for. We can't do anything more…"

Megan Rapinoe used her post-win World Cup press conference to demand wage equality https://t.co/mFa3jq67hC pic.twitter.com/zha37W22st

— CNN (@CNN) July 8, 2019
The 33-year-old is adamant to not want to visit the White House or Donald Trump because of his remarks on racial issues, gender issues, LGBTQ issues, immigration, sexual harassment, and sexual assault.
Rapinoe, who is known for her strong opinions, has led the way in the women's national team's lawsuit against U.S. Soccer, accusing the federation of gender discrimination.
Rapinoe with her partner Sue Bird became the first gay couple to appear on the cover of the annual Body Issue of ESPN The Magazine. 
READ: Women Footballers Don't Have A Long History In India: Aditi Chauhan
Feature Image Credit: The Guardian