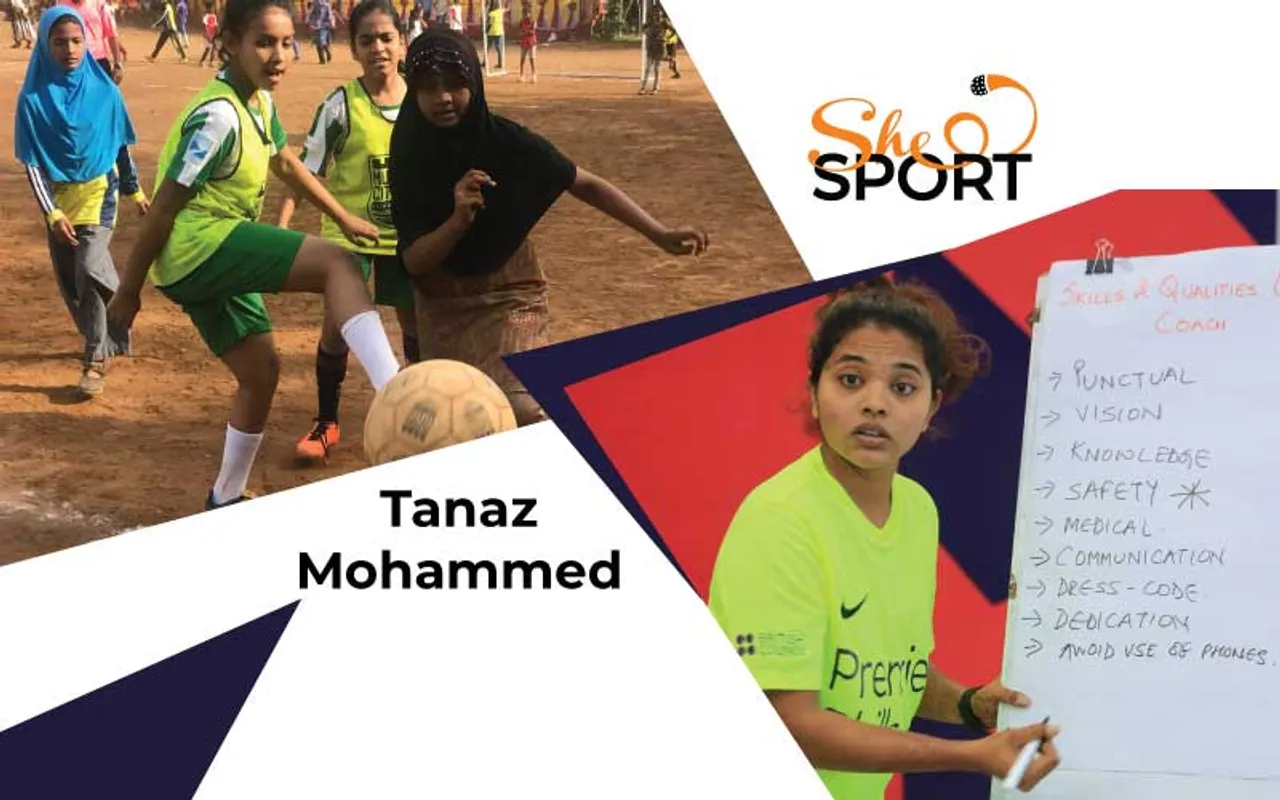 Tanaz Mohammed was just seven when she fell in love with sports. Before choosing football, Tanaz initially dabbled with playing track and field and even hockey. Thus it is not a surprise that the multifaceted sportsperson is a national level hockey player and a district-level footballer.
Growing up in a middle-class Muslim family, Tanaz was still finding it hard to choose just one sport. Not knowing what the future might have in store for her, she even enrolled herself in Sports Management for post-graduation program. Finishing the course as a Gold Medallist from her batch really did the rest. A new chapter in her life began when she received an offer from the ISL Franchise, Mumbai City Football Club for an internship in 2017. She accepted the offer, and today Tanaz is a grassroots development officer with the club. The Mumbaikar also is a Premier Skills-qualified Level One coach and educator, who is an advocate of women and girls' rights in the industry. Today Tanaz, 26, is breaking the barriers by teaching hockey and football to kids and also working as a basic fitness trainer for Under-6 children.
In a candid chat with SheThePeople.TV, she speaks about playing an important role in encouraging women and girls to participate in football, especially to those belonging from the Muslim community. Excerpts of the interview.
You are a hockey player and a football coach. When did you realise that you wanted to pursue a future in football?
I was a shy kid, only into books, and it was a surprise to me and my family to know that I have had these talents inside me hidden somewhere. Because of my performance in science, my mother always thought that I'll become a doctor in future. That's something we both laugh about till today. It was a sure thing that I was not going to mend any bones. Ultimately, I ended up breaking a few!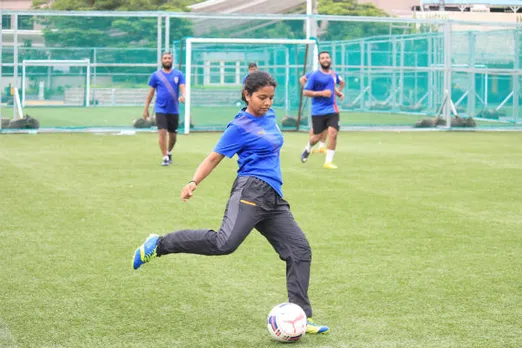 Tanaz Mohammed -- a grassroots development officer with Mumbai City Football Club, a Premier Skills-qualified Level One coach and educator
My journey into sports started at the age of seven. Our school was conducting selection for interschool road races and to my own surprise, I decided to give it a try. I won and qualified for it too. My parents were a little shocked to see this change in me but they didn't hesitate in letting me choose my own path. So I started as a track and field athlete and ended up playing in a hockey team for the school. I liked this sport instantly. Those initial months of hockey training made me realize that this was where I wanted to be. I gradually evolved from a shy, bookish and timid girl, to a confident and compact sporty one.
I went on to play hockey during my entire school and college life. I played at national level. I was also selected for a Pre Junior India Camp Training. I played international for a club called Friends United which was started by Mahindras. My own journey into sports made me realize that I was meant to be here, always!
Who is your biggest inspiration?
My inspiration is my mother!
She had to give up her profession for a while after my birth. But I saw her getting back to it with so much more power. She is a homemaker and a teacher. If she can handle it so well, why can't I and that's my driving force, my mother.
The amount of effort and sleepless nights that she has put in to help me achieve my dream is what inspires me to love both the sports. If she being a homemaker can do this and help me become what I am, I aim to do the same for the other kids and girls out there.
READ: Meet Brishti Bagchi: First Indian Woman Player In Spanish Football League
From hockey to football to becoming a trainer for children in hockey. Tell us in details about the journey. What inspired you to become a coach?
Till my graduation, I was completely into sports and also managing my studies. While I still love playing Football, Hockey remained my primary passion, a cocoon you can say.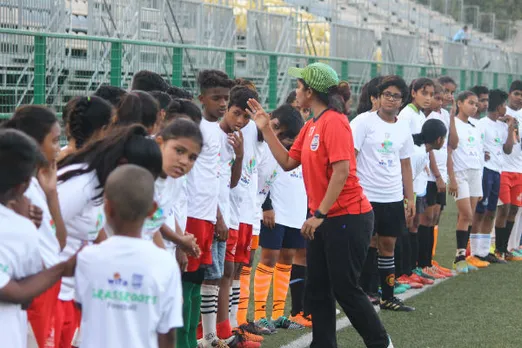 Tanaz Mohammed in action
After completing my graduation I had to decide on a career. I tried multiple jobs, some not related to sports but I tried them anyway. Then, one day, I figured out about the sports management and without any second thought, I decided to jump headlong into it. It took me a while to explain and make my parents understand where I was heading to but then the road was way clearer.
I got myself into the management studies and along with it I continued playing hockey at the national level.
I always gave equal importance to sports and studies as I knew that I had to be dedicated to get through this journey and there is no alternative to hardwork.
I was the Gold Medalist and was also named as Student Of The Year at International Institute of Sports Management (2015-2016). I was then offered an internship at Mumbai City FC. I knew that I was shifting from hockey to football, but I also knew that if I work hard and commit myself to the fullest I will be able to bring in a change.
I went through a three-year commitment with Premier Skills which helped me become a coach first and then I successfully became a Head Coach Educator, where now I can train and certify other coaches into Community Coaching of Football.
My vision was clear: I wanted young girls to feel empowered so that they grow up to become strong women. And so I got into grassroots coaching in Football.
I can happily and proudly say that I gave exposure to around 500 girls from Muslim Community who belong to a traditional background. I made them and their parents realise that football can be played while wearing a Hijab too, all you need is your foot to play
Those girls are now into football. The schools in that locality have started their own girls' football teams and they participate in various tournaments. As a result of this, their mothers are also feeling inspired and now they train beside their daughters. This, personally, has been a great achievement for me.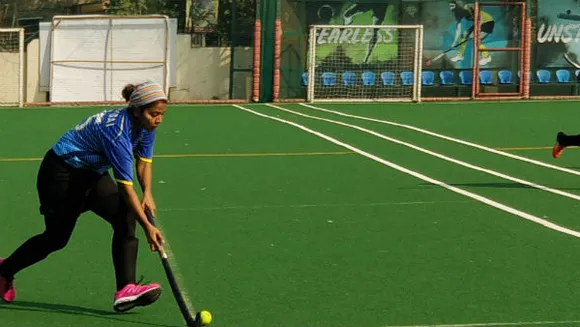 I decided to become a hockey coach as I wanted to give back to the game through which I got my own identity.
The career you have chosen leads you to many injuries and roadblocks. What inspires you every day?
I can say that playing sports is what I love and this is what I am. It took me sometime to realise it but now that I have I am passionately in love with it. All roadblocks and injuries seem small in front of my goal.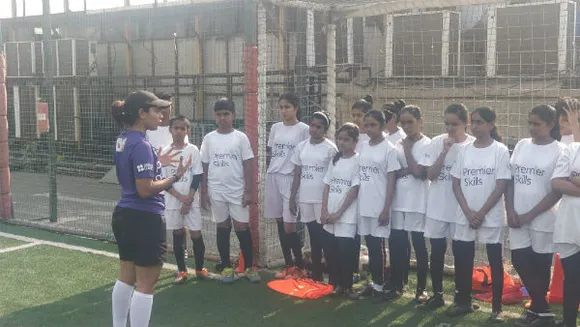 READ: Indian Women Who Love Football. It's Not A Myth Anymore!
You are one of the few female 

footballers

 in India who made a career in the game. What does that feel like?
No doubt it's a great feeling, but along with it comes big responsibilities. There are little girls and kids out there looking up to me and learning from me. I need to make sure every single day that my work and hard work are towards the development of sports and those kids.
How did your life change with sports?
My life has changed exceptionally. From a shy kid to a professional woman addressing a crowd of hundreds, sports has made me who I am today. I am confident and unstoppable.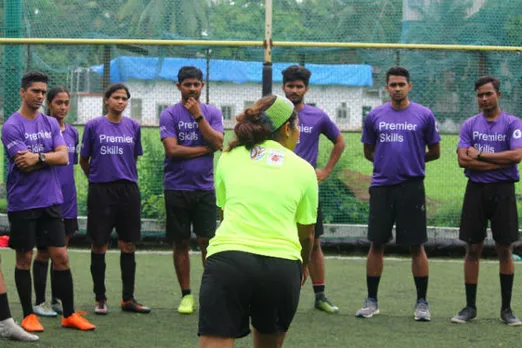 What did you learn from it?
Sports taught me one important lesson: It's okay to fail, it's okay to keep trying, what is not okay, is to stop. We need to keep going on and listen to that little voice inside our head, that voice knows what's best for us. People will criticise and say a lot of negative stuff, you need to do what you think is best for you to achieve that goal.
I have given exposure to around 1500 kids, and trained around 110 coaches. My aim is to work towards gender equality too, because I feel we need to start respecting each other not as women and men but as humans.
What are your biggest personal challenges?
I guess ego, I can feel that sometimes!
People look at me with a doubt that she's a woman and how can she do it or they question my work. But all I do is smile and tell myself let your work talk and that's what I have been doing and will continue to do so
How is the sports scene in India for women and girls? Why isn't it popular among women here?
There are a lot of opportunities out there and women need to come out and make the most of it. The awareness among women is still developing. We now see so many women out on field organising leagues and tournaments, we see so many women winning medals and making us proud. Women often stop themselves from reaching high by self-made barriers, they need to take that one brave step and get rid of those cages.
As a woman, I completely understand that we do face a lot of roadblocks but again it depends on us, how much we let them affect us. Do we just stop or we dare?
Feature Image Credit: Tanaz Mohammed