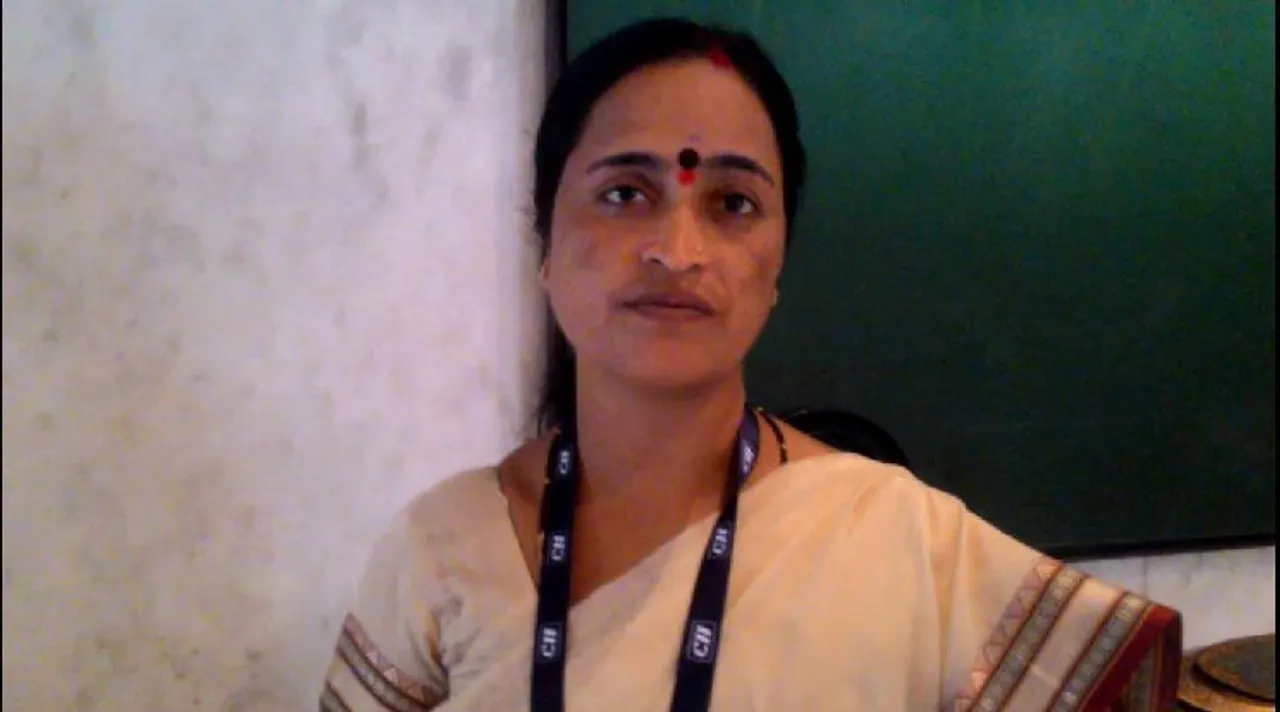 Late Mane in an inspiration in herself. Despite all the atrocities and ordeals she's been through, she has emerged triumphant -- a hero.
Originally from Karnataka, Mane was married off to a man living in Mumbai in 1995. Her husband sold her into a brothel to work as a sex worker and abandoned her within a year, Mane told SheThePeople.TV.  As shocked as she was, she had no money and was forced to work as a sex worker.
"I worked there for six years," Mane tells SheThePeople.TV matter-of-factly. She got married again, to one of her clients and was hoping for life to take a better turn. But he also moved her to another brothel, this one in suburban Mumbai, in Kamathipura.
Also Read: Inspirational Teen Cricketer With Hearing, Speech Disabilities Selected for Chhattisgarh Team
Mane gave birth to her two daughters in that brothel...And that's when she came in touch with Vijay Krida Mandal (VKM), an NGO that helped her change her life. "They work to create awareness of HIV/AIDS among sex workers. I joined them in 2002 as an educator for the sex workers under their programme called AIDS prevention project (DISHA)," she says.
Mane guided sex workers about their sexual health, taught them the importance of condoms, and through the NGO, distributed them for free. But the wages she earned through the NGO were not enough for her to repay the loan she had taken to leave the brothel in the first place... so she returned to the trade. This time though, she persisted on her parallel career, as an educator.
"If there won't be any brothels, even walking on streets would become a tough task for women"
She finally quit the sex trade when her daughters were not admitted into a school because of her work. A distraught Mane was again helped by the NGO who helped her children get admission in a residential school. But that was it for Mane as a sex worker. Along with a few more sex workers she started a Self Help Group, with assistance from VKM.
"I joined this line of work as I realised that I can still save myself. I put my daughters in boarding school and thought that my life has been what it has been but at least I can save my daughters -- that is why I joined the NGO. Not just that, I want to rescue other women from (the) sex trade as well, as I know everyone lives for themselves and none for others. It is very difficult to do something for others in today's life. I wanted other women also to stand on their own feet doing anything other than selling their bodies."
Self-help groups have helped provide the answer, she feels. "We learnt different and new skills and got others to quit as well. Now there are many self-help groups that I helped build. We sell chapattis, handmade jewellery, perfume etc," Mane says, smiling.
"I wanted other sex workers also to stand on their own feet -- doing something other than selling their bodies."
She further added, "Our biggest achievement was when we bagged the Swacch Mumbai Abhiyan in 2013 given to us by the Municipal Corporation in the Ghatkopar area. But it was difficult to carry on our work as even the Police would call us bad things. Wo kehte the ki ye log gande log hain, dhandha karne wale log hain inse kachra nahi saaf karwaenge," (They used to say that we are dirty people, we are into sex work and so we will not let these people work here.)

However, all this stopped when Mane was awarded the Woman Exemplar in Health Sector award by the Confederation of Indian Industry (CII). "After the award, everyone started talk with respect to us. Even their communication has gotten so much better; the entire area gives us respect now. Now we collect garbage from all the houses in Ghatkopar area. Earlier we used to face problems collecting the Rs.20 fund from each house and now everyone gives their share of money without any hassle," she says. "All the success we got whether it is the popularity which we got by getting featured in news channels, we only see it as an outcome of what we have been try to do that is betterment of sex workers."
"Illiteracy is not a problem today; women can take up any work and earn money"
She then tells us what lies ahead in the future for her as a social worker. "Now we have to increase our work. We want to make cheap sanitary napkins for women that reach every rural village and house. We also look forward to build an old-age home for old destitute women who die on streets in their last days and lastly, we want to do something for the education of the kids of fellow sex workers."
She's very keen to promote financial independence, saying, "Women need to have financial independence and now women are no less than men. They can work shoulder to shoulder with men. Illiteracy is not a problem today; they can take up any work and earn money."
Also Read: Punish the customer, not the women: Activist Ruchira Gupta on human trafficking laws in India
And lastly she appealed to the society about the work of a sex worker, saying that shutting it down will not solve things, rather make it worse, she says. Even with the sex trade, you see everywhere, rapes and crimes against women. Even a 50-year-old woman is not safe on the streets. So if this is completely shut down then even walking on the streets will become a difficult task for women, she contends.
Also, she pleads not to force women into sex work. Those who are doing it of their own free will? It's fine, she says, don't condemn them.  Rather, let's work to help rehabilitate them, especially those who have grown old.
(This interview has been translated from Hindi)