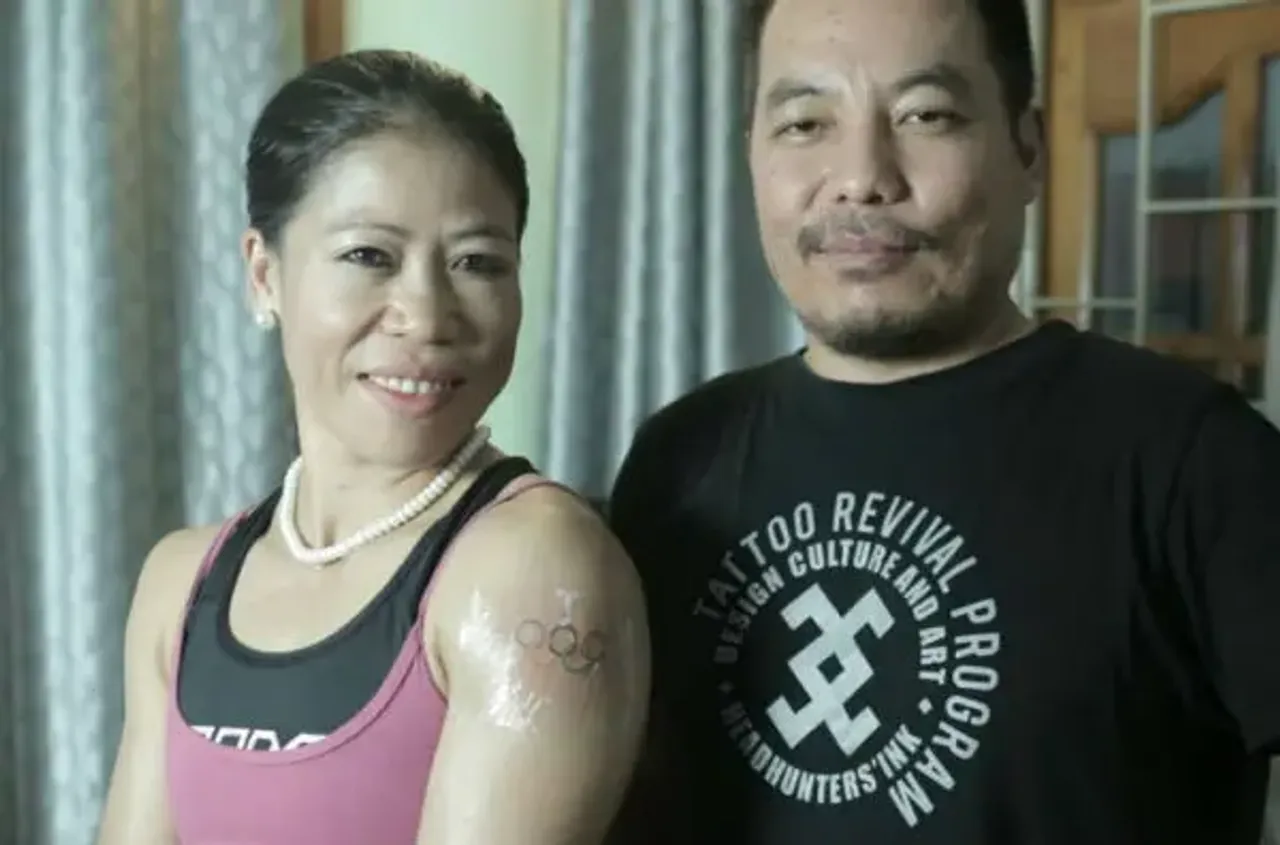 Manipuri boxer Mary Kom is aiming for only one target now, her Olympic spirit is up and how! The 36-year-old pugilist is rigorously training to stay at the top of her game, and has recently got inked with meaningful tattoo of the five Olympic rings on Sunday.
Sharing a picture with the Olympic boxer, renowned tattoo artiste Mo Naga said, "Five years ago, Mary had expressed her desire to get tattooed to me. It came true yesterday. Sometimes the tattoo decides for us and this was one such experience," Eastmojo.com reported.
The Olympic rings are a symbol of the activity of the Olympic movement which represents the union of the five continents and the meeting of athletes from throughout the world at the Olympic Games.
Till today she has been laughing off her retirement plans but now the six-time world champion is planning to make her efforts worth counting at the Tokyo Olympics, as she will be retiring after winning the elusive gold medal missing from her trophy shelf.
READ: At 36, Mary Kom Knows No Defeat, Clinches India Open Boxing Gold
In her 18-year long illustrious career, Kom claimed the titles of six World Championships, an Olympic bronze medal, and five Asian Championships to show. She is the only woman to become World Amateur Boxing champion for a record six times, and the only woman boxer to have won a medal in each one of the seven world championships.
Mo Naga, who runs Headhunters' Inc in New Delhi, said, "Traditionally, tattoos are done for protection and strength. It not only marks one's identity but also symbolises transformation. May her tattoos inspire her and bring a greater determinations & transformations!"
Retirement plans
The legendary boxer is also a sitting Rajya Sabha MP. "After 2020, I want to retire. So my main mission is to get gold for India. I really really want to win (gold)," Mary Kom said at an event, India Today reported.
The 2012 London Olympics bronze-medallist now aims to change the shade of her medal to gold.
"I always try my best to give a medal to the country and if possible a gold. I will be starting my preparation for the Olympic qualifiers and the World Championship. I want to win a gold medal this time," she added.
READ:What Makes Mary Kom's Life So Inspirational, Every Single Day
"We are training regularly for all competitions not just the Olympics. In the World Championship, I will get to know the opponents, what their strengths and weaknesses are. Accordingly I can prepare. I will also get extra time for preparing if the qualifiers are held later," she claimed as she pointed out the uncertainty surrounding timings of the Olympic qualifiers.
"I have fought hardships outside and inside the ring for so long. Nobody can keep doing it forever. There are so many bright and upcoming youngsters and I hope and pray that we find a new Mary Kom soon."
The year 2016 was a disappointing year for Kom as she failed to qualify for the Rio Games. After that she had changed her weight category to 48kg but now the pugilist from Manipur is back to competing in the 51kg. Asked about the transition, Mary Kom said, "51 kg category is not new for me. I was fighting in this category 4-5 years back. It was not continuous because I kept changing my weight."
Feature Image Credit: Eastmojo.com