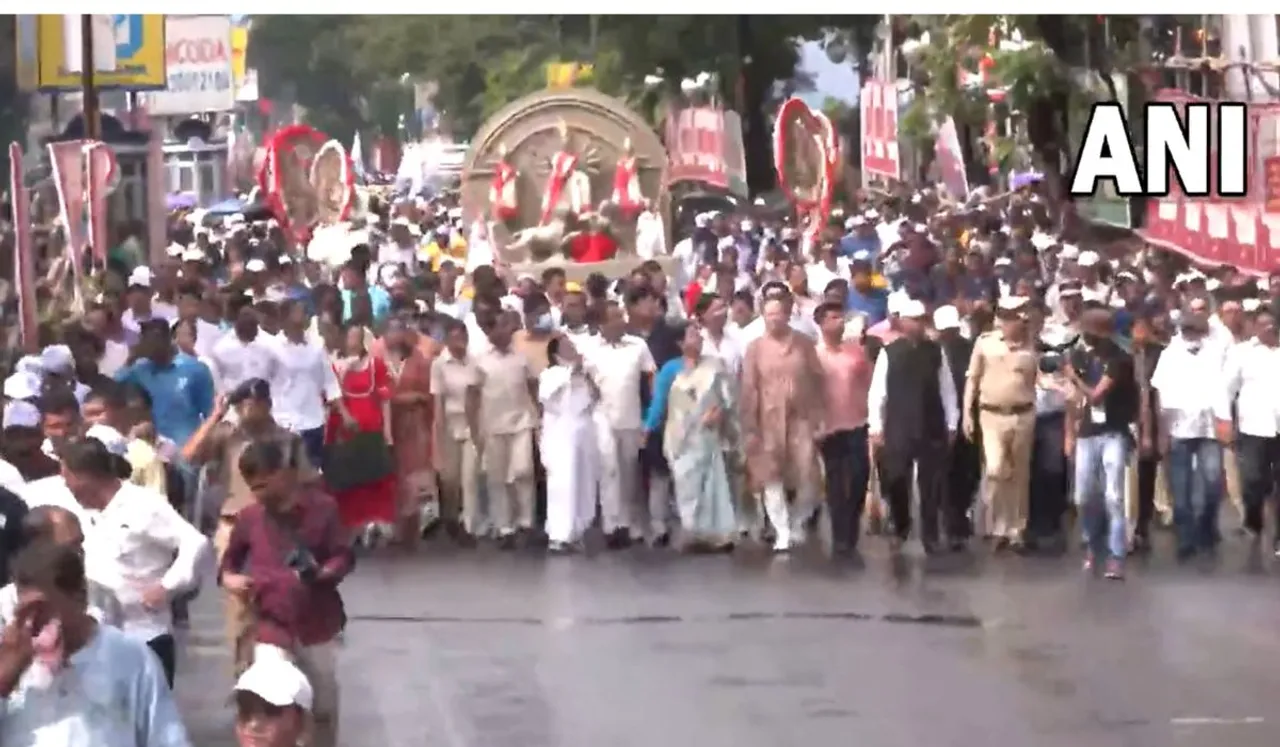 On Thursday, the West Bengal government held a mass demonstration under the leadership of Chief Minister Mamata Banerjee to celebrate and thank UNESCO for including Durga Puja on the representative list of intangible cultural heritage. Prior to the huge rally, which was slated to start at 2 pm on Thursday, all main routes in central Kolkata were shut down starting on Thursday morning.
Mamata Banerjee, the chief minister of West Bengal, can be seen leading the rally, which began at the famous Jorasanko Thakurbari and will end at Red Road. According to the chief minister, the purpose of the rally is to express gratitude to everyone, including the people of Bengal, the Durga Puja committees, the idol makers, and UNESCO.
Several central Kolkata roads, including Bhupen Bose Avenue, Central Avenue, Vivekananda Road, MG Road, BB Ganguly Street, SN Banerjee Road, Mayo Road, Outram Road, RR Avenue, JL Nehru Road, Duffrin Road, Hospital Road, Kidderpore Road, Esplanade Row, and Esplanade Ramp, will be closed to traffic for the duration of the rally. The government has also provided seating for those who have trouble walking around on their own.
---
Suggested Reading: What Are We Doing To Protect Domestic Helpers From Abusive Employers?
---
Grand Rally To Celebrate UNESCO Tag For Durga Puja:
On Wednesday, Chief Minister said, "UNESCO has given Kolkata's Durga Puja the Intangible Cultural Heritage Tag, which is a happy moment for all of us. We have planned a massive rally for September 1 to thank the honour given to our Durga Puja. "
She continued, "This year, the start of our Durga Utsav is one month prior. We will all gather and give UNESCO our gratitude. The rally will start at 2 o'clock from Jorasanko Thakurbari, and everyone is invited to participate. There will be participants from every race, religion, and belief. We will all gather and celebrate as a group since, in my opinion, while festivals are for everyone, religion is a matter of personal choice."
The Durga Puja festival in Kolkata was given the "Intangible Cultural Heritage" designation by UNESCO a year ago. The organisation said that "Durga Puja is regarded as the best example of the public performance of religion and art and as a thriving environment for collaborative artists and designers. Large-scale installations and pavilions in populated places, as well as customary Bengali drumming and goddess adoration, are characteristics of the event. Class, religious, and racial barriers dissolve during the festival as large crowds of viewers wander around admiring the displays. "