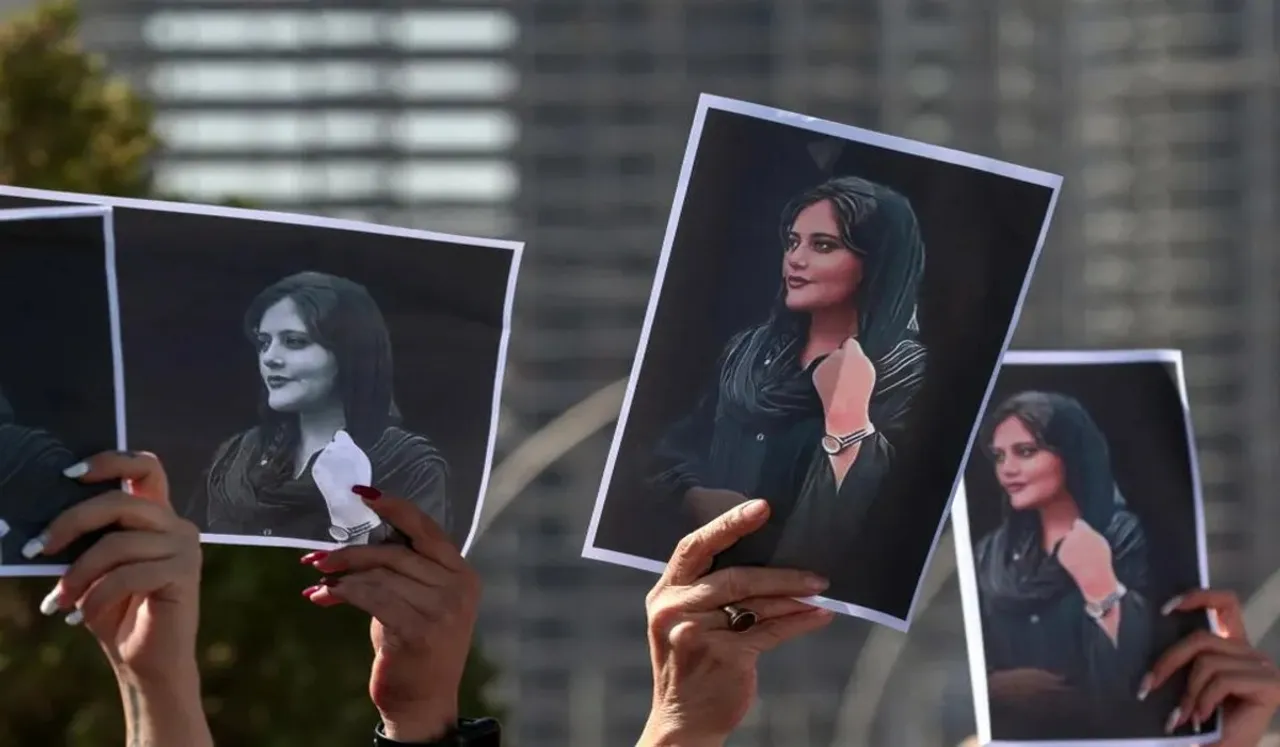 On the first anniversary of his daughter's tragic death in Iranian police custody, Amjad Amini, the father of Mahsa Amini, found himself in the spotlight once again. According to human rights groups, Amjad Amini was briefly detained on Saturday, sending shockwaves through the international community. 
The Kurdistan Human Rights Network reported that he was warned against marking the anniversary before being released, raising questions about the Iranian government's stance on the matter. 
Iran's official IRNA news agency, however, denied the arrest while failing to clarify whether he had indeed been briefly detained or simply warned.
This development comes in the wake of heightened security in Saqez, a town in western Iran where Amjad Amini resides. 
Reports from social media and various rights organisations had previously indicated the deployment of security forces in anticipation of unrest.
Remembering Mahsa Amini's Tragic Death
The tragic story of Mahsa Amini, a 22-year-old Kurdish woman, shook Iran and the world last year.
She died in the custody of the morality police, allegedly for violating Iran's mandatory dress code.
This incident sparked widespread protests that lasted for months, representing a significant display of opposition to the Iranian authorities, unlike anything seen in years. Many protesters demanded an end to the four-decade-long rule of the Shiite clerics.
Despite government warnings, Mahsa Amini's parents had announced their intention to hold a "traditional and religious anniversary ceremony" at their daughter's grave. 
This move was seen as a courageous act of remembrance and a statement against the oppressive policies that led to their daughter's death.
Protests of Remembrance
In anticipation of potential unrest, a massive security force presence was deployed in Iran's predominantly Kurdish regions on the anniversary. 
Widespread strikes were also reported in several cities in Iran's Kurdistan region. 
IRNA claimed that Saqez, Mahsa Amini's hometown, remained "completely quiet" and attributed the failure of strike calls in Kurdish areas to "people's vigilance and the presence of security and military forces." 
The official also stated that several individuals linked to counter-revolutionary groups were arrested, thwarting potential attempts to create "chaos". The aftermath of Mahsa Amini's death was marked by tragedy as well. 
More than 500 people, including 71 minors, lost their lives, hundreds were injured, and thousands were arrested during the protests, according to rights groups. 
Iran also executed seven individuals in connection with the unrest.
In a report released last month, Amnesty International shed light on the Iranian authorities' treatment of victims' families, including arbitrary arrests, detention, restrictions on peaceful gatherings at grave sites, and the destruction of victims' gravestones.
Moreover, in recent weeks, numerous journalists, lawyers, activists, students, academics, artists, public figures, and members of ethnic minorities with alleged ties to the protest wave have faced arrests, summons, threats, or job terminations. 
This crackdown on dissent extends to the lawyers representing the victims' families, as Saleh Nikbakht, the lawyer for Amini's family, faces charges of "propaganda against the system" and the possibility of a jail sentence ranging from one to three years, as reported by Iran's Etemad daily in August.
As the world continues to monitor the situation closely, the detention of Amjad Amini on the anniversary of his daughter's death serves as a stark reminder of the unresolved issues surrounding Mahsa Amini's case and the broader implications for human rights in Iran.
---
Suggested Reading: One Year Since Mahsa Amini's Death; Iranian Patriarchy Burns Slowly
---