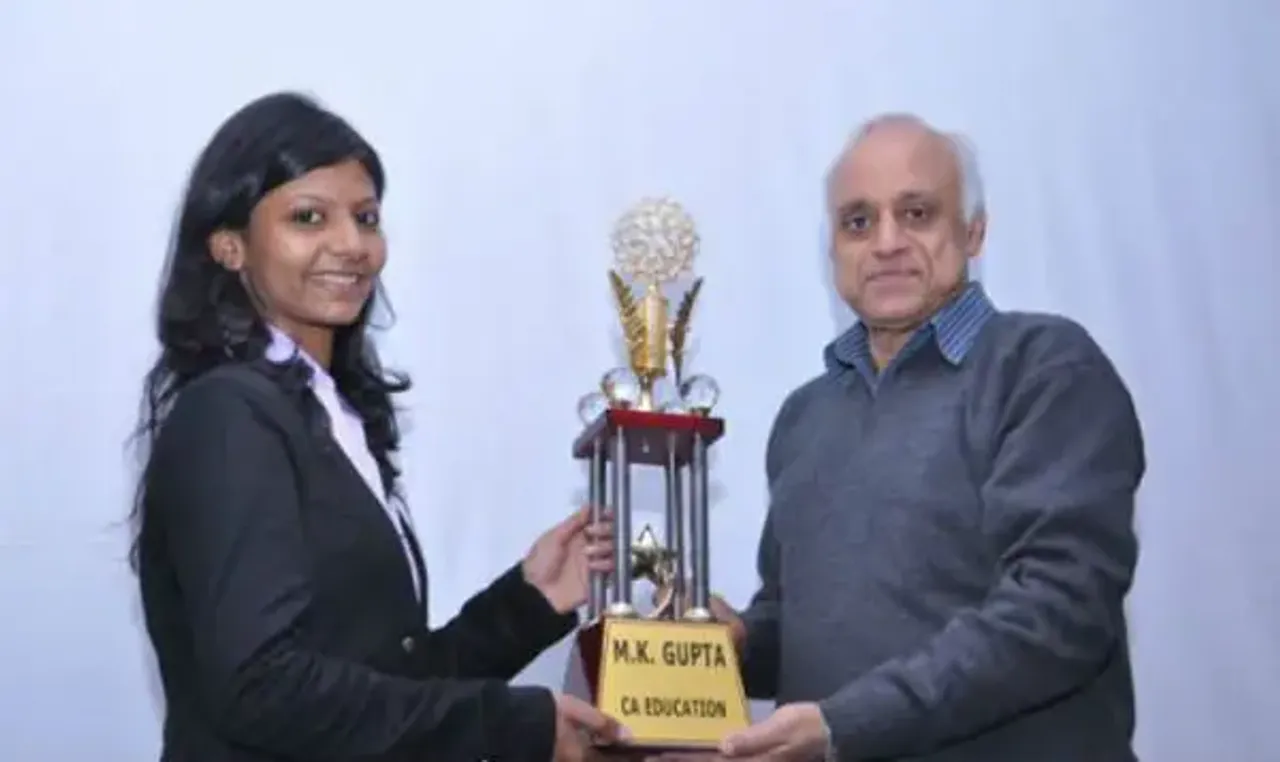 A Lucknowi girl, Eti Agarwal (24), has emerged as the topper of The Institute of Chartered Accountants of India (ICAI). The results of the CA final examination (Nov 2016) was announced on Tuesday.
Eti has bagged the All India first rank by securing 74.88% (599 marks out of 800). She received a call from the ICAI president and vice-president.
"Ever since the results were announced, my cellphone has been buzzing with calls from friends and relatives. It is so heartening to score the number one position in the exam," Eti told Hindustan Times.

She was ahead of Bhiwandi's Piyush Ramesh Lohia and Ahmedabad's Jyoti Mukeshbhai Maheshwari who made it to all India second and third rank with 71.75 per cent and 70.75 per cent marks, respectively.
Also Read: 8 Things To Know About 26-Year-Old Visually Impaired IAS Topper
Eti is one of 7,192 candidates who successfully cleared the final year Chartered Accountant (CA) exam this year. A total number of 74,096 candidates had competed.
While Eti's father Bipin Agarwal is a chartered accountant, her mother Manju Agarwal is a Bharatnatyam dancer. At the IPCE in November 2013, too, Eti was the All India topper.  Before that, she was the topper in the ISC examination 2011 from Lucknow's prestigious La Martiniere Girls College (LMGC), in which she scored 98.75% with 100% each in mathematics and commerce. Adding more achievements in the list, in June 2015, she took the executive level of Company Secretary (CS) examination and emerged as All India topper.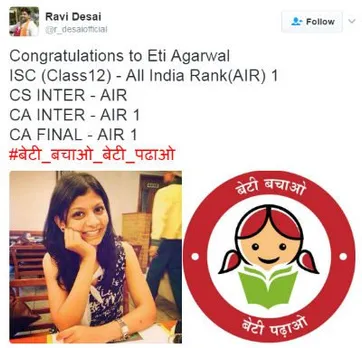 LMGC vice-principal Aashrita Dass said, "We knew that whatever she touches in life will turn gold. She is our darling ex-pupil, and I'm very happy for her. By topping in an unconventional examination like ICAI, she has proven that girls can do wonders in all spheres of life."
Also Read:UPSC topper Tina Dabi addresses the issue of women safety
After appearing for CA finals in November 2016, she also appeared in the Company Secretary Professional examination in December 2016 and the results are expected to be announced in February.
Eti, while talking with TOI, said, "Plan your work and work your plan. This is exactly what I have believed in since school days ,which has earned me success."

Eti, who is now focused on clearing the civil services, said, "After qualifying CA, I now realise that I want to serve the nation. While working as CA or CS, I will be working for someone, but by cracking civil services, I will be working for the country."
READ: IAS Topper, Ira Singhal shocked at public apathy, shares her rendezvous with 'inhumanity'
Besides her studies, Eti loves painting and has inherited a passion for Bharatnatyam from her mother.
Eti is now eagerly awaiting the results of CS finals. Her elder sister is an engineer who works with an online shopping portal, and her younger brother is in class 11 at the La Martiniere College, Lucknow.
Good luck to Eti for all her future plans!
Feature Image Credit: Indiatimes.com
Join Us on https://www.facebook.com/SheThePeoplePage
Follow Us on https://twitter.com/SheThePeopleTV