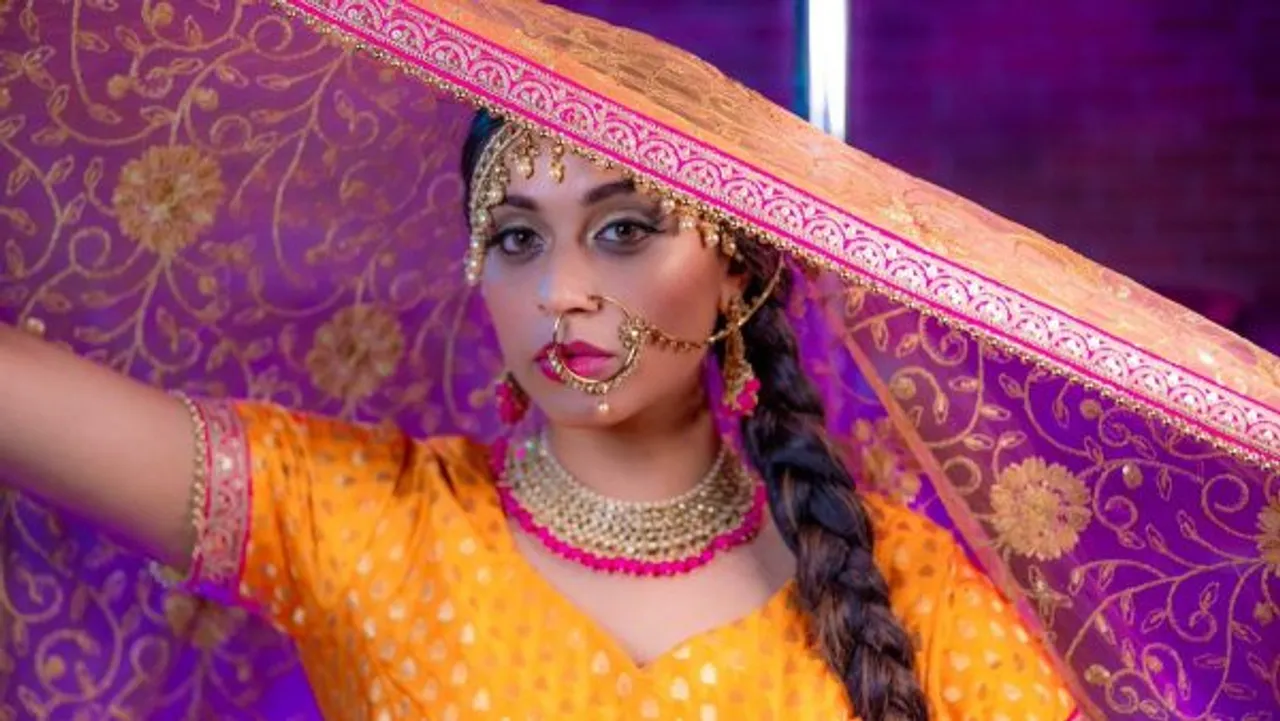 Our favourite YouTuber Lilly Singh aka "Superwoman" has launched a brand new rap video on her YouTube channel, which is now breaking the internet. The song "If Bollywood Songs Were Rap" takes a dig at Bollywood and how it stereotypes women.
Singh has taken three hit Bollywood songs and re-imagined them as rap in her signature style. Through the song Lilly touches upon topics like the impossible beauty standard Bollywood expects women to live up to, body positivity, mental health, bisexuality, the importance of consent and more. The caption of her song reads, "classic" songs with some "modern wisdom".
"I love Bollywood and I love rap music. So, I decided to let my worlds collide by turning some of my favourite songs into rap songs! And while I was at it, I thought, why not make them little motivational anthems that speak to causes close to my heart?" wrote Lilly while sharing the video.
"Hey boy, can I have your number? We can satisfy each other. Hey girl, can I have your cell? I think we would work really well," the lyrics say.
She wrote, "Growing up, I was often taught a "right" and "wrong" way to be a woman. I was told, exposing your body too much isn't good, fair skin is the goal, having a tummy isn't beautiful and subconsciously that other people could/would and should make judgments about you. I believed all of this for some time in my life because I didn't know another way."
Also Read: Watch: Priyanka Chopra And Superwoman Together In A Hilarious Video
The caption further reads, "As I've grown up, I've proactively made an effort to unlearn a lot of these things and this song represents that growth in a nutshell."
"Regardless of all the things we've been told and taught, you're beautiful and deserve respect," Lilly sings.
The Reception So Far
The video has already garnered over five lakh views on YouTube. Netizens can't stop raving about it.
'What position i like?' 'The head of the table'...you are a genius and you know it 😌

— Kalyani (@TeamSuperAU_) March 28, 2019
All the lines in the first song need to be made into motivational posters

— Kirni Cheema (@KirniCheema) March 29, 2019
Thank you @superwoman for being an entertainer who's also an inspiration. You a total #bawse 😍
Also its unfair how talented you are!! https://t.co/fVD2NJQimp

— Paulomi Mehta (@PaulomiFollowMe) March 29, 2019
Me watching #IfBollywoodSongsWereRap for the 9 millionth time today. @IISuperwomanII pic.twitter.com/VaQ5k5RbxE

— Ken 💖 #SketchyTimes #LatewithLilly (@TeamSuper__OK) March 28, 2019
I respect @IISuperwomanII for this Video, Not only was it visually stunning but it was message driven. This is Quality content.

So I advice y'all yo go and watch it, For your eyes and your Brain😘 #IfBollywoodSongsWereRaphttps://t.co/eGOhGD9rZU pic.twitter.com/imKShcXvep

— Young Billy🐐🌈 (@IstantheBadGuy) March 28, 2019
this is insane oh my god. besides all the amazing acting, rapping, production and editing, THE MESSAGE. the underlying messages!! you're a genius @IISuperwomanII one of your best videos for sure. https://t.co/lTiu2WkVMQ

— 𝓼𝓪𝓽𝓿𝓲𝓴𝓪 ♡ (@singhxstark) March 28, 2019
Some time ago in an interview with a leading fashion magazine, Lilly had revealed: "I was the last person to realize that I'm funny. Everyone else thought I was funny. Even now sometimes I'm like I'm not funny. I didn't start YouTube being like I've got skill in comedy so let me make videos. I was experimenting. My first video was a spoken word piece, my second video was a tutorial, and then I tried at a comedy video and had a lot of fun doing it, which is why I did another one, and people started to tell me I was funny. I was like 'really? I'm just being myself. Are you just laughing at me?' But I'm literally just being myself on camera. Of course, now I know things about comedy, I've never studied it, but I know techniques and things like that from experience now. But I honestly was the last person to discover I was funny. I think I just started watching my videos and I was like laughing. I was like 'damn, I'm funny.'"
PC: Twitter/Superwoman