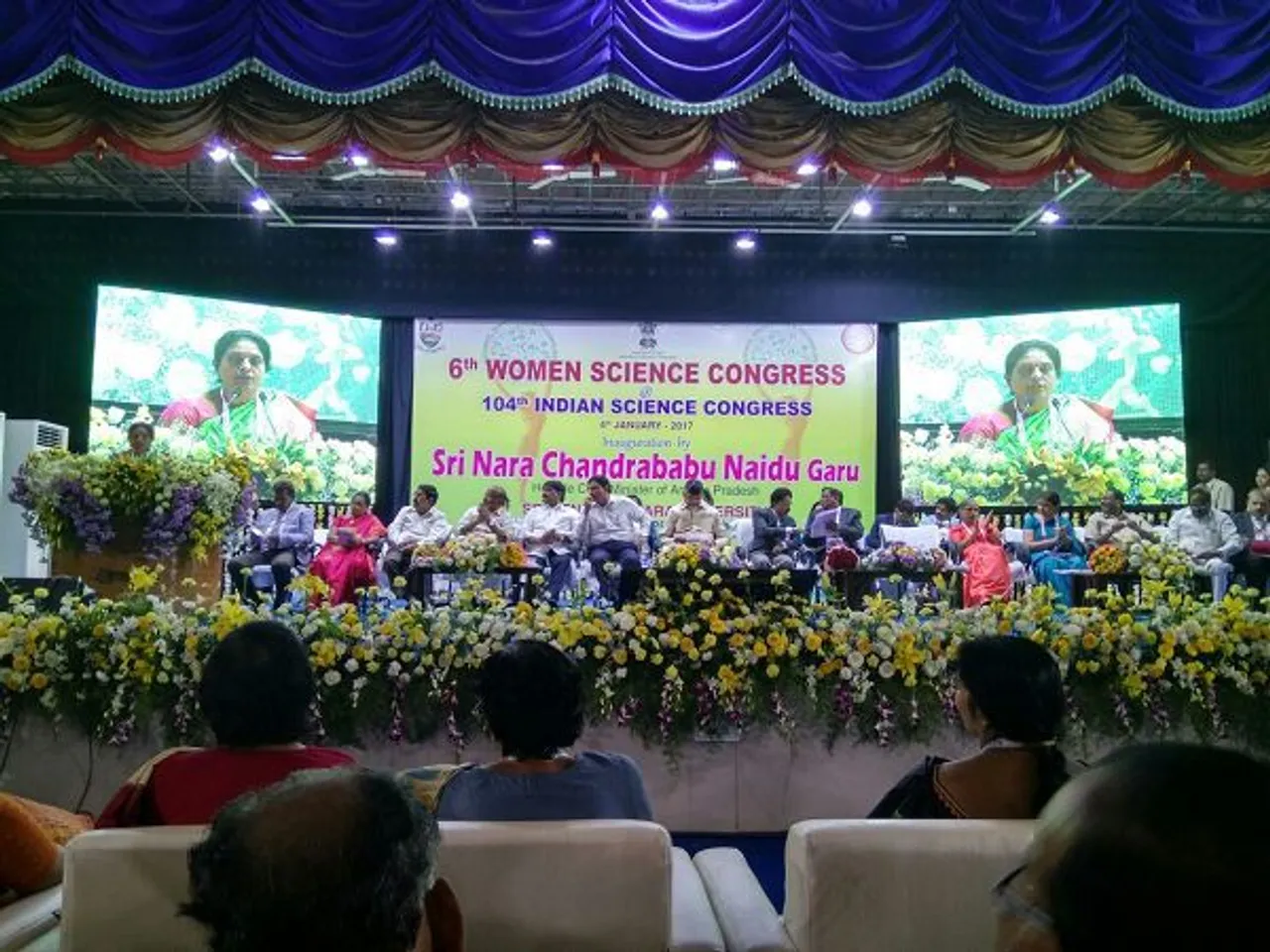 Gender is a major factor in STEM fields. Women who enter the science industry rarely reach the top. To tackle this problem and come up with solutions, India's leading women scientists came together in an initiative, Women Science Congress, which was inaugurated by Andhra Pradesh Chief Minister, Chandrababu Naidu. They spoke about the difficulties they faced in their careers in the fields of science and technology.
At the Women's Science Congress, emulated the need for more women to venture into Science & Tech. pic.twitter.com/9eY8zTVBJL

— N Chandrababu Naidu (@ncbn) January 4, 2017
Some of the eminent speakers at the event were HS Savithri from the biochemistry department at the Indian Institute of Science, Bengaluru, Professor Nupur Prakash, Vice-Chancellor of the Indira Gandhi Delhi Technical University for Women, Tessy Thomas, scientist from the Dr APJ Abdul Kalam Missile Complex, Sudha Nair, CEO of the Chennai-based Golden Jubilee Biotech Park for Women and Vandana Singh, scientist at the Department of Science and Technology.
The speakers reached the conclusion that equal representation of men and women in the industry is needed if we are to see an optimal growth of science and tech. Speakers also highlighted the need to spread awareness and promote initiatives, policies and schemes that will encourage women scientists.
"Today, women are in the mainstream of science and many of the world's top scientists are women," said Thomas in a PTI report. "The face of modern science would be unrecognizable without the major contributions made by women, including more than a dozen noble laureates," Thomas said.
The Women's Science Congress about to begin at the #IndianScienceCongress. Where are the women scientists in the country? #LowAttendance

— Sangeetha Balakrishnan (@sangeethabkrish) January 4, 2017
Join us at Women Science Congress on 4th January in Tirupati and know efforts of Ministry of Science & Technology for Gender Parity in STEM https://t.co/KZLQ1uiere

— Dr Vandana Singh (@VandanaDST) December 29, 2016
Another female researcher, Nair advised women to be strong if they encounter  problems at work. "You can cry, get angry, but don't let people see that. Have decorum, maintain balance. That is very important," Nair said.
ALSO READ: Two Women Living The Life of Science by LabHopping Across India
Savithri said that currently around 40 percent of the undergraduate students in science and engineering are women in India. And yet their representation in faculties, as heads of laboratories, or as members of governing or advisory board is abysmal.
However, Vandana Singh, who is a scientist, did acknowledge that the government has launched various schemes to promote women scientists. She mentioned the Knowledge Involvement in Research Advancement through Nurturing scheme which has supported around 3,700 women scientists thus far.
Picture credit- Twitter