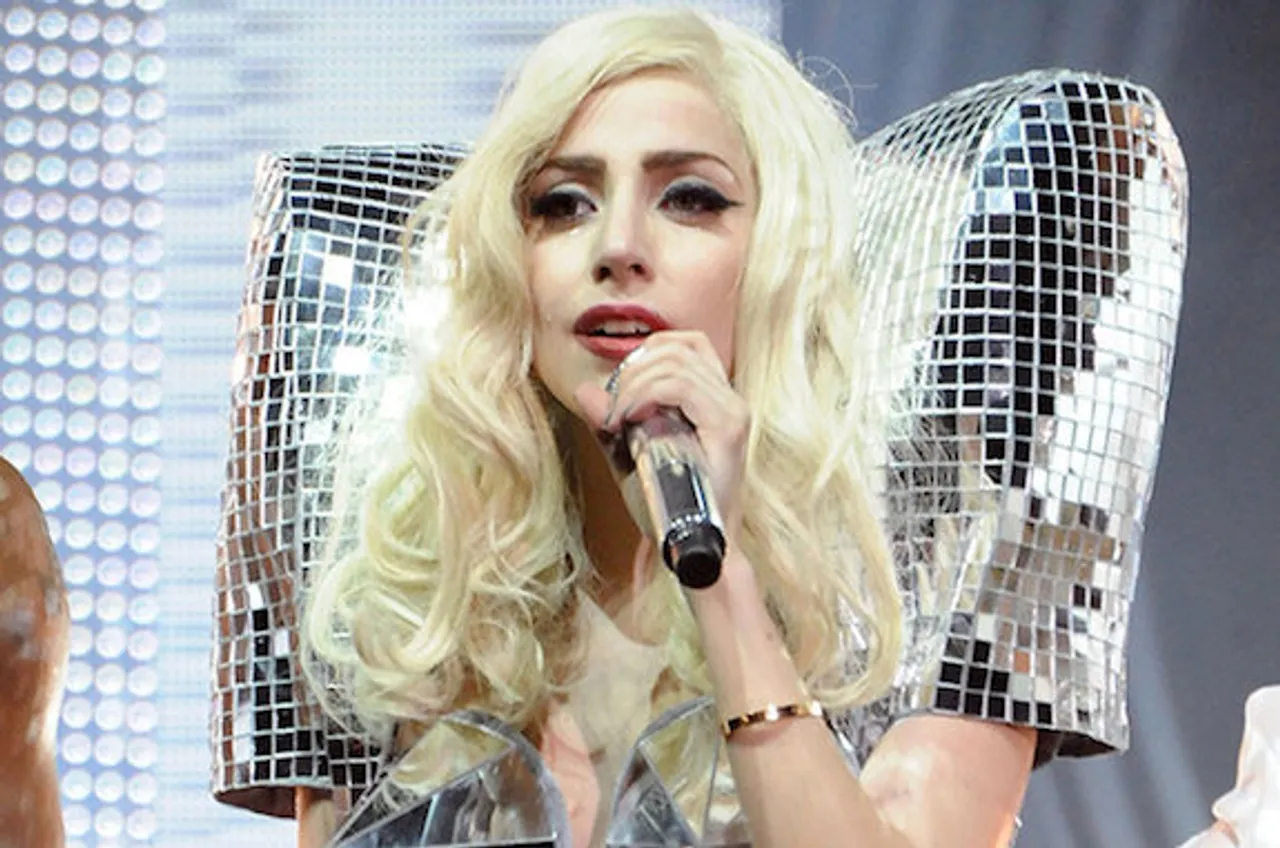 It was Lady Gaga's show and nobody wanted to give it a miss! When the glittery girl, wearing a silvery sci-fi bodysuit with matching high-heeled boots, descended from the top with suspension cables, at the NRG Stadium in Houston, the audience at the Super Bowl halftime show went nuts.
"We're here to make you feel good," Gaga shouted.
Sliding in your DMs like........#GaGa #SuperBowl pic.twitter.com/OU6W5Rj5CQ

— Mark Ballas (@MarkBallas) February 6, 2017
With a few lines each of "God Bless America" and "This Land Is Your Land", the rockstar began her concert on Sunday (Feb. 5) night and then went on reciting the "one nation indivisible" conclusion of the Pledge of Allegiance. Later, she started singing her hits one by one: "Poker Face" while being in the air. She was flaunting a long-sleeved sparkling leotard with a glittery mask painted around her eyes.
WOW. Amazing.@ladygaga's #PepsiHalftime Show! 👏#SB51 https://t.co/z9vCKRBKkC

— NFL (@NFL) February 6, 2017
It was just a 12-minute performance but worth the seconds! A backup dancers' crew was supporting Lady Gaga's superhits like "Born This Way" and following up with "Telephone". And when she played a keytar (a portable keyboard in the shape of an electric guitar) with the lyrics of "Just Dance.", the crowd lauded the high-energy hits.
RT if you LOVED @ladygaga's #PepsiHalftime performance?#SB51#Gaga pic.twitter.com/hHxpcRdee7

— NFL UK (@NFLUK) February 6, 2017
This land was made for you and me 🇺🇸 @ladygaga #SB51 pic.twitter.com/hYmEhvmCSd

— Us Weekly (@usweekly) February 6, 2017
"America, world, how you doing tonight? We're here to make you feel good. You wanna feel good with us?" Gaga asked the crowd before she performed "Million Reasons" on the piano.
.@ladygaga bringing the house down at #SB51!! #PepsiHalftime #gaga pic.twitter.com/UVmnZfd0Ej

— NFL (@NFL) February 6, 2017
I•C•O•N•I•C @ladygaga #gaga #pepsihalftime pic.twitter.com/ePBuy5gREp

— rocketnumber9 (@__rocketnumber9) February 6, 2017
Last week, Lady Gaga said, "I believe in a passion for inclusion, I believe in the spirit of equality and that the spirit of this country is one of love and compassion and kindness," she told reporters. "So my performance will uphold those philosophies."
However, Gaga did what she's known for – showing her dramatic costumes with big smiles – and of course, by all means, an astonishing show.
But at the end, it was a surprise announcement that hooked us. Gaga announced her 2017 Joanne World Tour. She even posted a tour teaser overnight. Check it out:
February 6, 2017
While Gaga scored her fourth No. 1 album on the Billboard 200 last year with Joanne, her new album is the main attribute of this tour, which will be her first as a solo headlining artist since 2014 (she toured with Tony Bennett behind their duets album Cheek to Cheek in the interim).
Wow. Wow. Wow.@LadyGaga! #SB51 #PepsiHalftime #Gaga pic.twitter.com/YRMGVWdXov

— NFL (@NFL) February 6, 2017
Gaga's performance at the Super Bowl halftime show garnered 5.1 million tweets in less than an hour, and guess what? Hillary Clinton gave her review too.
I'm one of 100 million #SuperBowl fans that just went #Gaga for the Lady, & her message to all of us. https://t.co/8AoNqjwr1b

— Hillary Clinton (@HillaryClinton) February 6, 2017
At the annual press conference for the half-time show, Gaga earlier said she would perform with principles of tolerance and equality. And, we can say the audience loved the pop singer's gesture.
https://twitter.com/DoubleScoopTHUG/status/828413866426011648
@ladygaga I loved the mic drop and catch at the end! You were like "Haus of Gaga out"! 😘 You were all amazing! #SB51 #pepsihalftime #gaga pic.twitter.com/Lxhh8ZCI0l

— AnthonyP (@anthonymp81) February 6, 2017
Keep on showcasing your raw star power, Gaga!
READ: Lady Gaga Opens Up About Dark Side Of Fame
Also Read: Media and Sexism: It's Not Just Megyn Kelly
Feature Image Credit: Billboard.com
Join Us on https://www.facebook.com/SheThePeoplePage
Follow Us on https://twitter.com/SheThePeopleTV