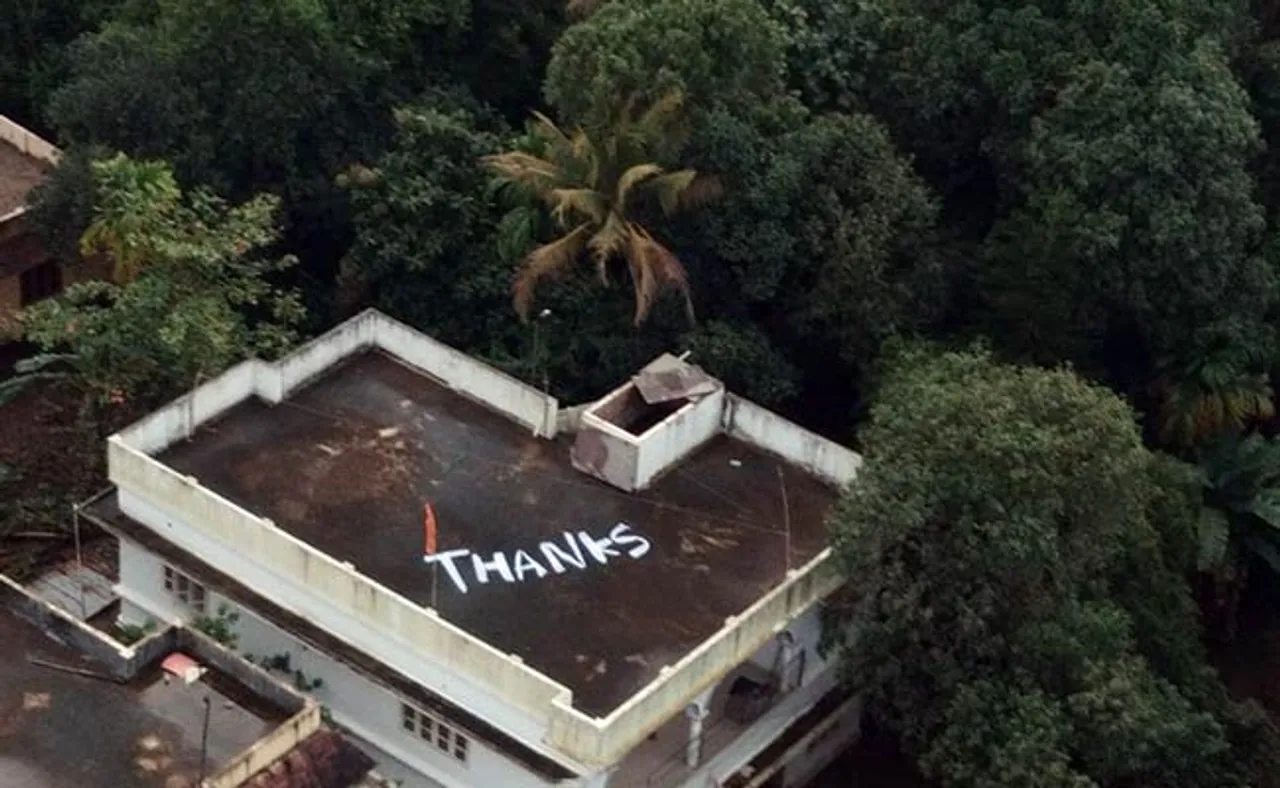 Amid the rescue operations in Kerala, the Indian Navy was in for a surprise this morning. They happened to see a rooftop painted with 'Thanks' for their rescue efforts.
Heart-warming gesture
A naval Advanced Light Helicopter (ALH), piloted by Cdr Vijay Varma had rescued two women from a house in Kochi on 17 August. The Indian Navy, moved by the gesture, shared the picture on its Twitter handle, which read "Naval ALH piloted by Cadre Vijay Varma rescued two women. Bravo...".
#OpMadad #KeralaFloodRelief #KeralaFloods2018 A Thank You note painted on the roof of a house where the Naval ALH piloted by Cdr Vijay Varma rescued two women. Bravo... pic.twitter.com/xsaD1RfeIk

— SpokespersonNavy (@indiannavy) August 20, 2018
The country has been showering praises on the Navy for its rescue efforts across the flood-hit state. On Sunday, August 19, a chopper manned by the Indian Navy rescue team attempted a daring stunt when it landed on a narrow rooftop. They landed and rescued an 80-year-old woman.
The Navy rescue team, a few days ago, airlifted a pregnant lady from her swamped home in Alapuzha, after her water broke. The woman gave birth to a boy a few hours after the timely rescue.
A pregnant lady with water bag leaking has been airlifted and evacuated to Sanjivani. Doctor was lowered to assess the lady. Operation successful #OpMadad #KeralaFloodRelief #KeralaFloods2018 pic.twitter.com/bycGXEBV8q

— SpokespersonNavy (@indiannavy) August 17, 2018
In yet another brave episode, a Navy diver was elevated onto the roof of a house in Aluva, where he rescued a child. Navy's Twitter account featured a video of this rescue operation as well.
Aluva Rescue effort pic.twitter.com/b3ZbwZ6vcr

— SpokespersonNavy (@indiannavy) August 16, 2018
Everyone is shaken by grim situation in Kerala. Even after safely rescuing thousands of people, the death toll has risen to 400 plus. The citizens, from across the country, are pouring in contributions and help for rescue and relief operations in the state.
Continuous rescue efforts by the Indian Navy and Army in Kerala has garnered praise from millions. Earlier today, the first commercial flight landed at INS Garuda, the Indian Navy air station in Kochi. According to figures released by the state government, more than 800,000 people were taken to relief camps.
The entire country is commending the Navy by sharing pictures and videos of their brave acts across social media sites. However, this thank you note, painted on the rooftop of a house, surely is the most heart-warming gesture.
Picture Credit: NDTV
Also Read: Heroes without capes: Samaritans helping with citizen drives for Kerala floods