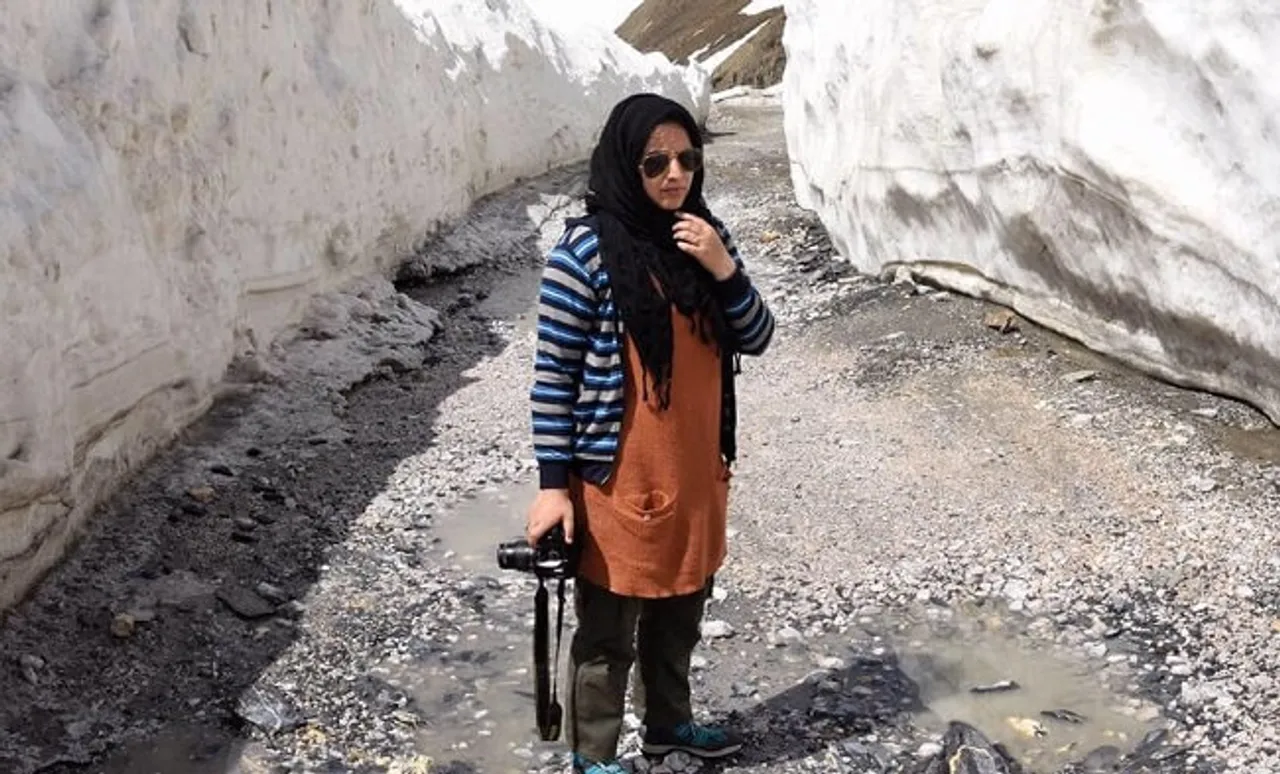 Masrat Zahra, a freelance photojournalist from the city of Srinagar, has been named the winner of Anja Niedringhaus Courage in Photojournalism Award this year, the International Women's Media Foundation (IWMF) announced on Thursday. According to a statement, "Masrat's use of color, composition, shadow and light infuses her imagery with both dread and community." Born in a Muslim family, Zahra has been working within Kashmir communities for four years now, as per The Kashmir Monitor. Her work is mostly focused on stories about local communities and women.
Zahra says receiving the award "shows that the work of journalists like me coming from small places is being acknowledged."
Speaking about her work statement further read, "The story behind her work lends a closeness to her subjects, which requires a huge level of courage given the current situation in Kashmir."
I am incredibly honored to share that I have won the Anja Niedringhaus Courage in Photojournalism Award from @IWMF I'm happy that my work has finally been recognized.
After thanking Almighty,I would like to say a big thank to my mentor, @ShowkatNanda for his guidance, love & care pic.twitter.com/ztMcdlpEKO

— Masrat Zahra (@Masratzahra) June 11, 2020
"I hope this honor will encourage me to perfect my skills and do my work more confidently. I also expect it to inspire other women photographers who are working in difficult environments," she added. "This is an honor to all women who choose to work in conflict zones."
What You Should Know
Masrat Zahra wins Anja Niedringhaus Courage in Photojournalism Award.
Zahra is a freelance photojournalist from Srinagar, known for her work with local communities and women.
Masrat is happy that journalists like her coming from small places are getting acknowledged.
"Countless communities around the world are facing enormous threat, harm and censorship due to governmental threats and the declining state of press freedom worldwide," said IWMF Executive Director Elisa Lees Munoz adding that the award recognizes courageous female journalists.
Also Read: The truth about women journalists in Jammu and Kashmir
Earlier this year, the Zahra was booked under the Unlawful Activities Prevention Act (UAPA) for allegedly uploading posts that glorify "anti-national activities" on social media, The Kashmir Monitor had reported.
Talking about her authentic work, Zahra had earlier told SheThePeople, "I am a journalist and not a social activist. I don't have any political agenda and as a journalist, our work is to bring out authentic and verified stories without any bias. Our ideologies don't come in between our work. I only share the work that I have been doing from the last couple of years in Kashmir. If a CRPF jawan is killed in front of me, I'll go and take pictures and upload them too similarly as I have done in the past."
I am a journalist and not a social activist. – Masrat Zahra
Since its inception in 1990, the Niedringhaus Courage in Photojournalism Award honors the memory of German photojournalist Anja Niedringhaus, who was killed in 2014 in Afghanistan. Each year awarded journalists get $20,000 (€17,500) prize by the IWMF, which has been fighting for press freedom.
Feature Image Credit: Facebook
READ: This Doctor In Assam Is Designing Masks & Shields For Healthcare Staff At Home