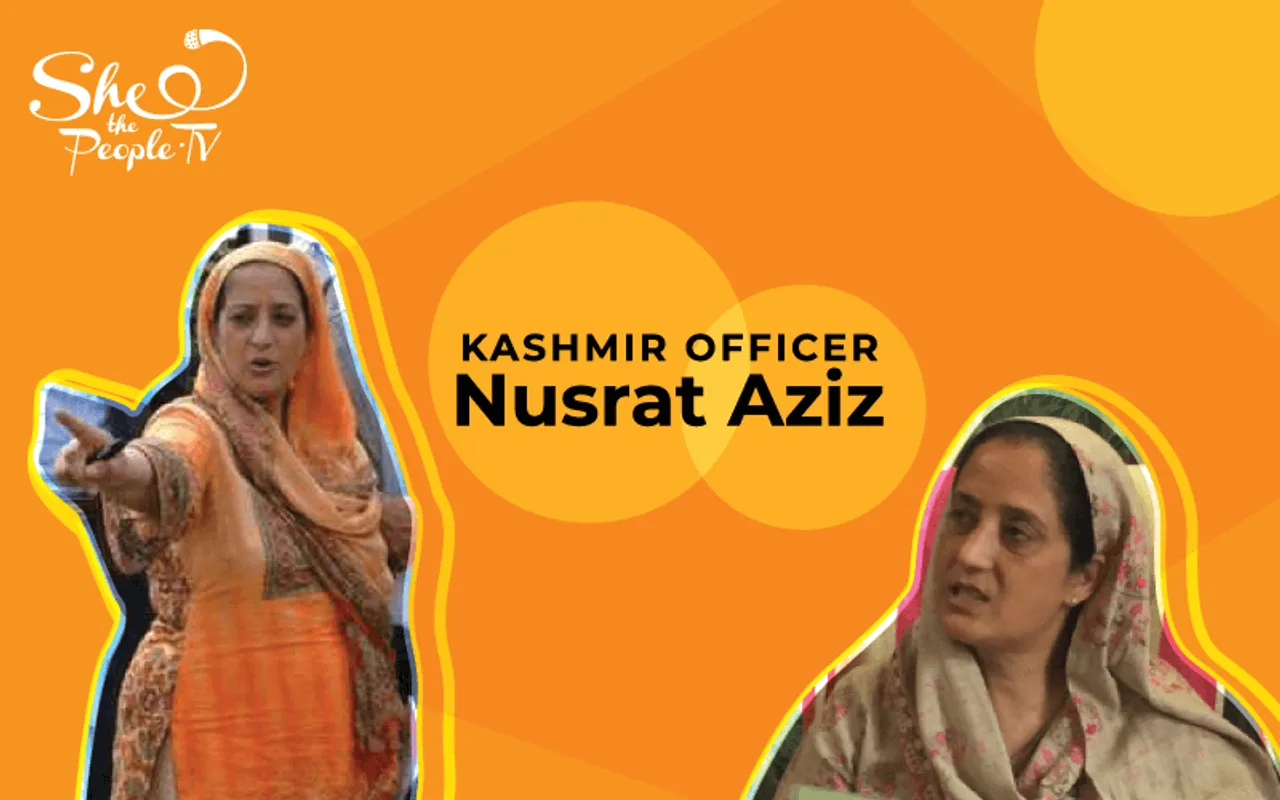 Revenue Officer Nusrat Aziz is garnering much praise and appreciation for her relentless attack on the land mafia in Kashmir. The 40 years old officer is leading an anti-encroachment drive to retrieve government land which has been occupied by the people close to power corridors. So far her campaign has led her to retrieve 10 kanals of government land at areas including Friends Enclave and Humhama locality, near the Srinagar International Airport.
These government lands had been occupied by people close to politicians and some senior retired and serving officers.
The news about this no-fuss woman officer steering anti-encroachment drives, even as the people holding the land opposed her work, has taken over the Internet. In fact, those who tried to interfere with her work are now facing charges for disrupting a government officer's work. In the video, she can be seen furiously asking police officials to arrest the accused as she feels threatened. 
A big Salute to Ms Nusrat Aziz Tehsildar Budgam for Retrieving 80 kanals of State Land at Rakh e Arath Budgam today..... Some land brokers detained as well.
Congrats to DC Budgam Dr Sehrish who supervised this operation ...
# Nari Shakti Zindabad pic.twitter.com/N4QzTnMXMd

— rtimuzaffar (@rtimuzaffar) May 2, 2019
Tehsildar #NusratAziz should be appreciated for her courage to take on land Mafia. I hope @listenshahid will provide her all assistance and security. You don't find such officers daily https://t.co/ARkScPn4p1

— Tawqeer Hussain (@tawqeerhussain) June 4, 2019
Now the million dollar question is how & when will land grab case involving bureaucrats, police officers & politicians be dumped & buried like other high profile cases.

Will JK admin now transfer tehsildar Nusrat Aziz? #Kashmir

"Rakhshak he bakhshak".
"Chor machai shor".

— (ReturnTheBodies)MundaKoshur (@MundaKoshur) June 4, 2019
"We have retrieved 10 kanals from some influential persons at Friends Enclave. As long as I am here, the encroachment drive will continue," Nusrat told The Tribune. The Divisional Commissioner, Kashmir, Baseer Khan and Deputy Commissioner, Budgam, Sehrish Asghar had instructed her to carry out these drives. Aziz says she has been going through a lot of stress because of the drive as she said that it is very difficult to tackle the influential people behind the encroachment. "I am in trauma and stress ever since we started the drive. It's very difficult to deal with these influential land grabbers," says she.
Aziz has been allegedly threatened of dire consequences for retrieving the government land from land grabbers, and Jammu and Kashmir politicians have also tried to intervene in her anti-encroachment drives apparently.
"It was state land," Mudasir Ahmad, an officer from Humhama Police Station told Free Press Kashmir. "We freed the land on her instructions. It was all her role. She's the authority to remove any sort of encroachments and she did."
We have retrieved 10 kanals from some influential persons at Friends Enclave. As long as I am here, the encroachment drive will continue. - Nusrat Aziz
Despite the fact that she filed a complaint against the protestors, officials said the government backed them by issuing a bound-down notice under Section 107 of the CrPC (Code of Criminal Procedure), warning them not to indulge in any such crime in future.
ALSO READ: Lynched Tribal Youth's Sister Becomes Civil Police Officer
But the locals have hailed Aziz's efforts. "We are thankful to Nusratji for removing the land encroachments here. These land grabbers would harass us and use their influence to encroach upon government land," said a local Abdul Majid.
"It takes some heart to take on the land mafia that has messed Kashmir up," Gowher Amin, a trader from Srinagar told Free Press Kashmir. "The woman Tehsildar's action tells us that not everything is rotten in official ranks."
The police have arrested Abdul Halim, a retired assistant director in the handloom department, on Saturday for misbehaving with Aziz and stopping her from performing her duties. Aziz has now urged the government to fence the retrieved land quickly so no further encroachment could happen.
The Budgam Tehsildar Aziz joined the state revenue department around 18 years ago. "I was only doing my job," she asserts for taking on responsibilities and fulfilling them to erase corruption. She joined as Tehsildar of Budgam only three months prior to leading this campaign. Right after she joined, she started probing the land mafia issue and soon zeroed down on who was behind it.
"It is risky to act against the violators, but it is my job to do it," she said, Free Press Kashmir reported.