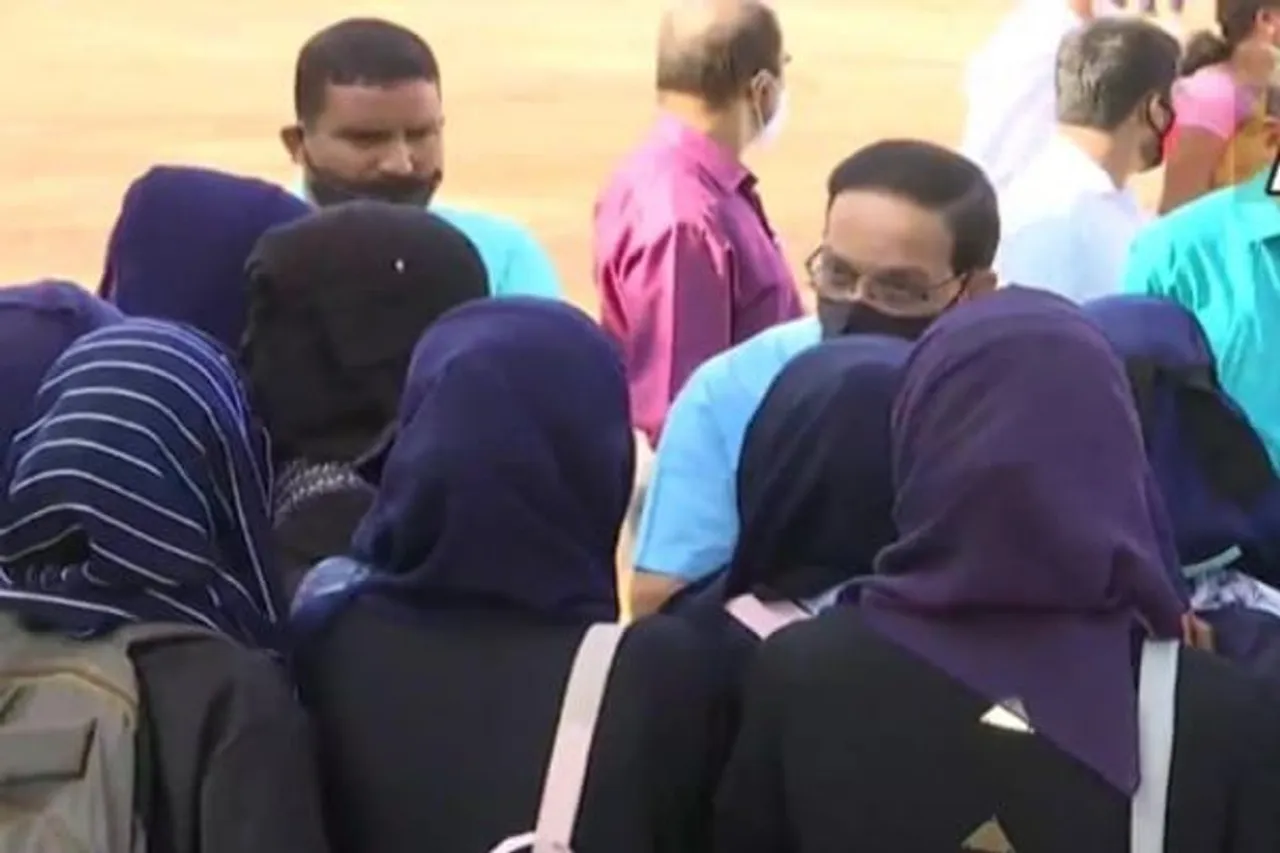 Two students who had moved to the High Court—Aliya Assadi and Resham Farooq— reportedly returned home from the Vidyodaya PU College in Udupi without writing their Class 12 Board exams as they insisted on wearing hijab. The pre-university board exams began in Karnataka on April 22. The High Court in their judgement had upheld the ban stating that it was not essential to wear a hijab in Islam.
The two students had collected their hall tickets from the Women's Government PU College in Udupi where they studied. Upon their arrival at their examination centre on Friday, the two students were sent back by the invigilators since they insisted on wearing the hijab.
Maruthi Malge, Deputy Director of Pre University Education, Udupi, was quoted saying, "The students came to the centre insisting they will write the exam with the hijab, but the invigilators said there is no permission to wear the hijab and write the exam. They waited till 10:45 am and left from the centre."
Karnataka PU Exam
Karnataka government had announced earlier this week that the ban will continue even during the class 12 boards. State Education Minister BC Nagesh announced on April 19 that students wearing hijabs won't be allowed to write Grade 12 board exams. Speaking to the media, the minister said that anyone including teachers, students, invigilators and non-teaching staff will not be allowed to wear hijabs. The rule will be applicable to all institutions including private ones, Minister BC Nagesh added.
---
Suggested Reading: Hijab Verdict: Girls Deserve To Study, They Shouldn't Have To Run From Court To Court
---
After the hijab controversy erupted in a Udupi pre-university college and spread across the state leading to protests by Muslim women as well as extreme-right fringe groups.  Six women had filed a petition with Karnataka High Court seeking a lift on the ban on wearing hijab in classrooms.
The Karnataka government had issued similar order before the recently-concluded Class 10 Secondary School Leaving Certificate (SSLC) exams. The Class 12 board exams are scheduled to begin on April 22 and go on until May 18 in the state. As many as 6,84,255 students have enrolled for the examinations, stated an official release from the Department of Pre-University Education.
The Karnataka government also sought police security cover for all the examination centres and all work will be carried out in the presence of police security. The 200-meter zones surrounding the exam centres have been declared a prohibited zone.