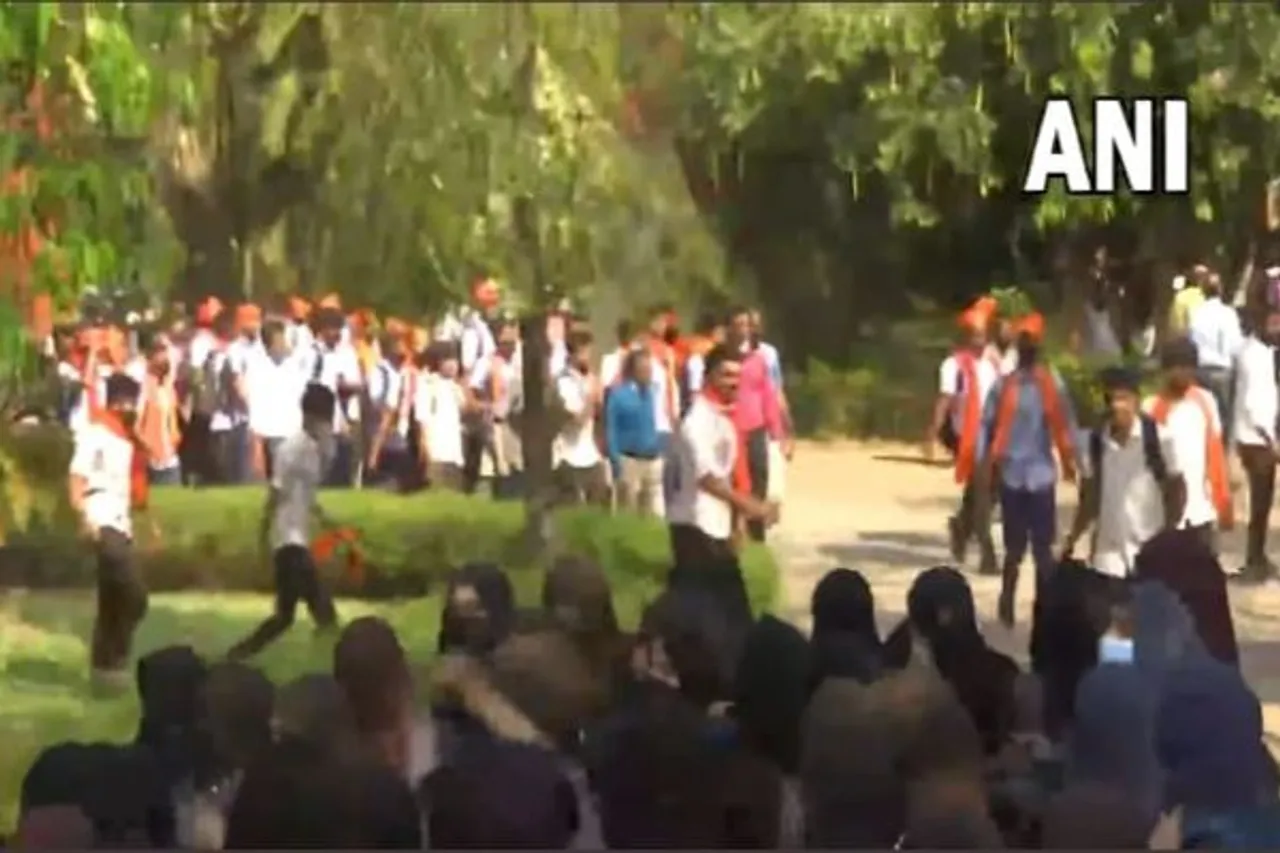 On the third day of hearing the petitions by students, the Karnataka High Court directed that no religious garments will be worn on the college campus till the matter is pending in court.
The next hearing of the hijab case is scheduled for February 14, 2022. The matter was heard by a three-judge bench comprising of Chief Justice Ritu Raj Awasthi, Justice Krishna S Dixit and Justice Jaibunnisa M Khazithe at Karnataka High Court. The petitioners challenged the state government's ban on wearing hijabs in colleges. Right before the adjourning the hearing on Thursday, Chief Justice Ritu Raj Awasthi stated that colleges can reopen in the state but no student is allowed to wear religious garments on the campus till the matter is pending.
Karnataka High Court Hijab Case Hearing:
In Karnataka, many Muslim students have been protesting against the state government colleges after the latter came out with new rules banning hijabs in classrooms. The students filed petitions in court asking for the right to practice their religion in classrooms. The resistance first started in December 2021 in Udupi. To protest against the hijab, some students also showed in saffron scarves to college. When the protests started to get violent, the Karnataka government urged the students to maintain peace and shut down the schools for three days to prevent untoward incidents.
---
Suggested Reading: Why Must Muslim Women Wearing Hijab Always Justify How Independent They Are?
---
In a public statement, state Chief Minister Basavaraj Bommai appealed to the people to maintain calm and peace. He said, "I appeal to everyone, whoever had to make their statement or remarks on the issue have already made it. Now, everyone should stop and wait for the court verdict. No one should make any statement that disturbs peace and should restrain themselves."
The Karnataka High Court had order the media to not report any oral observations and wait for the final orders by the court in the case. The court ordered the state police to ensure law and order while practicing extreme restraint in dealing with the students. The Home Minister of Karnataka Araga Jnanendra said, "Students shouldn't fall prey to communal elements who are hell-bent on making the hijab issue a tool to disturb communal harmony."
The court stated, "We are considering the issue of whether the wearing of headscarf comes within the Fundamental Rights."
"We are also considering whether wearing a headscarf is an essential part of the religious practice," HC added.