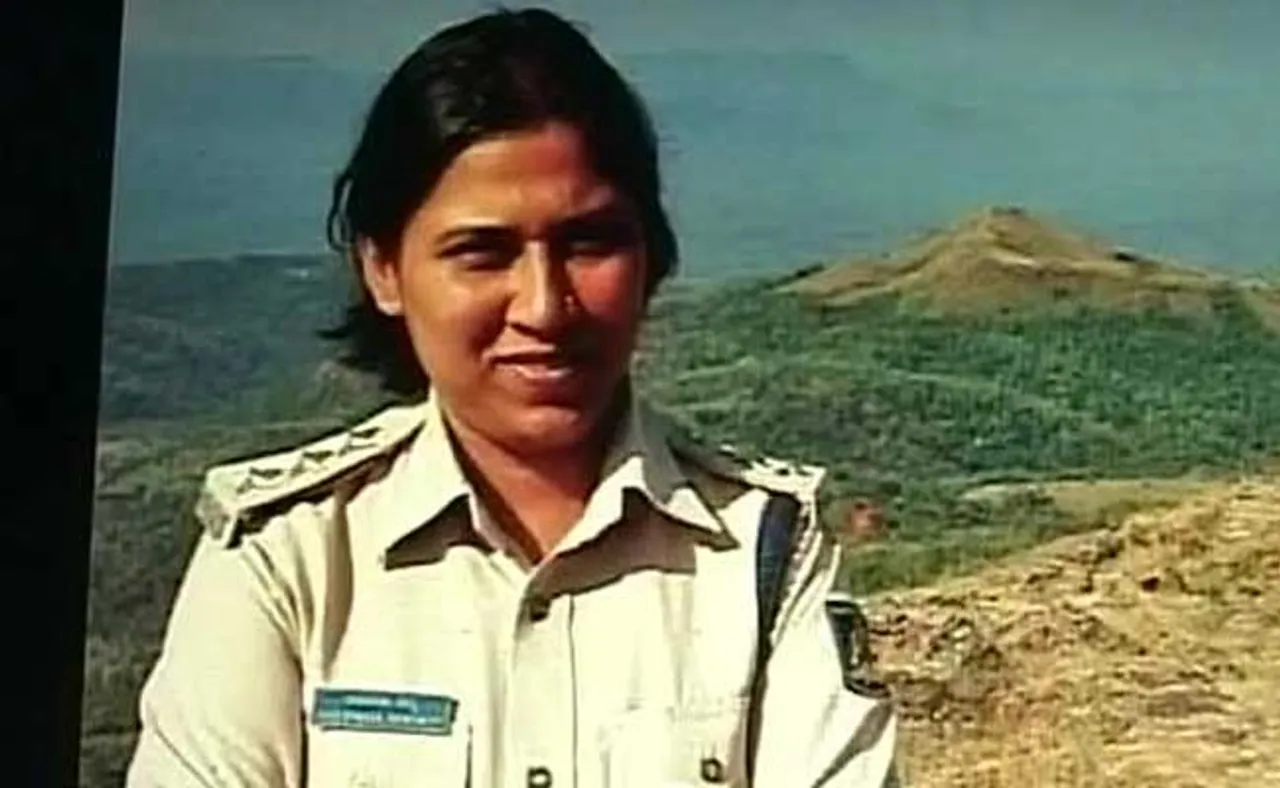 The resignation of a police officer has become a headache for a few in the Karnataka state government. Kudligi Deputy Superintendent of Police Anupama Shenoy resigned from her post on Saturday, but went on to target Ballari district in-charge and Minister of State for Labour P.T. Parameshwar Naik on Tuesday through a series of Facebook posts, indicating that her resignation was due to pressure from their quarters.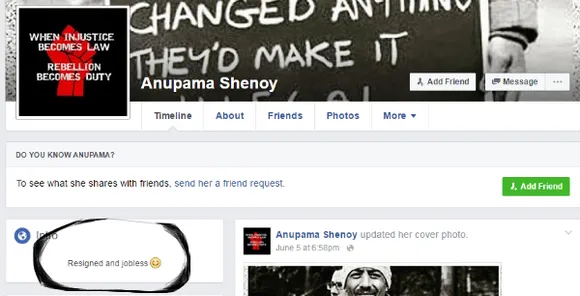 Anupama Shenoy's Facebook status after her resignation
She first questioned the Labour Minister, "PT Parameshwar Naik, I have resigned now. When are you going to resign?" Next, she went on to drop hints that she could expose his actions through audio recordings and a CD which she claimed was apt only for night viewing.
Seeing his future in stake, when Naik reacted and denied the charges against him, Shenoy took another step and posted this - "CD beke, audio beke (you want CD or audio) with #ParameshiPremaPrasangabhaga1 #washingpowderNirmapart2.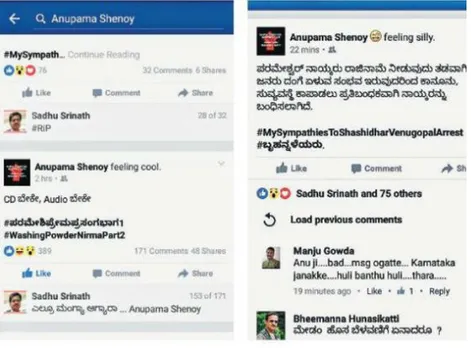 Facebook posts put up by Kudligi Dy.SP Anupama Shenoy
The Labour Minister finally came out with the following statement:
 "I came to know of DySP Anupama Shenoy's resignation only when the Ballary SP informed me. I have no comments to make. If at all you are curious to know the reasons, you better ask her. I have not put pressure on her. I don't know what made her resign. Her senior officers, the Superintendent of Police or the Inspector-General of Police, will handle the issue."
Shenoy though continued to evoke the matter on facebook, the result is that there is a whole section of Social media now opposing and blaming the minister, his supporters, and the liquor and sand mafia, allegedly backed by him, for Shenoy's resignation. Shenoy didn't stop at that. She targeted former Chief Minister H.D. Kumaraswamy too. With the matter echoing in the corridors of power, Legislative Assembly Speaker Kagodu Thimmappa had this to say:
"The police officer should have expressed her grievances to senior officers. The government should take disciplinary action against her if she indeed called the Siddaramaiah government Rum Rajya "
Also read: Wake up Bengaluru! Why the silence on sexual harassment?
Meanwhile, the Director-General of Police Om Prakash confirmed that her official resignation letter has been received and they are considering it if. Although, no further information has been given yet with the matter taking a serious turn after Tuesday's social media posts targeting a Cabinet Minister.
Anupama Shenoy is not new to making news. Earlier this year, she had been transferred for putting a minister (sources say: PT Parameshwar Naik) on hold. Later on she had taken three people into custody for illegally building an extension to a liquor shop that was block the road leading to an Ambedkar Bhavan in the area, because of which Dalit groups opposed her. As a result, the liquor shop owner and two others were detained,.
While her resignation is strictly pointing on to these issues, the policewoman, a 2010 recruit of the Karnataka Police Service has not appeared in front of media. She did not respond to calls from reporters but seems to be telling her story via her Facebook wall.  Incidentally, later on her mood changed drastically from accusing to "feeling relaxed", "feeling crazy", "feeling cool" to "feeling loved"  raising concerns that the account was hacked.
Shenoy's brother Achyuth told Indian Express, "She might go to Ballari in the next two to three days and take a decision. Anupama will be interacting with the "mainstream media" in the next couple of days. The reason for her resignation is the injustice meted out to her."
All eyes now on when Anupama Shenoy decides to come out and make a statement in the open. Watch this space.
Feature Image Credit: NDTV