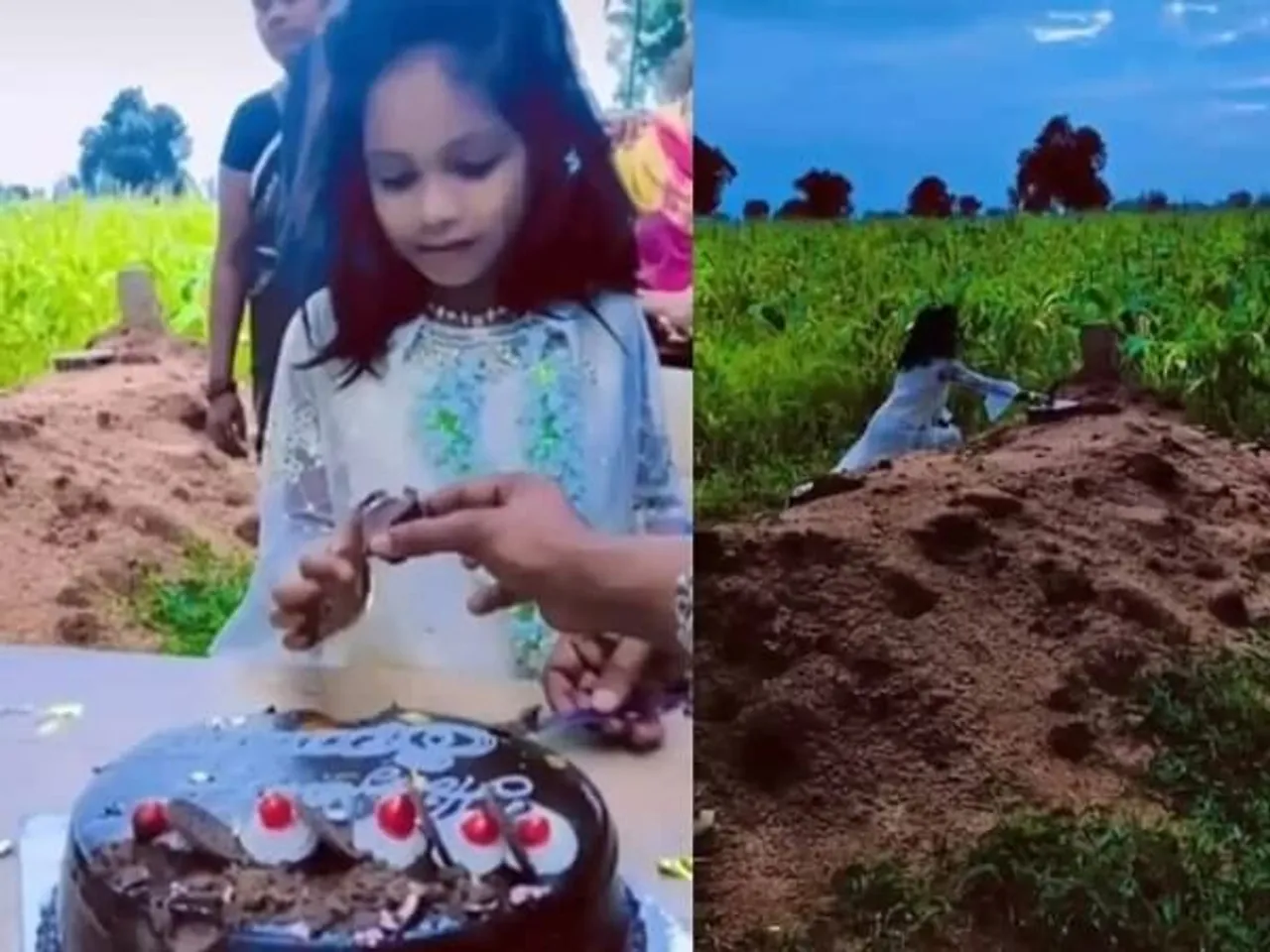 Girl Celebrates Birthday Near Grave: The video of a girl from Karnataka celebrating her birthday near a grave went viral on Thursday. In the video, the girl is seen in a white and blue dress for her birthday and walks by the grave of her father.
The girl celebrating her birthday near a grave in the viral video is identified to be an 8-year-old from Karnataka. Her name is Spandana. She resides at Kushtagi in the Koppal district of the state of Karnataka. According to reports, the young girl had lost her father, Mahesh Konasagara due to the COVID-19 disease. He succumbed to the illness in May this year when the second wave started ravaging the country.
According to the statement by the locals, Mahesh Konasagara used to get involved in social works. The daughter shared a special bond with her father, said her family members. Even after his death, she wanted to be near her father on the occasion of her birthday. This is why she expressed her wish to celebrating her birthday near a grave where her father was buried. The family members agreed.
Then the family made the necessary arrangements for the 8-year-old to celebrate her birthday near the spot of her father's burial. In the viral video, the girl cuts the cake and offers a piece to her father by placing it on his grave. The viral video moved many on social media.
The 8-year-old birthday girl said in her statement when asked about her bond with her father," When he was alive, my father used to celebrate my birthday in a grand manner. He wanted to see me as an officer and I will fulfil his wish by studying well. I will also carry on my father's social work."
A heart-breaking video of an eight-year-old girl celebrating her birthday along with her family members near the grave of her father has gone viral in #Karnataka.

Spandana had lost her father Mahesh Konasagara to Covid last May. pic.twitter.com/UAXwXmB9tN

— IANS Tweets (@ians_india) September 2, 2021