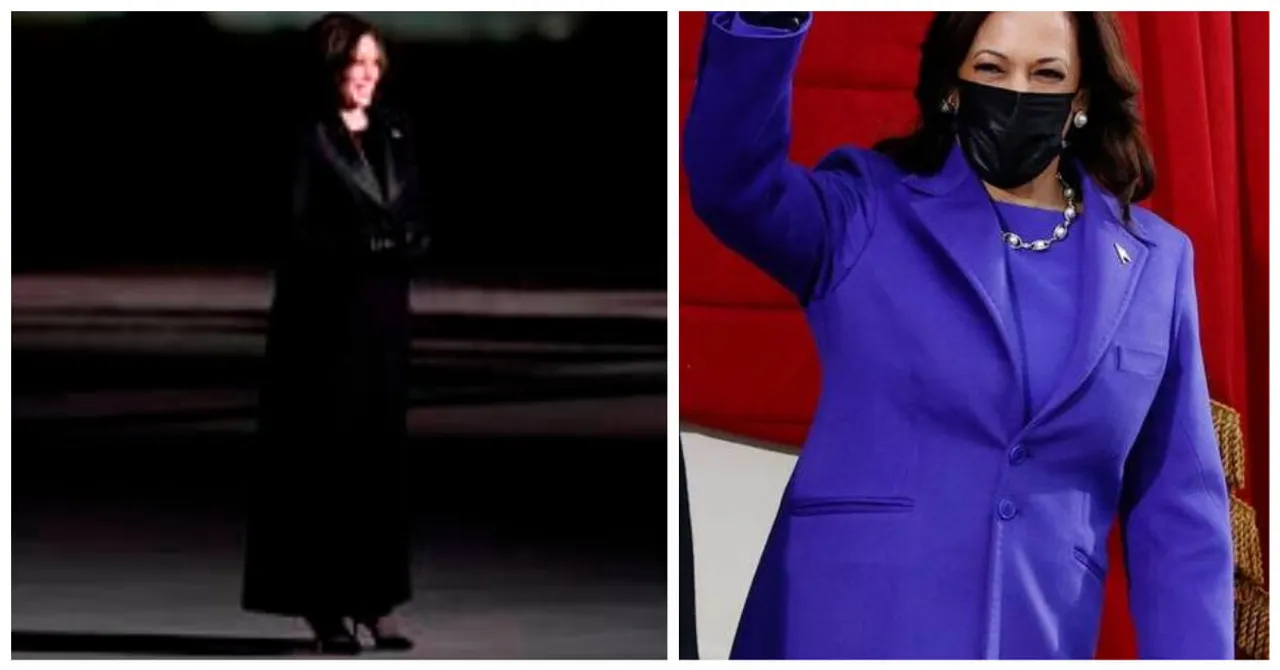 As Kamala Harris steps in the office of the US Vice President to take up the powerful onus, she also makes sure to ace everything, be it her vice-presidential goals or fashion goals. In simple words, she aces it all with style. The Kamala Harris fashion style is a thing among politicians and working women alike across the world.
Kamala Harris' outfits have always resonated the elegance and charisma that she carries. The formal blazers, pantsuits and skinny pants accentuate the power and vibrance she holds in her mien. In fact, she is one of those few people who are able to pull off their sophistication and grace even in casual clothing.
Susan E. Kelley, who runs the blog What Kamala Wore at New York Post, stated, "Her style is understated, tailored, elegant, businesslike, with a touch of whimsy."
"The clothes don't wear her; she wears the clothes," she further added.
Furthermore, it was observed that she has been trying all along to make statements with her sense of fashion and style. Be it about the choice of her designers or the colour she dons, she brings in both style and symbolic statements with her outfits.
Inauguration Outfits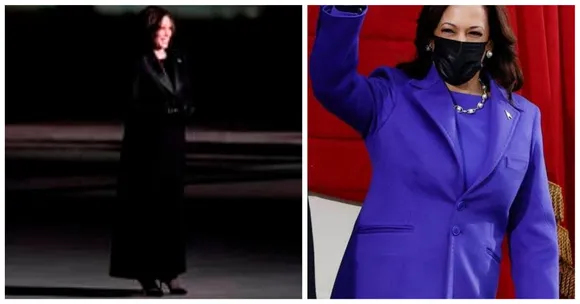 Credits: USA Today
For the sworn-in ceremony, Kamala donned a purple coat over a colour-matching dress by Christopher John Rogers. She also accessorised her attire with elegant pearls. For the festivities later at night, she wore a sequin cocktail dress under a silk tuxedo overcoat by Sergio Hudson.
Kamala carried both style and meaning with her outfit in the inauguration ceremony. The purple colour signified a mix of Republican red and Democratic blue, i.e. a symbol of bipartisanship. Moreover, another symbolism could be that purple also has historic ties to the women's suffrage movement. Along with white and green, purple makes up the colour of the suffragette flag.
Other than that, both the designers belong to the black community. Meanwhile, Christopher John Rogers is also gay. Hence, her choice of designers also implied inclusivity.
Berry Coloured Set at Inaugural Prayer Service 
Continuing her motive of highlighting independent black, Asian and minority ethnic (BAME) designers, Kamala attended the presidential inaugural prayer service—virtually held in the State Dining Room of the White House—wearing an ensemble by Nepali-American designer Prabal Gurung. Meanwhile, she also wore a Tahitian black pearl necklace.
The formal, elegant and sleek look comprised of a garnet-hued double-faced wool crepe dress with a matching coat, hand-tailored in Gurung's atelier in New York.
Prabal Gurung took to social media and expressed how proud and happy he was. He wrote, "Honoured, humbled, and forever grateful. It is nearly impossible to truly sum up the magnitude of this moment for me. To see Vice President @kamalaharris wearing our designs this morning, just one day after being sworn in as the first ever female, Black, and South Asian American Vice President of the United States of America, is my American Dream coming true all over again."
Prabal Gurung is also known for his advocacy against racial supremacy and injustice, on which he often speaks against. Furthermore, his message of solidarity, diversity and inclusion is incorporated in his designs as well.
White Suit at Wilmington, Delaware for first speech as Vice-President elect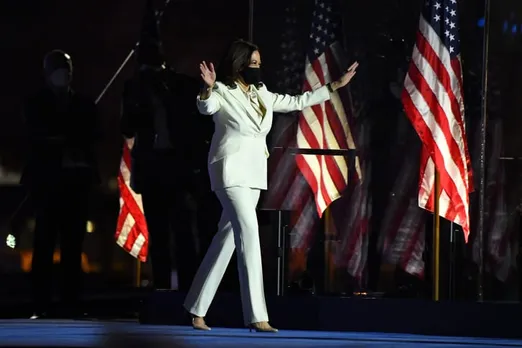 Credits: USA Today
On November 7, 2020, Kamala Harris gave her first speech as the Vice-President elect at Wilmington, Delaware. She graced the occasion wearing a white suit with a blouse by Carolina Herrera. This attire not only made her look perfect, but also carried a lot of symbolic and historical weight too. 
The colour white has long been associated with the fight for women's suffrage. Moreover, white has been used by various female activists and politicians time and again to make symbolic statements without words for women empowerment.
Hence, many feel that her decision to don top-to-toe white was likely no coincidence and added to this historic moment in the fight for women's equality and empowerment as she took to the stage as the first ever female vice president-elect of the United States.
Furthermore, the fact that Harris chose to wear designer Carolina Herrera for the event is also significant as the design came from an American fashion label founded by a female immigrant.
Feature Image Credits: USA Today