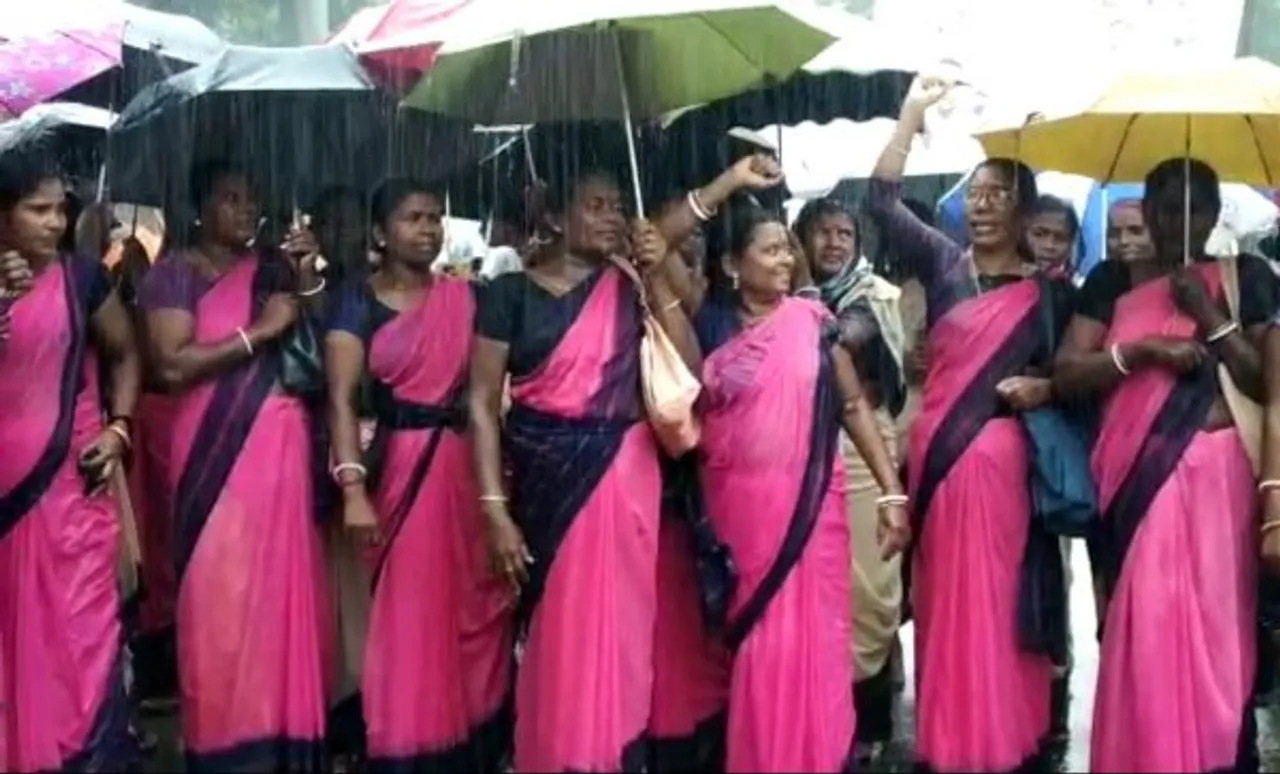 Anganwadi workers across the country work as agents of the government. They implement various vital schemes of the government at the grassroots level. Yet a large number of these Anganwadi workers are on the verge of losing their jobs. These Anganwadi workers from Jharkhand are revolting against the unjustifiably low income—a combination of the amount received from the central (Rs. 4500) and the state government (Rs. 1400). As a consequence of their continuous protests, on September 19, the Chief Minister of Jharkhand Raghubar Das announced in a written letter that all these Anganwadi workers would be expelled if they didn't end their protest.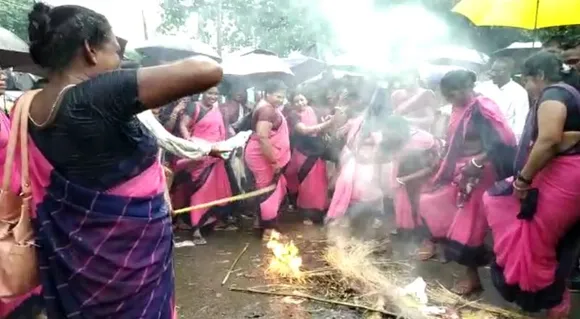 Anganwadi workers Jharkhand during protest.
Jharkhand CM threatens Anganwadis workers with expulsion
Jharkhand has a total of 76,864 Anganwadi workers who are facing unemployment and are still continuing their protests. Not only are these women protesting for the last 40 days, on Wednesday (September 24), when hundreds of the Anganwadi protestors decided to storm towards the house of CM Das, they were stopped by barricades and male police officers who thrashed them with sticks. This was captured in a video that went viral on social media.
Chief Minister of Jharkhand Raghubar Das announced in a written letter that all these Anganwadi workers would be expelled if they didn't end their protest.
In interaction with SheThePeople.TV, Ranchi DSP Ajit Kumar Vimal said that there were also women officers present to stop the Anganwadis from marching towards the CM house which wasn't captured in the video. One of the Anganwadis, Pushpa Mahto tells us that around 8-10 Anganwadis were injured in the lathi-charge. DSP Vimal said that a complaint has been lodged in connection with the FIR. DSP Vimal also informed us that former CM Hemant Soren is the one who filed a complaint against the policemen who hit the women protestors and that an investigation is underway.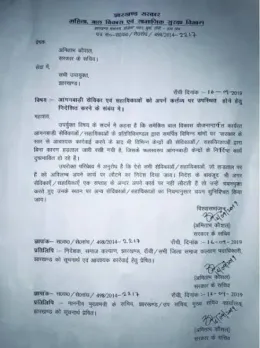 Government order for the expulsion of Anganwadi workers if they don't resume work. Credit: ABP Live
ALSO READ: Students Of St. Francis College Hyderabad Protest Against Dress Code
Who are Anganwadi workers?
The Government of India initiated the Integrated Child Development Service (ICDS) scheme in 1975, which operates at the state level to address the health issues of small children all over the country.
https://www.facebook.com/watch/?v=407783869886888
Under the ICDS scheme, one trained person is allotted to a population of 1000, to bridge the gap between people and organized healthcare, and to focus on the health and educational needs of children aged 0-6 years. This person is the Anganwadi worker.
The Anganwadi worker and helper (sahayika) are the basic functionaries of the ICDS who run the Anganwadi centers and implement the ICDS scheme in coordination with the functionaries of the health, education, rural development and other departments.
The protest that led to policemen charging lathis on women
Telling us about why the protests started, Mahto says, "We have been protesting since August 16 to demand a wage hike, increment in the age limit for retirement, etc. On September 3, Raghubar Das met us and promised that the age limit for retirement will be increased from 60 to 62 years of age and that the Anganwadi workers will be included in the insurance scheme that's given to all other government officials. But he did not say anything about increasing the pay and due to this, we converted the protest to the hunger strike. When, even after the hunger strike, Das did not comply with our demands, we decided to surround CM's house on Wednesday. As soon as we tried to leap over the barricade, all the policemen started lathi-charging us," says Mahto. She adds that there was not even single female police personnel present at the location.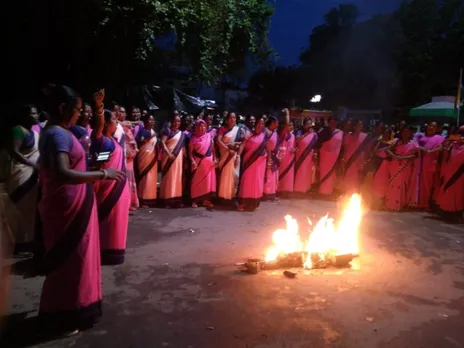 Anganwadi workers of Jharkhand on protest.
She noted that the Anganwadis are in no way fighting with the government. "In fact, we are asking for our rightful income. In today's day and time, we get a sum of Rs 5,900 per month and it is not enough by any means. Keeping this in mind, we ask for Rs 18,000 per month for Sevikas and Rs 9,000 per month for Sahayikas."
ALSO READ: DemocraShe: How Nepal is pushing gender equality in politics and policy
Anganwadis not scared of the CM
Mahto, who joined as an Anganwadi worker in 1998, says that the union which binds them together—Anganwadi Sevika Sahayaka Sangh, started in 2006—will now take this protest to the villages. They are now burning effigies of the CM to show their resentment towards the CM who isn't listening to their woes and instead is threatening to remove all the workers and hire new ones in their place.
Mahto says, "We are not scared of the threats. We are all one and we won't succumb to such threats. Until he comes to our Dharna Sthal and tells us personally that he is going to oust us all, we are not going to believe it."
Balmukund Sinha, the husband of Bina Sinha, who is the founder of Anganwadi Sevika Sahayaka Sangh, spoke to us since Bina has been on hunger strike for the last two weeks. "The government isn't listening to us. We have been trying to get the state government to fulfill its promise that it gave us in 2018 wherein it said it will increase the amount paid to Anganwadi workers by the state government," said Sinha, adding that all other neighbouring states like Chhattisgarh, MP, etc. have already increased the wages of Anganwadi workers, and only Jharkhand is lagging behind.
Neighbouring states provide better wages
Across the country, Anganwadi workers get paid differently in different states. Accurately put by Sinha, neighbouring states do pay better wages to their Anganwadis than Jharkhand. For instance, Madhya Pradesh pays every Anganwadi worker Rs 10,000 per month. Bihar is even better with its wages to Anganwadi workers at Rs 12,000 per month. Odisha government hiked the income of Anganwadi workers to Rs 7,500 per month. The Delhi government has also increased the wages of Anganwadis in 2017 to Rs 10,178 per month.
ALSO READ: Radio Stations Become The Voice Of Garment Factory Workers In TN
Sinha also revealed the police is trying to displace the protestors from Raj Bhawan where they are sitting on protest as President Ram Nath Kovind is visiting the state and the state government wants to control law and order there. He added that despite the fact that the Sangh is trying to talk to the government they are not responding to their calls.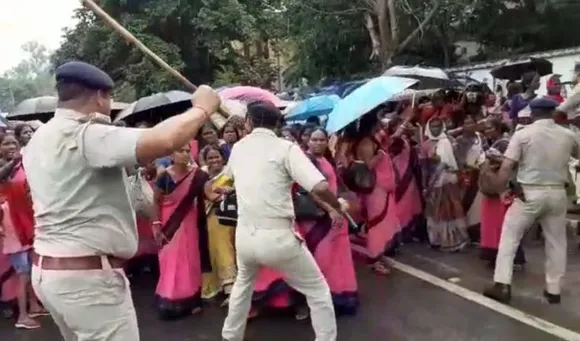 Jharkhand Anganwadi workers face lathi charge.
However, this isn't the first time that the Anganwadi workers of Jharkhand are fighting for a wage hike. The Anganwadis protested from January 17 to 29 January and then again in May 2018 that went on till June 2018. Both times they were given false assurances of an increment which have not been fulfilled as yet.
State's disregard towards Anganwadi workers
Across the country, Anganwadi workers get paid differently in different states. Accurately put by Sinha, neighbouring states do pay better wages to their Anganwadis than Jharkhand.
Dayamani Barla, indigenous tribal activist and a human rights champion from Jharkhand says that Anganwadi workers are entrusted with one of the most crucial jobs of providing nutrition to pregnant women of the country. "They work to implement the initiatives of the central and state governments in their states and yet they are paid peanuts. Whether it is to educate mothers to monitor the normal nutritional needs of their children or to organize and provide supplementary nutrition for children, pregnant women, and nursing mothers, it all depends solely on Anganwadi workers. So, it is their right to ask for increased wages after a certain time period and it is a right of every individual," she said.
In addition, she says that the Jharkhand government claims to be the strongest state government and yet how they treat poor women who earn such little wages shows the weakest aspect of their identity. "On one side, when it is about asking votes, the government brings in all these schemes empowering women and on the other side, it clamps down on the women who give their life to propagating the schemes of the government," Barla adds.
Anganwadi workers are the link to creating a healthy nation. They provide the most necessary care that mothers in rural and urban areas require, but often don't receive due to poverty, for better recovery from pregnancy and for the healthy growth of the children in their early months. If the Anganwadi workers stop working, this will definitely impact the Maternal Mortality Rate negatively. The government must realize that to empower women, they need to pay them what they deserve and not threaten them with the loss of their livelihood.
On Wednesday, National Commission for Women took suo motu action against the lathi-charge incident. The NCW said it came across a video posted on Twitter regarding the "brutal" lathi-charge of protesting Anganwadi workers in the state. "The commission condemns the unfortunate incident and is seriously concerned about the brutality of the policemen on women reported from the state of Jharkhand," the NCW said in a statement.
We have reached out to the Jharkhand CM office and we will add his comments to the article, once we have them.
Image Credit: Pushpa Mahto, Jharkhand Anganwadi
ALSO READ: India's Green Gang Are Women Warriors Against Patriarchy In Villages