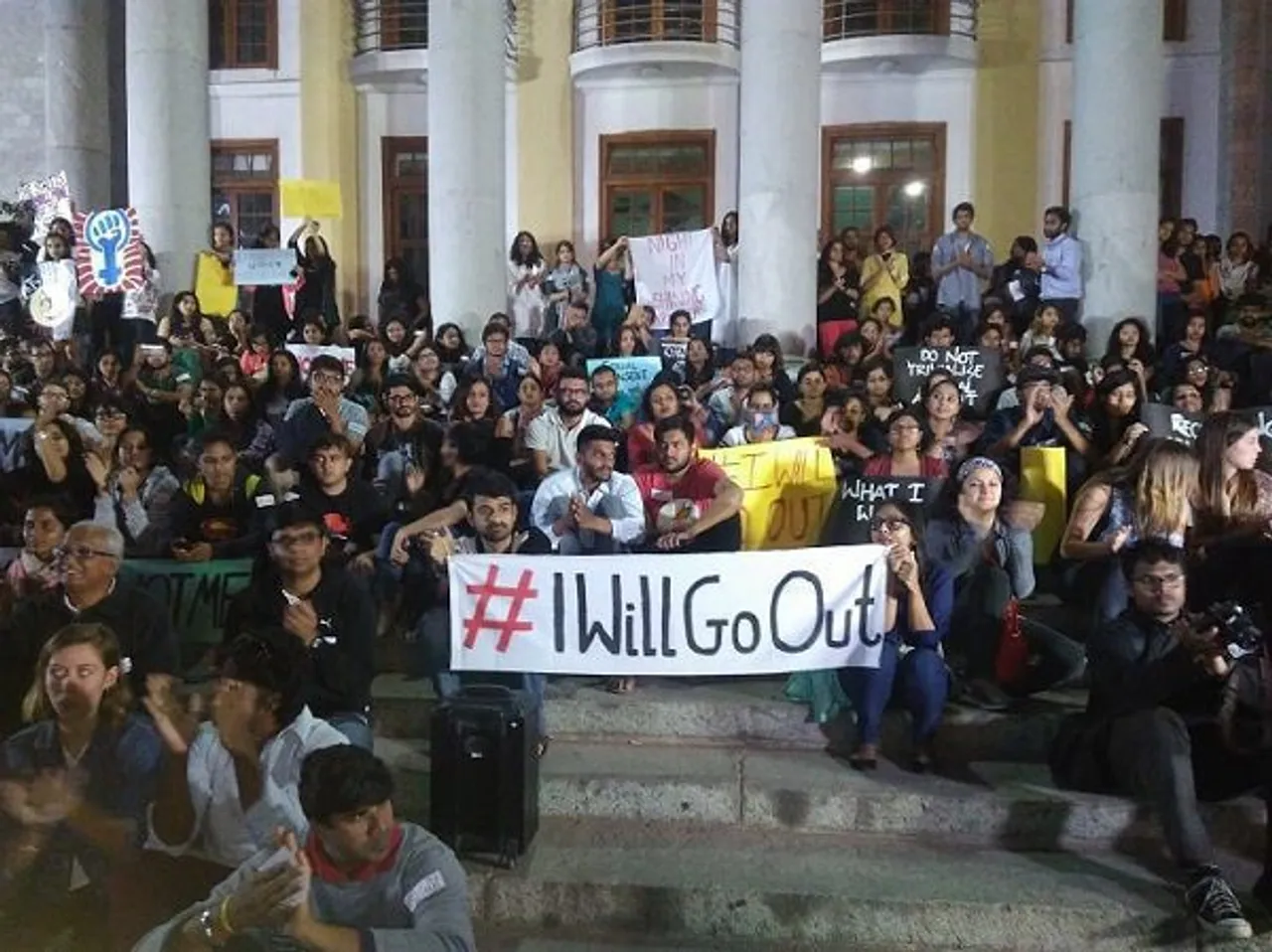 Following the outrage after Bengaluru's mass molestation, women's groups across the country have united to carry out a nationwide protest march. This march will be conducted on January 21 and has been hastagged #IWillGoOut. The march is happening the same day as the Million Women March.
Million Women March is a women's protest in the US by women against their latest president-elect, Donald Trump. January 20 is when Trump will be inaugurated as President of the United States. The US women are enraged because of his public mockery of women. He has demeaned women by saying, 'grab a pussy', during one of his speeches.
"We march, in outrage, against the various violences women are subjected to in their quest to be 'public', and also the unspeakable violence of being restricted indoors for fear of 'the outside'. We march peacefully but in anger against the impunity and immunity that perpetrators of sexual crimes enjoy, while the burden of safety and honour lies squarely on the women, thereby dangerously normalizing sexual harassment and misogynistic social mores," said a statement by organizers of the IWGO campaign.
ALSO READ: Know Your Rights: 8 Laws All Women Should Know
The IWGO was formed by a group sharing similar views of outrage against mounting cases of sexual harassment against women. It came together from all over the country with the power of social media. A knowledge base was created using technology as a tool to connect and share ideas and improve upon them. As of now, the IWGO team has a little over 1,500 members with about 80 active participants.
The marches are being planned across over 20 cities and towns, including Bangalore, Delhi, Pune, Chennai, Mumbai, Kolkata, Hyderabad, Lucknow, Puducherry, Silchar, Nagpur, Ahmedabad, Jaipur, Bhopal, Udaipur, Kochi and Karimganj.
"We are hoping that #IWillGoOut will eventually reclaim public spaces for women and girls, ensure that women have equal access to public spaces, public modes of transport without the fear of being sexually abused or facing violence and hostility," said the team in the press release.
It added, "We want to highlight the poor infrastructure, poor lighting on roads, inadequate safety measure such as functioning women's only helpline numbers that severely limit a woman's access to public spaces, especially post dawn."
ALSO READ: Not Possible to Rank Cities on Safety for Women: Elsa Marie D'Silva
It was on New Year's Eve that thousands of men molested the women on streets in Bengaluru. About 500 police personnel were deployed at the scene, but they were not enough to save the fiasco from happening. A day after the incident, the Karnataka home minister was heard saying, "these things happen". One other minister blamed the Western culture for ruining Indian girls. It is to fight this bizarre propaganda of victim-blaming that women's groups have announced a march.
This is the second time women across the country are protesting against sexual crimes. When Nirbhaya was gang raped on December 16, 2012, the same rage was seen among the citizens of India and abroad. At that time too, many women and men came out of their houses and did candle marches to pay their tributes to Nirbhaya and protest against rape laws in the country.
The same justification and victim-blaming was seen even at that time by various ministers and lawyers defending the rapists.
Picture credit- Sab Rang India