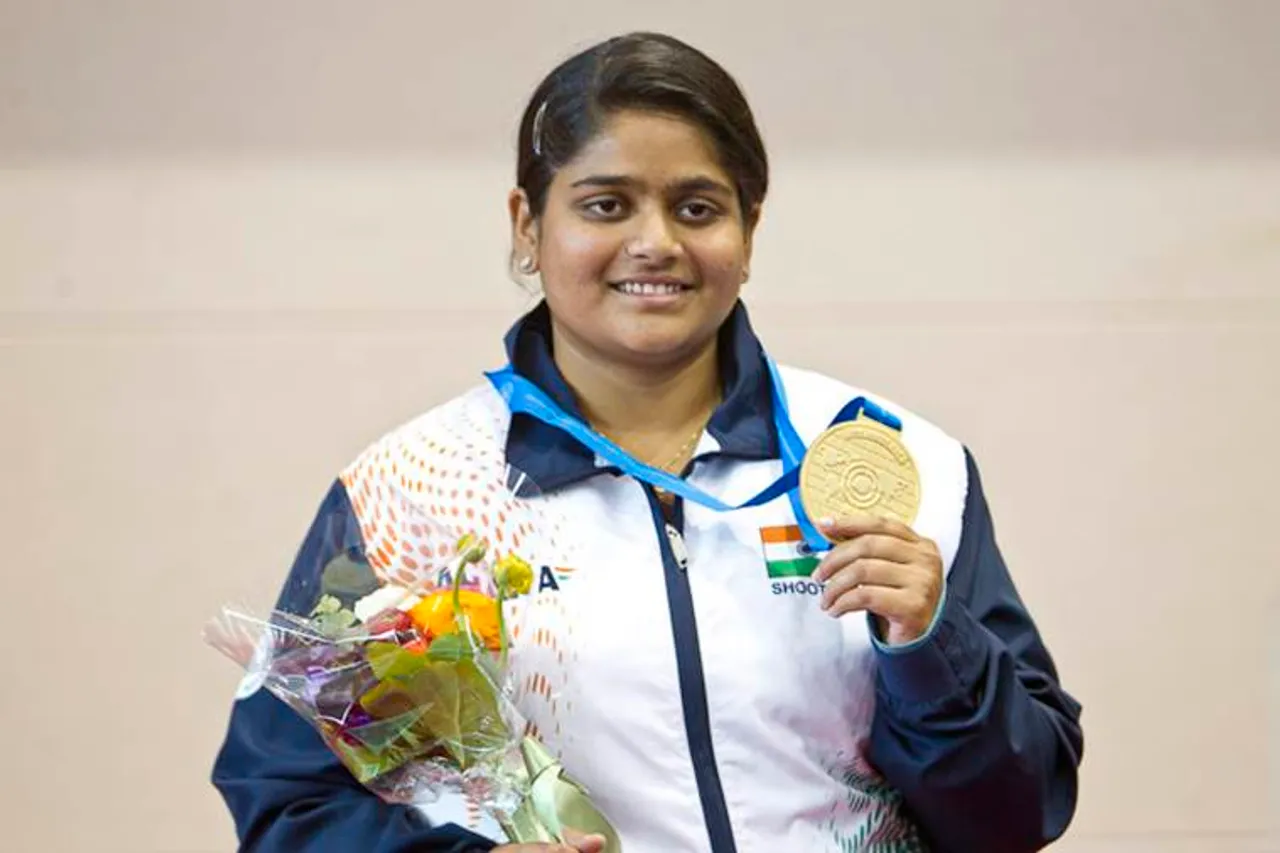 Shooter Rahi Sarnobat has grabbed a quota in the Tokyo Olympics (6th shooting quota from India) as she clinched a Gold medal at the ISSF World Cup 2019 in Munich. She added this third gold in India's medals tally as she bagged the top podium spot in the 25 metre pistol event.
Rahi is also the first Indian woman to seal an Olympic quota in sport pistol for London 2012
Rahi is the first Indian woman to seal an Olympic quota in sport pistol for London 2012, who missed out the 2016 Games due to a career threatening injury. After getting back to the podium, she now seals her Tokyo 2020 spot with a commanding win at the ISSF WC Munich.
India's sports starts Manu Bhaker and Rahi both qualified for the final of the women's 25m pistol final at the season's third International Shooting Sport Federation World Cup in Munich on Monday.
Rahi made headlines last year when she became the first Indian woman to win an Asian Games gold in the 25m pistol event
Rahi hails from Kolhapur, Maharashtra, and is the sixth Indian so far to win gold at the Asian Games. The 27-year-old is now determined to break all records at the next Tokyo Olympics in 2020.
Earlier talking to SheThePeople.TV, Rahi had claimed, "Post my injury and break from the sport, critics had almost written me off. I needed to prove to myself that I still had it in me. And I was able to do it. This medal is even more special as it is my best stint at the Asian Games so far."
Career Highlights
Sarnobat is the 2008 Commonwealth Youth Games gold medalist.
She also won two gold medals at the 2010 Commonwealth Games in India.
The powerful shooter was also the first Indian woman to compete in the 25m pistol event at the 2012 Olympics. She had finished 19th.
In 2014, Commonwealth Games in Glasgow, she won gold in women's 25-metre pistol.
In the same year, she won the Bronze medal in the 25-metre pistol team event at the 2014 Asian Games at Incheon.
Further talking more about what drives her towards shooting, she expressed, "I am one of the lucky few, who find and are able to pursue a profession they excel at. What drives me is the knowledge that I am capable of bringing further recognition to India as a sporting nation. I feel it is my duty and responsibility to give it my best every single day and make that happen."
READ: Disability Is An Important Issue, Especially In India: Arwa Imtiyaz Bhat
Giving credits to her supporting family, Rahi added, "My family is very supportive and have been so right from the start. They have been very understanding and have never begrudged me for missing out on most of the important occasions. So I never had to worry about striking a balance. Without their unfaltering backing, I would never have reached where I have today."
Feature Image Credit: The Indian Express