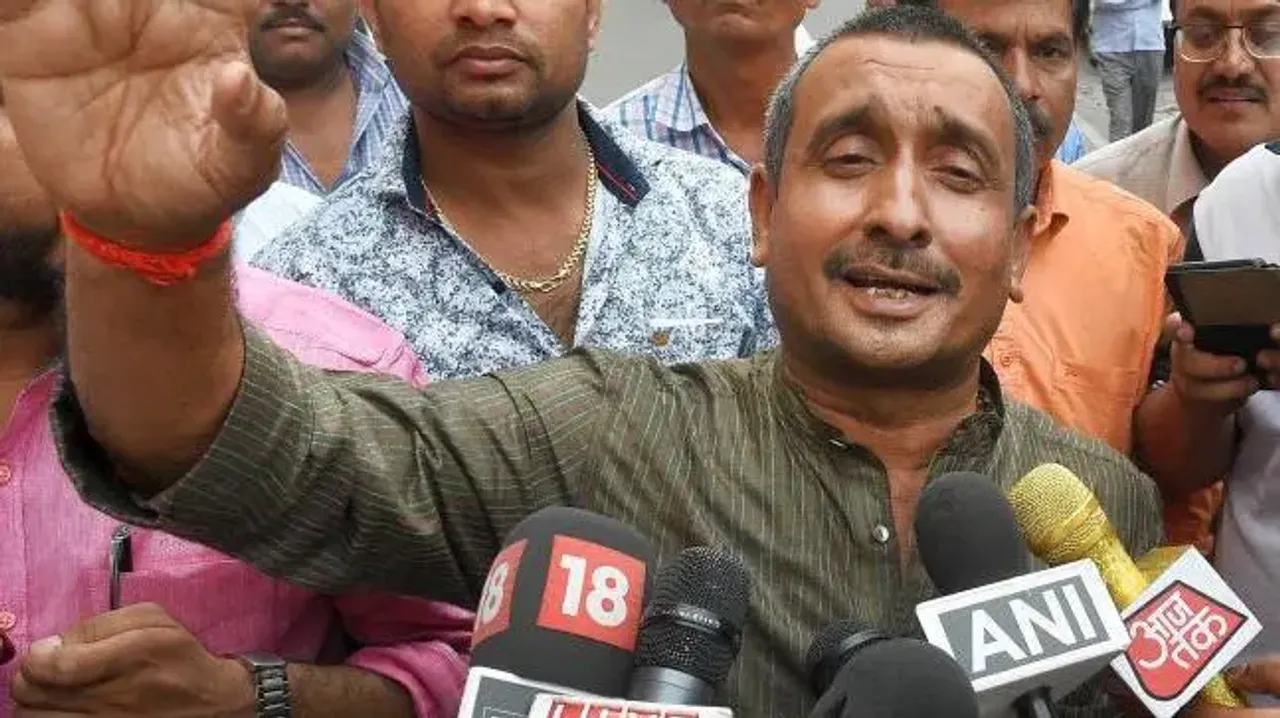 The BJP MLA from Unnao, Kuldeep Singh Sengar, isn't the first politician in our country who is facing rape charges. There are umpteen cases pending in various courts, which goes on to show how sexual exploitation and abuse of women by politicians remains widespread. This attitude of considering rape as "a right of behaviour" is not isolated to any political outfit, it is a cultural problem. We give so much power in the hands of our democratically chosen leaders that even the law enforcers prefer to look the other way.
Here's a list of some of these questionable people who are/were part of running the world's largest democracy:
Anoop Sanda, Samajwadi Party: In 2010, a woman accused Sanda of allegedly raping her multiple times, on the promise of marriage. As per the reports, the woman ran a beauty parlour for a living. She was arrested and jailed in May 2010 for creating a scene at Sanda's house in Sultanpur. Sanda's wife filed a complaint with police saying that she had forcibly entered their house. The woman had then ransacked it, and also demanded money.
Bikram Singh Brahma, Indian National Congress: The Assam Congress leader faced accusations of rape from a married woman in 2013. A  report says that Brahma allegedly entered the woman's house and raped her. The villagers ran into the house, after hearing the woman's screams and apprehended Brahma. In a rare case of mob justice, the villagers took matters into their hands, and attacked the politician.
The footage of a semi-naked Brahma being trashed by village women was carried by news channels across the world.
The local police arrested him shortly afterwards and he also faced suspension from his party.
Rohit Tilak, National Youth Congress: A woman reportedly, lodged an FIR against Tilak, alleging that he had raped her on multiple occasions. According to the FIR, Tilak had promised to marry her. However, whenever she asked about marriage, he would go on to physically abuse her. She said the leader had also forced her to perform unnatural sexual acts against her will. The complainant claimed, Tilak to be an alcoholic. He would sexually assault her and beat her under influence of alcohol.
He even threatened to kill her if she went to the police.
Shantilal Solanki, Govind Parumalani, Ajit Ramvani and Vasant Bhanushali, BJP: A 24-year-old woman filed an FIR against ten people in 2017, including four BJP leaders, accusing them of alleged gang-rape. According to a report, the perpetrators allegedly forced her into prostitution and also blackmailed her after filming the rape. She also alleged that the accused lured numerous girls and women into prostitution. The gang then exploited them sexually, after promising them jobs. Gujarat BJP went ahead and suspended its four accused leaders.
M Vincent, Congress MLA Kovalam constituency: Vincent was arrested in 2017 on the basis of a rape charge filed against him. A married woman filed a statement before the magistrate and police. She accused him of rape and  harassment. As per a report the politician had allegedly made more than 900 calls to the lady in a span of a few months.
Ravindra Bawanthade, Maharashtra BJP: Bawanthade was arrested on charges of rape in July last year, when a CCTV video of him forcibly kissing a nineteen-year-old girl inside a bus went viral. Reports suggest that this video also showed the leader forcing himself upon her. The woman filed a complaint after this video surfaced.
She claimed that it was the second time that Ravindra had allegedly raped her inside a vehicle.
Further, she said that the BJP leader had lured her promising her a job. According to her, Bawanthade had also promised to marry her.
Anisur Rehman, West Bengal BJP leader: The local police arrested Rehman in January this year, on allegations of rape. As per reports a woman lodged a complaint at a local police station saying that he had allegedly raped her for over three months and was threatening her into not disclosing it. The police promptly arrested Rehman and produced him in the local court, which remanded him to three-days police custody.
Hemant Katare, Congress MLA from Madhya Pradesh: In February this year, Katare was booked for rape and confinement of a 21-year-old woman, besides extortion by the Bhopal police. According to a news report, Katare had previously filed a complaint that the woman was blackmailing him. He said that she was demanding money from him. Failing which she and her associate would release videos of him with the woman. She however, wrote a letter to the Bhopal DIG from jail complaining that Katare had raped her at his gym. The woman's mother also complained at her local police station that Katare had abducted her daughter. A different news report says that Katare, who is on the run, has moved to the Madhya Pradesh High Court, seeking quashing of charges against him.
(Picture Credit : India Today)
Also Read :FIR Filed Against BJP MLA In Unnao Case; CBI Handed Probe